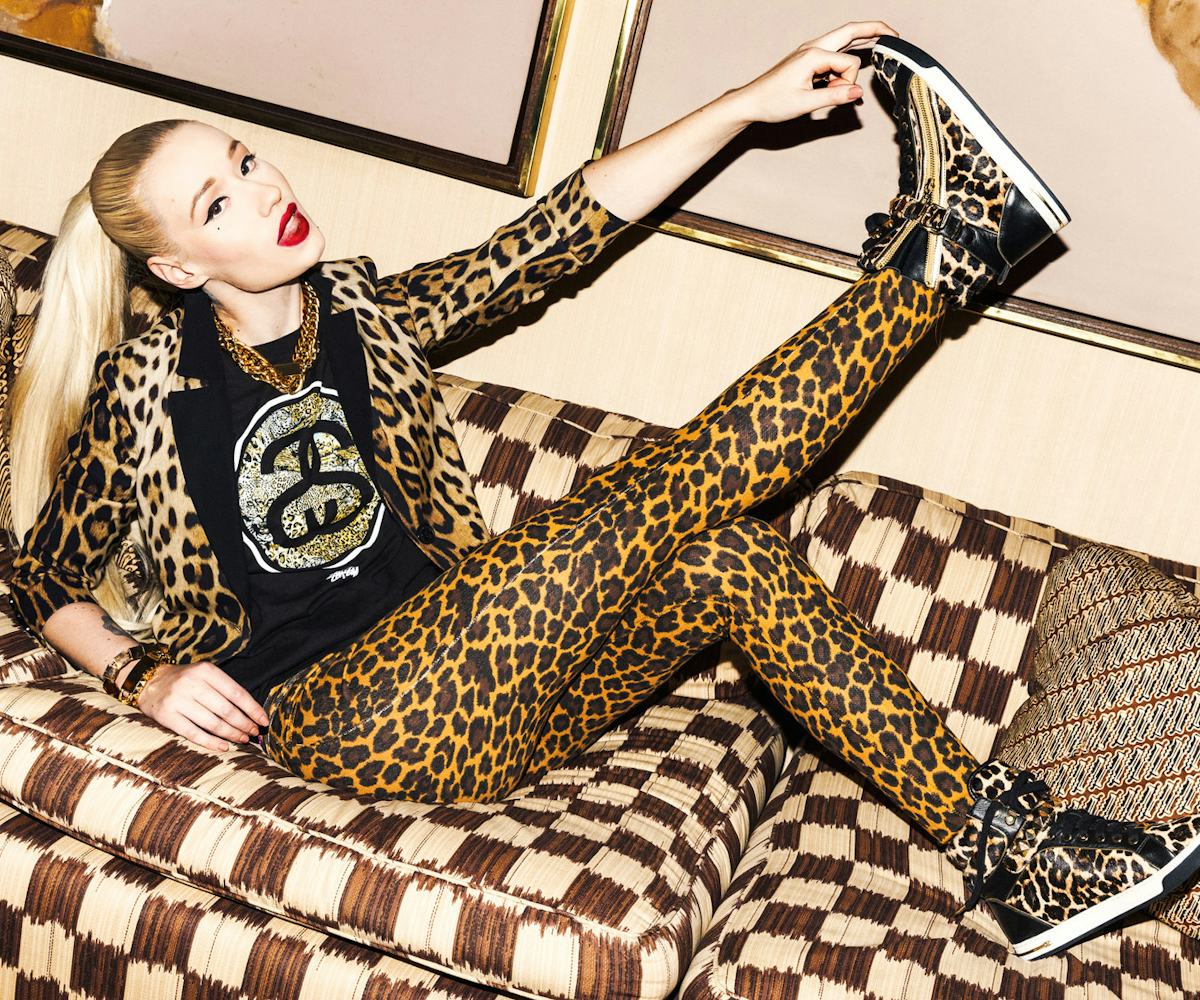 photo by aaron richter
animal instinct
we do some outfit spotting with iggy azalea.
Here's a secret: meeting famous people can be really weird. Being trapped in a room with someone for an hour is just enough time for you to figure out if they are actually all that awesome. It's usually fun, sometimes depressing (R.I.P childhood heroes), but every once in a while, you get to meet someone like Iggy. 
When I left after my hour with Iggy Azalea for her feature in NYLON's October issue, I was seriously glowing. I called friends and told them I had just met "my soulmate." This freaked them out-- and looking back, is also embarrassing, 
I swear I'm not a gushy person, but she really is one of the coolest girls ever. 
For proof, check out even more exclusive quotes from her NYLON October feature, and shop the leopard print looks from the shoot below. 
On fashion icons: 
"I do like Gwen Stefani. Sometimes I feel like I leave her out, because people always say I look like her. I do have blonde hair and red lips, but I don't look like her. Remember her in the 'Hey Baby' video?  I thought she was so fucking cool.I just wanted to wear baggy pants and a swimmer top like her."
"The Spice Girls heavily influenced my style - Ginger and Scary were my two favorites. My sneakers were always platforms, and in the back there was that big air bubble. Sketchers were the shit."
On being Iggy in the music industry: 
"They always make me try to do media training. That's what you do to people who are stupid or people who are really assholes. I'm not really an asshole. If you don't skip around and do a hula hoop - you're a bitch. I've started to just tell people I have bitchy resting face, like in the video.I tell them I'm a chronic sufferer." 
On NYC vs LA: 
"I like New York because there's more of a mix of people. I can walk down the street and see so many crazy people. But your apartments are too small, and it's too seasonal. I really can't take the cold. Once I was here for Christmas, and I was like, "I don't know how to layer. I have to go back to Cali."
On being a girl: 
"I think it's definitely hard to be a girl that has goals and confidence. The idea that you have to be fake to people -- that's frustrating to me. You should be able to scream at me, and I should do the same for you." 
What kids thought of her growing up:
"I think they just thought I was a weirdo, actually."
On her favorite fashion pieces:
Vintage shirts: "I have a really good Detroit Bad Boys One, and some Nas bootleg ones. Now I can't really wear the Nas one since we're friends now. It's weird to have a shirt with his face on it." 
Sunglasses: "You can wear them, not really wear makeup, and still look bossy. I'll go to Sunglass Hut, and just get like a million pairs. My best friend, whose a stylist, is always like 'Are you ever gonna wear those?' and I'm just like 'It's the collection of Iggy! I'm collecting!'"
(Tip from Iggy: The bootleg ones are always the best. We agree) 
On the future: 
"Most people only have like a two hour lifespan. Hopefully I don't get dropped by my label, and I can put out 5 albums [laughing]. Man. that's how artists really think. Anyone who says they don't is a fucking liar.'" -- BLAIR WATERS
Coat and shirt by Burberry Prorsum, skirt by Asos, belt by Peter Som, gloves by Gaspar Gloves, shoes by DKNY.
Burberry Prorsum Animal Mink Caban - $35,000
Burberry Prorsum Animal Jacquard Cashmere Top - $932
Coat by Emanuel Ungaro, shirt by Xhilaration, pants by Bebe, shoes by Christian Louboutin, necklaces by Erickson Beamon, rose gold ring by Giles and Brother, sunglasses by Illesteva.
Xhilaration Juniors High Low Equipment Top - $22.99
Christian Louboutin Iriza Leopard-Print Pony Hair Pumps - $825
Illesteva Ruth Cheetah Sunglasses - $220
Dress by Versus, shoes by Christian Louboutin, watch by La Mer, Azalea's own ring.
La Mer x Revolve Indian Leopard - $88
Blazer by Moschino, shirt by Stussy, leggings by Hue, shoes by Michael Michael Kors, id necklace by Noir, chain necklace by Michael Michael Kors, bracelets by Noir.
Moschino Leopard-Print Crepe Blazer - $1150
Hue Leopard Jeans/Leggings - $44
Michael Michael Kors Glam Leopard-Print Hi-Top - 
Stussy Giraffe No. 4 Wide Neck - $26
Jacket by Jeremy Scott, shirt by Mango, skirt by Tibi, sunglasses by Le Specs, scarf by Louis Vuitton Azalea's own ring.
Mango Leopard Print Sweater - $49.99
Tibi Printed Jaguar Skirt - $795
Le Specs NODDY Sunglasses - $50
Jacket by DKNY, bodysuit by Frederick's of Hollywood, skirt by Simone Rocha, necklace by Rachel Zoe, bracelets by Paige Novick, Azalea's own ring.
DKNY Runway Quilted Oversized Puffer Coat - $995
Simone Rocha Leopard Faux Fur Pencil Skirt - $925
Cape by Giuseppe Zanotti Design, shirt by Diesel, leggings by Bongo, sunglasses by Ksubi, Azalea's own ring.
Bongo Ankle Length Leopard-Print Leggings - $10