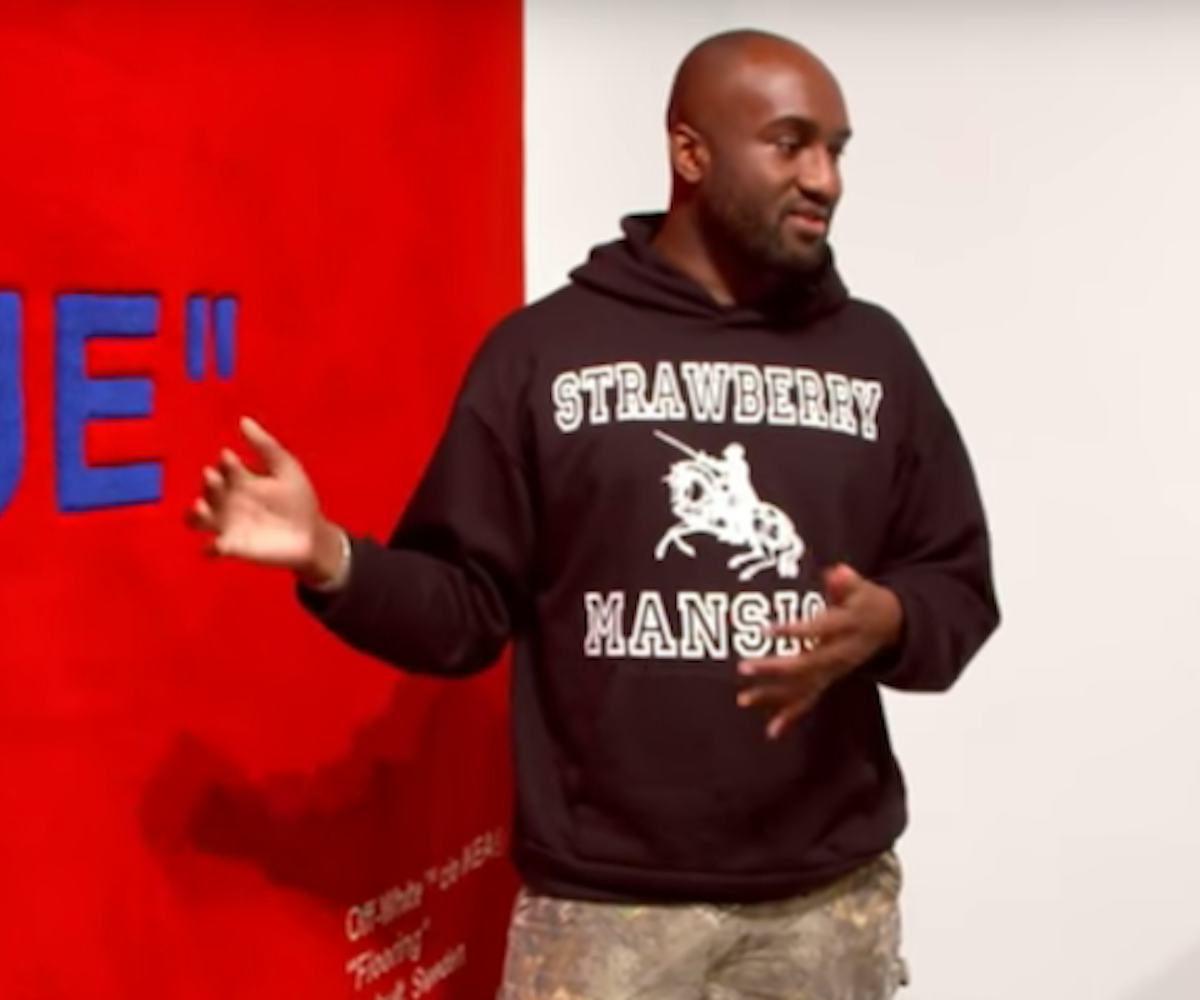 Image via Youtube
Here's Your First Look At Virgil Abloh's Collection With Ikea
Soon, we'll be able to give our apartment an Off-White twist
Last summer, we were pretty stoked when everyone's favorite affordable home goods brand Ikea tapped Off-White's Virgil Abloh to create a reiteration of the classic FRAKTA tote bag (you know, the 99 cent carryall that Balenciaga had "knocked off" for a reasonable price of $2,145 a month prior). Now, an entire home collection is on the way—one designed with the broke millennial customer in mind. We feel targeted, but we're here for it.
Yesterday, Abloh joined an Ikea representative on a live stream to reveal some of the first prototypes of the collection, which is named Markerad and due to drop this summer.
As the live stream begins, Abloh explains that the main question he's gotten as he began developing this collection is whether or not the collection would be affordable for the younger set (who wouldn't be able to afford Off-White otherwise). He goes on to explain that both of these factors are embedded within Ikea's ethos and, therefore, will remain for this collection, too.
"It's going to be within Ikea's price range, so it's for you guys out there who want fantastic design with a unique Virgil signature to make your first home," said the Ikea representative. Welp, that's all we needed to hear to get excited.
So, what can we expect? For starters, a red doorstop. (Yes, a doorstop.) Abloh was inspired by an airplane chock, stating that whoever designed the tool is equally as powerful as the chock itself, as it can stop a plane in its tracks. Next? A wooden chair—which may also be produced in recycled acrylic—with three even legs, and one cut shorter (so, you know, you can just pop that doorstop underneath it to even it all out).
Additionally, there is a display case, which Abloh naturally filled with Nike x Off-White sneakers for the live stream, rugs that Abloh suggests using as wall art tapestries, shoulder bags, and more. While these are all prototypes, the designer was hoping for this reveal to serve as a way to get feedback and to continue to develop the designs before launch. Both Ikea and Abloh are planning a follow-up stream on June 7 at Ikea's Democratic Design Day, so you can expect more to be revealed then.
You can watch the full live stream reveal (beginning at the 25:40 mark), here.