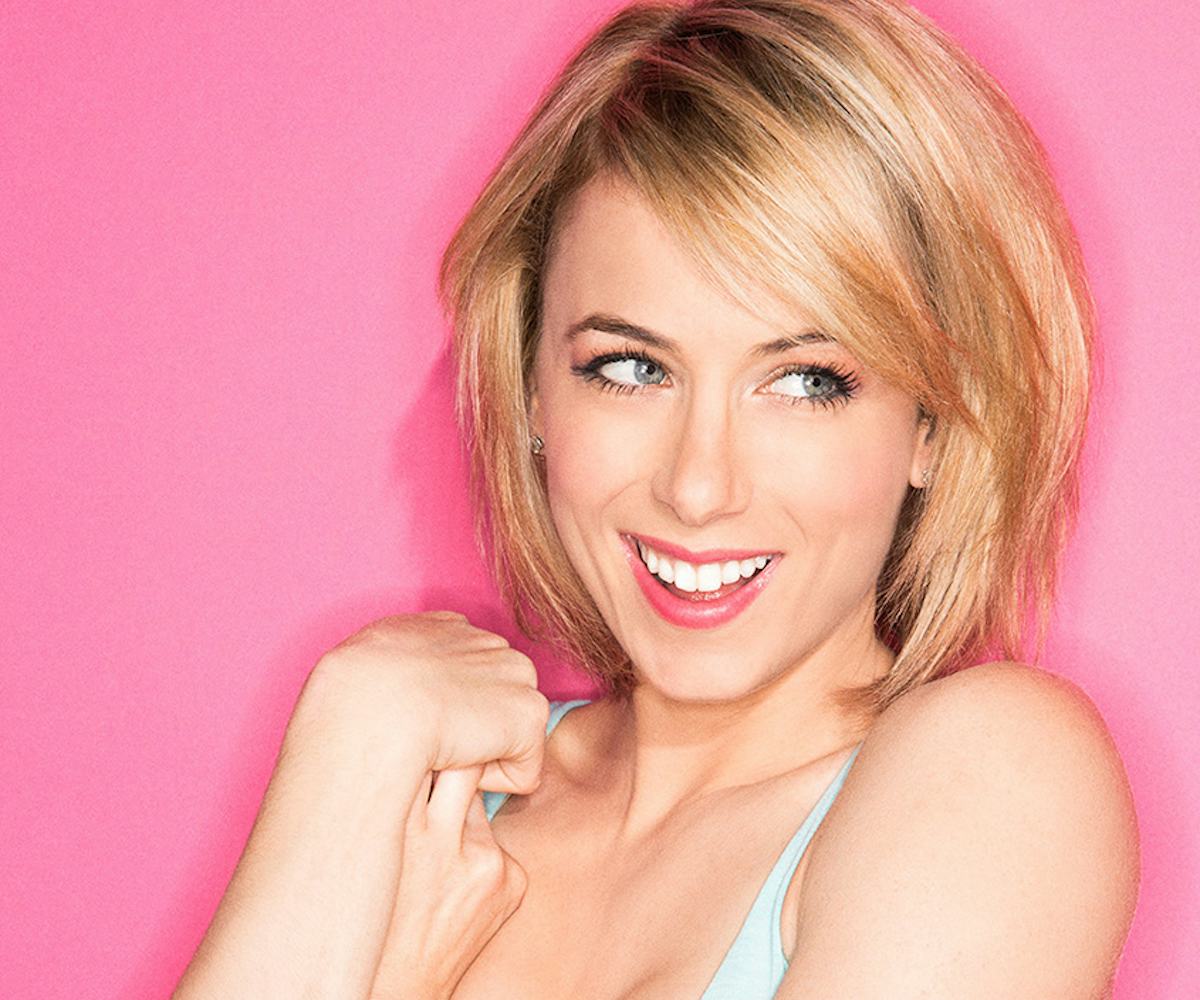 Photo by Robyn Von Swank
Rising Comedy Star Iliza Shlesinger Reveals Her 11 Greatest Influences And Inspirations
the $1'separation anxiety' host breaks it down
With a Netflix comedy special, the title of the Last Comic Standing (she is the youngest, but also the only female, winner of the competition), and a national headlining tour behind her, Iliza Shlesinger has proven that she knows how to get the laughs. Now, as the host of TBS's new game show Separation Anxiety, where couples face off in a quiz-style competition, the Texas native is set to garner the biggest exposure of her ascending career. On top of that, Shlesinger just signed a deal with Weinstein Books to publish Girl Logic, "a humorous memoir explaining why women are so confusing to everyone, including themselves." Somehow, she'll also find the time to star in her own short-form scripted comedy series, Forever 31, coming to ABC's soon-to-be-launched digital platform this spring. So yeah, you might say that things are going well. Here, Shlesinger takes some time out of her jam-packed schedule to look back on the 11 biggest influences of her career.
For me, absurdity has always been something I enjoy in sketch [comedy]. I'm a huge sketch comedy fan, and I think my love of sketch is reflected in my stand-up, in that I do a lot of vignettes and voices and characters. This is a British show from the '90s—they're actually coming out with a movie. It's by Dawn French and Jennifer Saunders. It's basically this absurdist show about these two dysfunctional women who are alcoholics and party, even though they're in their 40s. Besides the fact that it's this amazing British humor, the main character Edina goes on these long rambles that are actually really intelligent. The show really shaped the way I view female friendships. You're watching this sketch about these dysfunctional yet codependent women who live together, and what's interesting to me is that they aren't losers. Edina works at a really successful PR firm, and Patsy, her best friend, is an ex-model. But I always took a liking to the main character Edina because she's so brilliant.
If you grew up in the '90s in Texas with no connection to show business whatsoever, [which is] what I did, you could watch this show without realizing the cultural implications and the social implications that were behind the sketches. It was still a show that I absorbed and I thought was funny without fully comprehending the subtext of it. I just knew that having five or six guys—and, of course, I'm pro-female and always want funny women—but I'm sorry, a dude dressed up as a woman is never not funny. The sketches were brilliant. Especially in a time when everything was a multi-cam sitcom, and especially living in a suburb with no access to art, to find something like this show felt like I was peering into something really special. It was different from the comedy that everyone else was consuming.
This a weird one. So it's from the early 2000s and, of course, it's about a bunch of lawyers. James Spader, who I've had a crush on forever, played Alan Shore, and my favorite part about watching him was that you knew he was always the smartest person in the room. The arguments he would give in court were these eloquent speeches. Anything he would say, even if it wasn't necessarily funny, it was so well put together. He was so eloquent in the way that he spoke, and I really took a cue from that for my word choice in my stand-up. The more comprehensive your language is, the more likely people are to believe everything you're saying. It really just comes from the power of knowing you're the smartest person in the room, and if you aren't, you're definitely going to sound like it.
I grew up in a bit of a vacuum. And as a kid, you see Monty Python's Flying Circus and you're like, "Oh, it's a cartoon." There's mixed media. It's funny and there's stop-motion. But as an adult, you figure it out, how the entire underpinnings of their comedy was poking fun at the rank and file of the British aristocracy and the monarchy. When you're that educated, you can do that and it can be consumed—and of course Americans love it. In addition to that, it's absurdist. Look at anything from the parrot sketch to the cheese shop sketch. I had a Monty Python CD and I would listen to it in the car on the way to school. It also refined my British accent. I can do a killer British accent because I'm just imitating Monty Python.
He has an incredible body of work. From When Harry Met Sally to City Slickers, and for me, my favorite movie of all time is Mr. Saturday Night. I didn't realize it would be so foretelling for a career I didn't know I was going to have, but it's the story of a stand-up comic. His story is like my parents' story—Jewish immigrants who grew up in New York. Growing up in Dallas, where you don't get a lot of that except for your family, it was so relatable. All the stuff he went through as a stand-up comedian—at the time I was watching and laughing, but I became a comic and I got it. Every beat of that movie resonates with me. I finally got a chance to meet him a couple months ago. I snuck backstage after he did an interview at the New York Comedy Festival. The whole time he was doing his interview, I was planning what I was going to say to him—and then I saw him and I just started crying. I don't cry when I meet celebrities but I could not contain myself. He was so nice and I was trying to get the words out, and then I quoted the movie wrong—it wasn't cute.
He not only ran the '90s with his character development, but he came up with a whole new delivery for jokes. You saw that with Ace Ventura, just with him saying, "Alrighty then." It was this new, characteresque way of announcing things, and it was so overly exaggerated. He was this walking cartoon and everyone imitated him. All his characters were so original and to an extent, selfish. I always thought that was such a beautiful thing. He made all organic choices and you really couldn't compare them to anyone else. His physicality, even the physicality in just his face—you started to see it a lot. Men were taking pages from his book. But to have a soul that's that unique—I'm sure he has his own inspirations, but there's no one like Jim Carrey.
He was so elegant in the way that he moved, and to have a physical body that big, and to throw it around with such ease, it was almost like ballet. You don't see people that large moving that much. He also made popular this zero to one hundred energy. He's known for being sedentary and then all of the sudden just moving in the most volcanic way possible. Energy-wise, in comedy, to do that switch startles the audience. With someone like that, it's symphonic almost. His characters were great because they went from lovable to boiling-point insanity in a matter of one sentence, and it was so natural. He was brilliant and elegant and amazing, and I'm sad we lost him.
I know I'm a woman, but I grew up watching mostly men because that's what was around. What's fascinating to me about Mike Myers is that you can watch an evolution of his characters throughout his body of work. In So I Married an Axe Murderer, he made the dad Scottish, which is not a nationality people think of. So the dad was Scottish and everyone would do impressions of the dad. And then a few years later in Austin Powers, you have another beautiful original character that's Fat Bastard. He has the Scottish accent. It's the same character. And then a few years after that, why is Shrek Scottish? Because that's the accent Mike Myers likes. You get to see this evolution of choices, and just as an artist, to get to put the voices you want in different characters, I definitely take influence from that. And then, of course, you've got Wayne's World and Steve Rubell in 54. Just to have a career like that—he was such an integral part of the '90s.
I said this to her face when she was on my podcast, but I don't think she got the credit she deserved. This woman basically created a cadence of comedy. She created a cadence that women used for years after. All of her characters have a sort of desperation, this thinly veiled desperation. She has these characters like Arianna the Spartan cheerleader and Cass Van Rye from Morning Latte, and Collette Reardon, who was the old lady on all her prescription meds. All of the characters were just sort of manic—I just loved the desperation. She also had this weird, choppy, arrhythmic cadence. You started to see it a lot in other women's deliveries and other women's character work. You're waiting for her to explode. They never get to that explosion, but she keeps them at that boiling point the whole time. It's an amazing thing to watch, and I hadn't seen any other woman do that.
You don't see a ton of women doing crowd work. And especially at the time, during the '90s, she was funny for funny. Her comedy wasn't about sex, it wasn't dirty, it was funny, and it didn't matter if you were a man or a woman. I remember watching her crowd work, and it was so flawless you'd swear it was scripted. I don't think women exercise that muscle a ton. Paula Poundstone just had this way, and she had this lovely lisp, this way of talking to you that made it seem like she already knew all of the answers. Her improvisational skills and the tone she spoke with—this sort of loving yet letting that audience know that you're an idiot and she's smarter than you—were great.
Everyone was listening to Adam Sandler's albums and wanted to replicate them. They were dirty, they were funny, and it was like your older brother was making comedy sketches. Especially for a kid—his music wasn't so raunchy that your parents wouldn't let you listen to it, it was something accidentally funny, and you were in on the joke. There was also some more absurdity, like Billy Madison—that's an insane character. It was so specifically him, and you can't knock off Adam Sandler humor. People will know that you're doing an Adam Sandler impression. I think it's anybody's goal in comedy to stand alone and not be compared to anyone else.