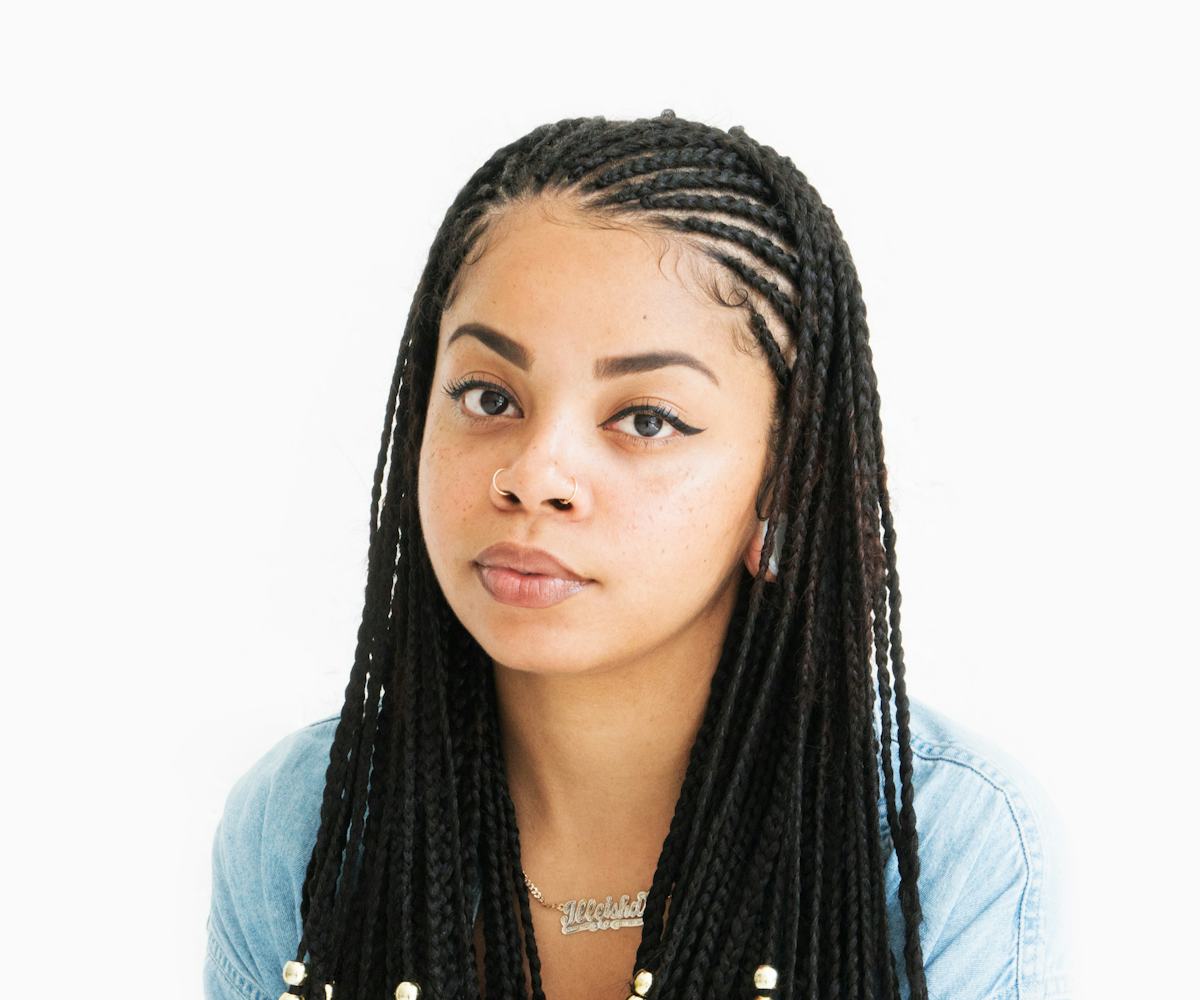 Photographed by Sarah Kjelleren.
Hair Artist Illy Lussiano Schools Us On The Best Braids, Locs, Twists, And More
The following feature appears in the August 2016 issue of NYLON.
Trained in nearly every medium from paint to woodwork since the age of five, Illy Lussiano is more than a hairstylist—she's an artist. She credits her mother (a "little Italian woman" who taught her how to braid) for her pride in her naturally curly hair—and for allowing her to chop and style her Barbie dolls' hair as a child. It wasn't until she was 19, frustrated with her job in visual merchandising and too attached to her paintings to sell them, that she decided to channel her natural knack for coiffure into a career. That meant attending hair school during the day and working until midnight for nine months, and assisting hairstylists for three years. "I had to be really honest with myself and say, 'If you're going to do this, you need to be as serious about this as a doctor is about getting through med school,'" she says.
Her determination surely paid off: Lussiano's creations (which can be as simple as a pixie cut or as intricate as dyed dreadlocks styled in an updo) have been featured in campaigns for Kith, Alexander Wang, and Balmain, in publications like Vogue and GQ, and on stars like Naomi Campbell and Vic Mensa. She's even showcased her talent before an audience at Manhattan's Museum of Arts and Design. And she's eager to take advantage of opportunities to educate others, especially about styles that are typically done on textured hair. "People will compliment my hair, but they wouldn't expect some information after," she says. "There's a backstory to this." Here, she gives us that backstory on some of her favorite styles.
Click through the gallery to read the rest of the feature.
"Cornrows are classic and timeless. I remember the first time I saw Alicia Keys's 'Fallin'' video—I went upstairs and did the same style on my hair. People have been really into two cornrows lately but there's so many ways to reinvent them, especially by adding designs and different color extensions. No matter the style I always like a little gel on my edges."
"This is a great look for anyone who has short hair and wants a change. If your hair is not short, you would need to do this as a wig. There are so many different variations: the graduated bob, the blunt bob, the lob. It's so '90s. Jada Pinkett Smith had it in Set It Off—that's The One. If somebody wants a reference, that's the one you've got to look at."
"Twists are a popular protective style for girls transitioning back to their natural texture. The best part is that they're user-friendly and allow people to get more comfortable with their texture. Twists go hand in hand with braids; one is one aunt and one is the other. There's no one who can challenge Da Brat's twists. Maybe Snoop Dogg, but Brat's hair was always so well done."
"This is braided ponytails or jumbo box braids turned into Bantu knots. Be aware of the type of hair elastics you're using for this style because it's securing the braid at the root. You can add color to them, but they already look more intricate because they're braided—the traditional ones are like Scary Spice's from the '90s, but the braided one has a different texture to it. It's three styles in one: the braids, the Bantu knots themselves, and then when you take them out."
"I'd always had different colors [when I had locs], and I used to sew charms into them. There are a lot of people right now that loc their hair and I started those locs—ASAP Illz, Joey Badass, Vic Mensa, Erick the Architect from Flatbush Zombies. The number one thing you learn while having locs is patience. You're literally teaching your hair how to twist within itself, and that takes time. I think that's why people with locs are often offended by people that will opt for faux locs—there's no actual journey happening."