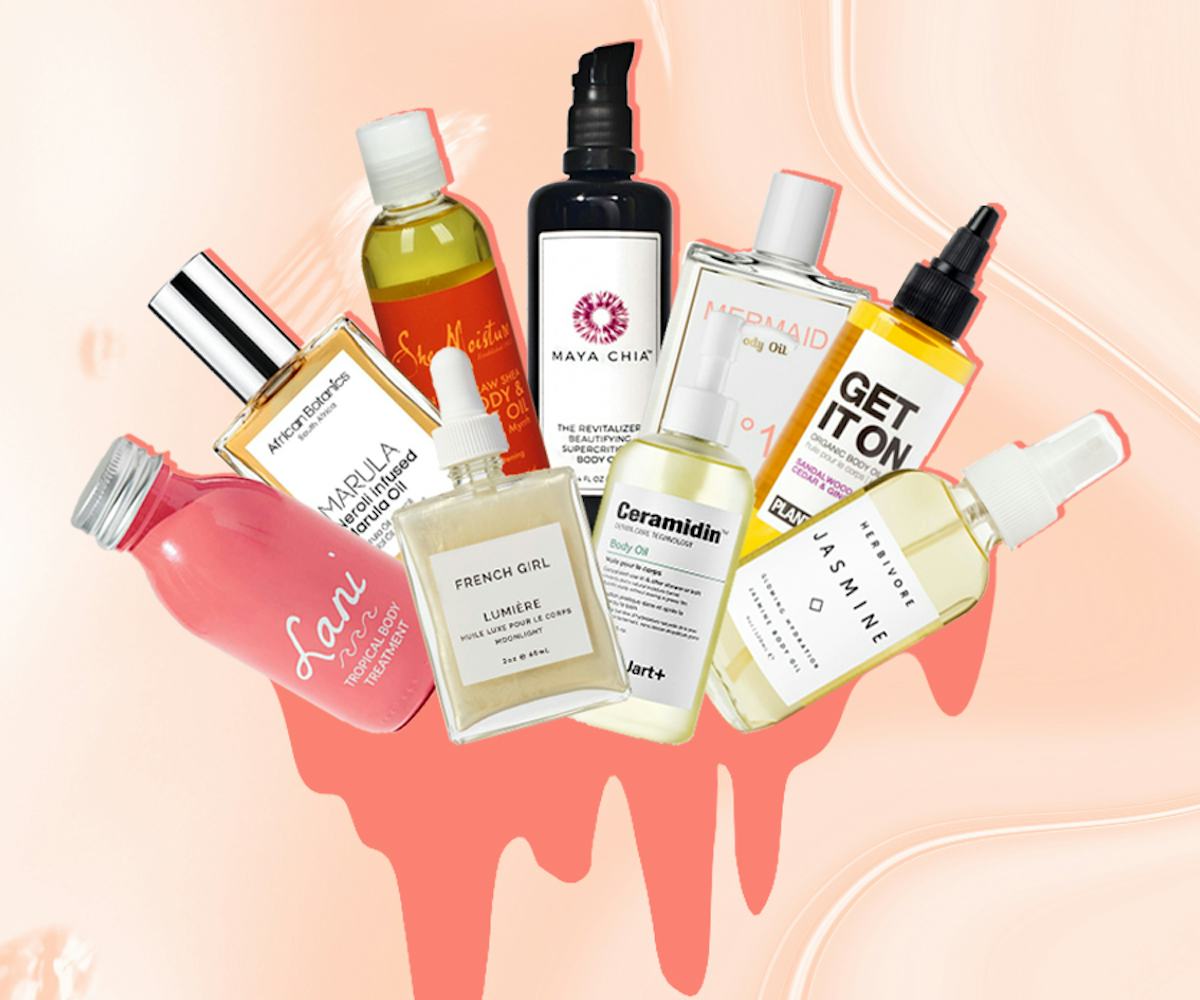 Save Your Summer Skin: 14 Super Luxe Body Oils To Try
Because you deserve a little TLC
The summer can be pretty rough on your skin, whether by a mixture of chlorine, salt water, and the sun's UV rays, or the ever-drying AC blasting in your office or home. Luckily for us, then, that when we're looking for some serious hydration, we have our good friend body oils to turn to.
Oils have the ability to penetrate the skin deeper than the average lotion, keeping you smooth and hydrated for longer (and, thanks to their easy absorption, they won't sweat off in the heat)—making them a no-brainer during July's awful heat wave. Aside from their practicality, I don't think we can stress enough just how luxe it feels to slather a nutrient-rich body oil all over your dry, flaky, and maybe even burnt or peeling summer skin. It can be treated it like a DIY at-home spa treatment, because it feels that indulgent. Plus, they leave your skin with a gorgeous glow.
We rounded up 14 of the best, most luxurious body oils at all price points, because a little indulgence shouldn't necessarily mean breaking the bank. Prepare to pamper yourself with a little TLC when trying these super-nourishing formulas.
A tip? Apply right after you get out of the shower and your skin is still on the damper side so it will absorb these oils even faster. 
Click through the gallery below to check out our picks.
Dr. Jart, Ceramidin Body Oil, $23, available at Sephora.
French Girl, Lumiere Shimmer Oil in 'Moonlight,' $45, available at Credo.
Maya Chia Beauty, The Revitalizer Supercritical Body Oil, $44, available at Shen Beauty.
Herbivore, Jasmine Body Oil, $44, available at Herbivore.
Plant, Get It On Organic Body Oil, $38, available at Plant.
Fresh, Sugar Ultra-Nourishing Body Oil, $48, available at Fresh.
Lani, Tropical Body Treatment, $21, available at Urban Outfitters.
African Botanics, Neroli Infused Marula Oil, $140, available at Space.NK Apothecary.
Pacifica, Indian Coconut Nectar Dry Roll-On Rich Body Oil, $15, available at Pacifica.
Rodin, Lavender Body Oil, $130, available at Net-A-Porter.
SheaMoisture, Bath, Body, & Massage Oil, $9.99, available at Drugstore.com.
Posies & Co, Body & Hair Oil, $28, available at Anthropologie.
Mermaid Perfume, Body Oil, $70, available at Mermaid Perfume.
Desert Essence, Organic Coconut, Jojoba, & Coffee Oil, $16.99, available at Desert Essence.