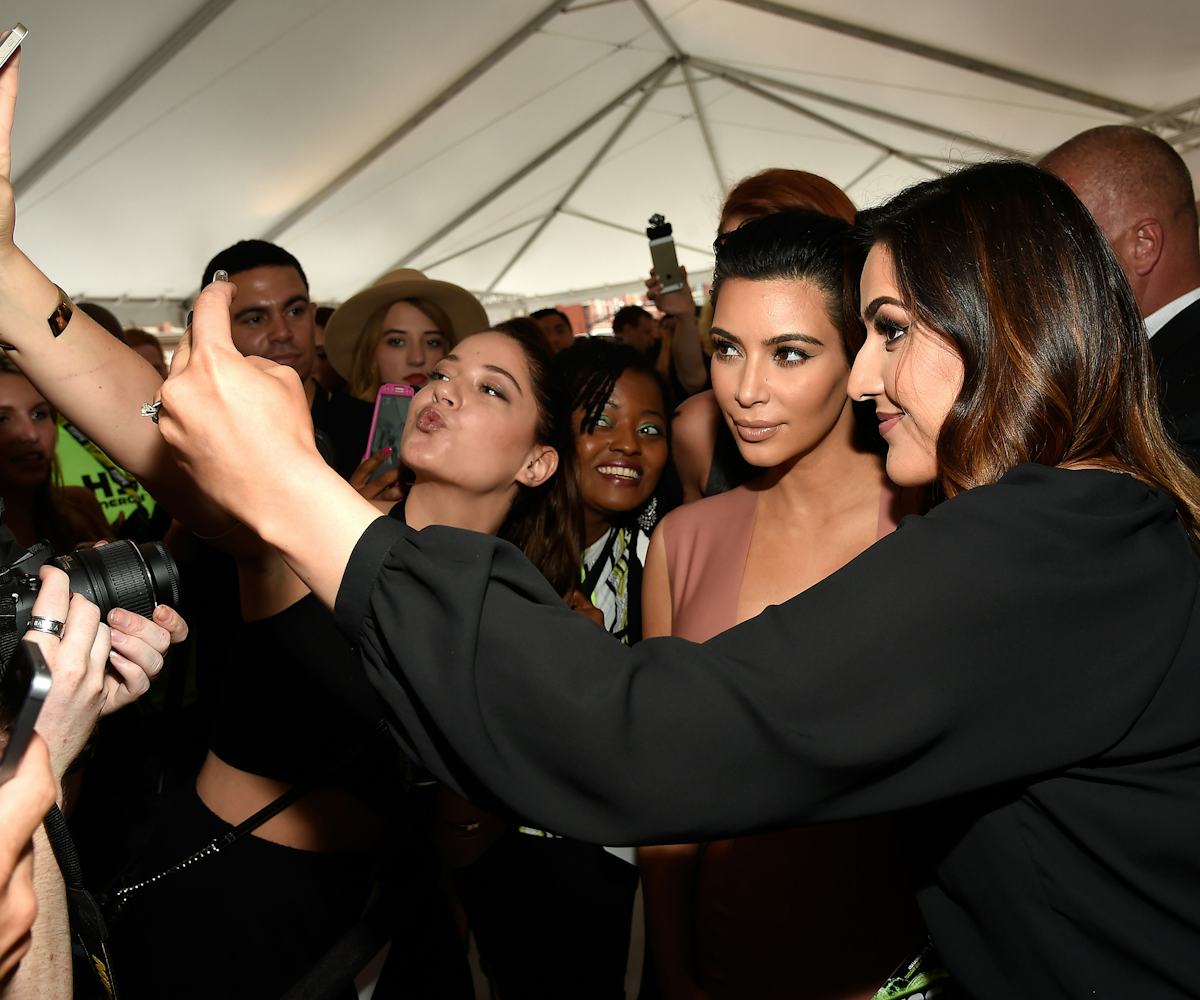 photo by Rick Diamond / getty images
one hour inside the kim kardashian hype machine
we flew to nashville to watch kim promote an energy drink
On an overcast day in Nashville, a crowd of biblical proportions gathered on a closed-off portion of the city's main drag. You'd think that here, in the cradle of country music, surrounded by neon cowboy boots and guitars, giving off the impression of a Vegas built for bull wranglers, they were waiting to see Miranda Lambert, or maybe even their adopted hometown hero, Taylor Swift. Nope. Hundreds of people, smartphones set to camera mode, were here to see reality TV icon, fashion muse, media mogul, and the woman who launched a billion page views: Kim Kardashian West.
When Kim Kardashian makes a solo public appearance, it's safe to assume a product is being sold. On Tuesday, that product was Hype Energy Drink, a generic, caffeinated beverage that until last year had a roster of brand ambassadors that reflected its international persona. There's the Afghan singer Aryana Sayeed, the Colombian teen star Sebastián Vega, and the Chilean Paralympian Cristian Valenzuela. Some of those celebrities were there on Tuesday, but you would barely know it. Signing Kardashian to, er, hype their drink was a huge coup for the company's stateside profile, so today was—with the gigantic posters, the sea of cameras, and the Obama-esque security—all about Kim.  
I was among a group of New York-based journalists who had been invited by Hype to fly to Nashville on a chartered private jet. The words "Kim Kardashian" and "private jet" automatically conjure images of plush leather sofas, bottles of Cristal, and Louis Vuitton carry-ons. When we boarded the private plane—which looked like a regular plane only smaller—we were given a Hype-emblazoned swag bag, with goodies like headphones, dental floss sticks, and a dental guard should you drink too much Hype. There were also about eight sandwiches to split between thirty of us, a mix-up by one of the companies planning this thing. The pilots were apologetic about the lack of food and promised that on the way back there would not only be enough sandwiches, but pizza too.
Once in Nashville, we were immediately escorted to the vicinity of a stage in the middle of Broadway, where Kim would eventually address the faithful followers of her Selfie Nation. We were told in advance by publicists that Kim would not be doing one-on-one interviews, and that she "will only answer questions regarding her involvement with Hype and the launch as well as some fashion and beauty questions."  
This was before Kim announced she was pregnant for a second time, and Caitlyn Jenner introduced herself to the world, basically on the same day and one day before this appearance. The irony of being told not to ask Kim Kardashian—professional over-sharer—about her personal life was maddening. I figured if I did manage to get some time with her, I'd cloak a personal question in an aluminum can of Hype. "What do you think your unborn child and Caitlyn Jenner think about Hype Energy Drink?" was my go-to.
Shockingly, Kim Kardashian arrived right on time. The second she emerged from her black SUV, wearing a sous-vide tight pink latex dress with a neckline that plunged and plunged, the clouds did not part, but the crowds did. (Thanks, terrifying security dudes!) Tear ducts, vocal chords, ear drums all thrust into overdrive as Kim briefly worked the front of the crowd, snapping the odd selfie as her security team escorted her to the stage. Seeing her in person for the first time is jarring, and without realizing it you are immediately sapping as many pictures of her—from any angle available—as possible. You just. Can't. Help it. As chaos reached Michael Jackson levels, Kim remained remarkably poised, the calm eye in the center of the Category 5 publicity storm.
As the crowds chanted "We want Kim! We want Kim!"—want what exactly, I did not know—Kim, who coughed on occasion thanks to a bout with laryngitis, snapped photos with Hype president and ex-Formula One driver Bertrand Gachot. During this time, the journalists I flew down with, who just an hour ago were chilling in a room eating pre-made sandwiches and playing on their iPhones, transformed into rabid, quote-thirsty automatons, fueled by the promise of page views. They readied themselves in haphazard, makeshift press lines formed by her security team, as my moment of truth arrived. Do I insert myself into the crush, sell my soul, and try and get a quote? Or do I hang back and just take in what had materialized around me, which was unlike anything I had ever seen? Wherever Kim walked, a forcefield of cameras, journalists, and security guards followed her, and it was rare to catch an unobstructed glimpse of her. In real life, you only see Kim Kardashian in bits and pieces, or through other people's smartphones.  
The thought of asking Kim Kardashian a question about an energy drink turned my stomach. I could overhear security guards reminding press that she would only answer questions about Hype. At this point, I was starting to resent everything and everyone around me and—as an editor at a website that regularly covers the Kardashians—myself. The Kim Kardashian engine, set to Mach 10, was wearing me down. I began to think that if I did ask her a question, it would be something like, How the fuck do you deal with this on a daily basis without going completely insane? I also contemplated leaving this business entirely and joining the Peace Corps.
I also had to consider that when dealing with press on such a crushing scale, Kim automatically transformed into a soundbite-generating autobot, and the chances of her actually revealing anything about her pregnancy, or about Caitlyn Jenner's publicity campaign, were remote. She saves her true self for, you know, family and friends and stuff. Based on other accounts from the event,
. She did talk about North, Caitlyn, Kanye, and even her unborn child. Watching her field question after question, Kim remained impressively focused, as cameras created a fortress around her and the crowd—which at this point was jacked up on free energy drinks—screamed louder and louder. Like most celebrities, it's Kim Kardashian's job to move product, and whether or not this event would help Hype usurp Red Bull as the country's carbonated, caffeinated beverage of choice remained to be seen. But damn if Kim wasn't trying.
In the end, I didn't manage to ask Kim a question, but if I did it would have simply been about how she manages to stay sane amidst this daily maelstrom. As a wallflower, I could barely handle it for an hour, but this is her day-to-day life. And she's at the center of it. On the flight home, I was left with an empty feeling. It could have stemmed from what I had just witnessed, or it could have been that the pizza we were promised never came. Either way, when I got home, I had dinner.  
The crowd before the storm.
This is what Kim Kardashian looks like before she's about to take a selfie with a fan.
This is what Kim Kardashian looks like while she takes a selfie with a fan.
The queen of hype wearing her crown.
Kim Kardashian, in simulacra form.
Selfie Nation, pt. 1
Selfie Nation, pt. 2
Selfie Nation, pt. 3
Touched by a Kardashian.