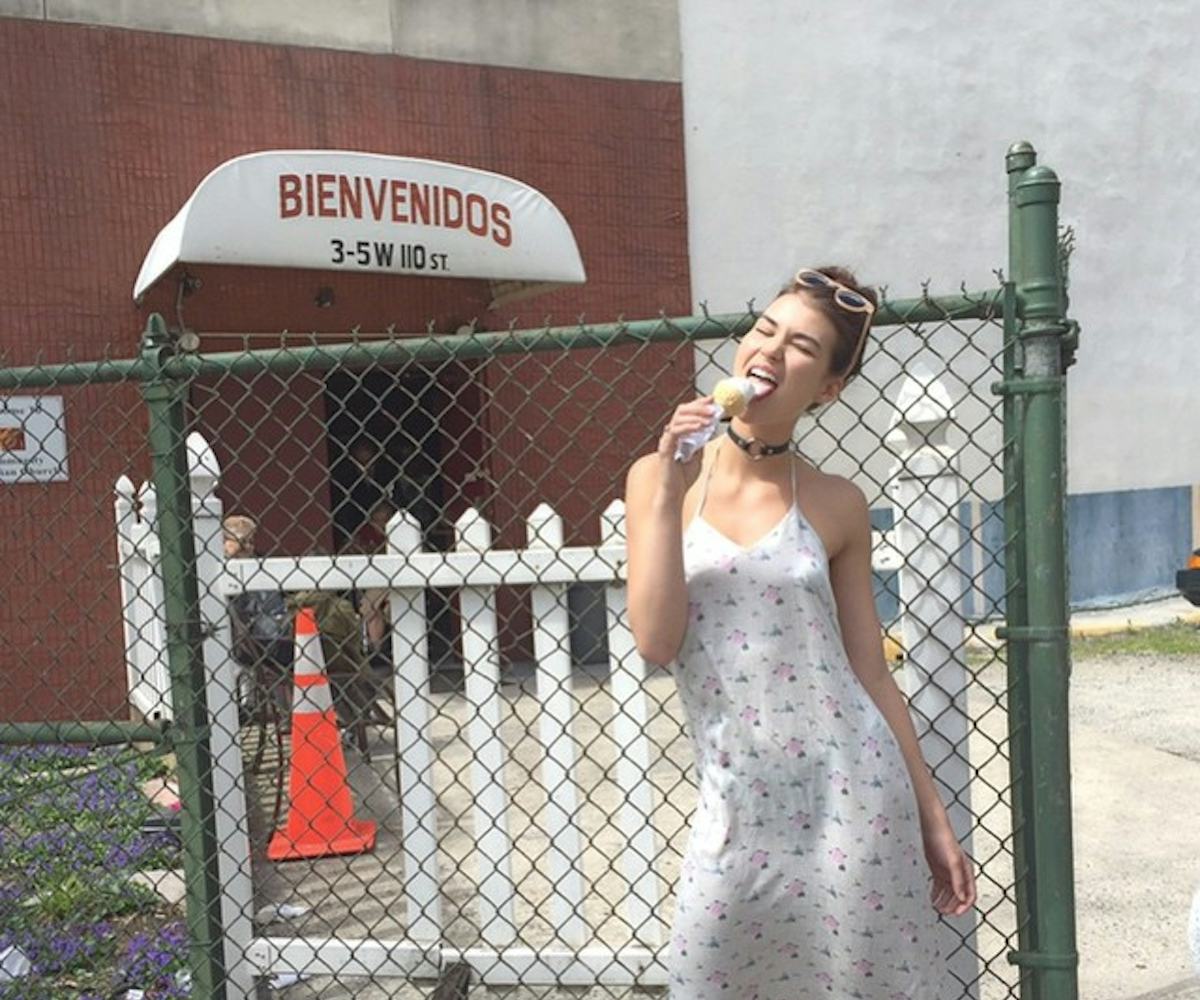 photo via @dolores_haze_ instagram
insta files friday: eco-friendly indie fashion brands
Looking stylish and being globally conscious are not mutually exclusive. Whether it be for everyday apparel, sleepwear, swimwear, or shoes, brands are finding ways to approach fashion production in a much more ethical way. These 10 indie brands are making the world a better place through eco-friendly, sustainable practices. Click through the gallery and follow them on Instagram to get on it.
more insta files, this way:
insta files friday: the raddest female rappers
insta files friday: pastry chefs
insta files friday: badass nail artist
insta files friday: the chicest up-and-coming models
Vaute Couture (@vaute_nyc)In 2008, Leanne Mai-ly Hilgart launched not just a business but a new fashion category: vegan apparel. Vaute Couture became the first all-vegan label at to present at New York Fashion Week. "My mission is to create clothes that are better than wearing animals ever could be," she says, noting the clothes are produced locally in NYC.
Alas Sleepwear (@Alas_The_Label)You can sleep better at night knowing that your PJ's are trendy and they're ethically made. The soft-cotton fabrics and awesome patterns will have you abandoning that ratty t-shirt/sweatpants combo you've relied on in the past.
BreeLayne (@breelayneofficial)BreeLayne's goal is to infuse environmental responsibility into high-end fashion. Every item is made with top-quality recycled, vintage, and dead-stock fabrics—and for each one purchased, a tree is planted. "We use every scrap and bit of fabric so that nothing goes to waste," founder BreeLayne tells us.
Coclico (@coclicony)There's something about finding the good pair of shoes makes us feel warm inside, but when you find ones that have been made with ethical and environmental responsibility—at that point, we're pretty much sold. Coclico's materials are locally sourced in Europe and produced in a small, family-run factory in Spain. And the elegantly minimalist design is pretty much the ribbon on top of the entire thing.
Della (@dellalosangeles)Della is one of those brands that understands how to do prints. What makes this brand admirable, though, is that all its products are handcrafted in Hohoe, Ghana, using textiles sourced in the Volta Region. The men and women who create the apparel are provided with jobs, education, and skills training through the brand.
Dolores Haze (@dolores_haze_)This self-identified feminist fashion label believes in social and environmental responsibility. Using vintage dead-stock fabric, it creates limited-edition pieces that are printed digitally to reduce pollution. It also makes sure to produce all the clothing at a domestic factor so that every employee can receive health-care benefits. "We're uninterested in classic portrayals of femininity," says founder Samantha Giordano. "Whether it's Debbie Harry, '60s French film star Anna Karina, or activist Gloria Steinem, these women possess an array of attributes that defy notions of what is feminine."
Giejo (@giejoswim)Giejo Swimwear is exactly what you want to be seen wearing on that beach day. It features an array of multi-functional designs, chic prints, and mix-and-matchable colors while remaining a sustainable brand by using vintage and reclaimed textiles. The designs are limited editions and the materials all sourced locally in New York's City's Garment District.
Tortoise Jeans (@tortoisejeans)Is there anything more all-American than denim? As a widespread wardrobe staple, it only makes sense that we find ways that we can make it more eco-friendly to wear. Tortoise Jeans is looking to do this with sustainable denim laundry, using less water and environmentally friendly products when washing the jeans. The result is denim with an awesome wash and a smaller environmental footprint.
Zady (@zady)Zady is a pioneer in the slow fashion movement, which prioritizes the environment and labor rights over quick turnaround—leading to timeless pieces that last (rather than trendy clothes that fall apart). The brand curates products from around the world and also manufactures its own line.   
Laura Siegel (@laura_siegel)Designer Laura Siegel's collection looks like a dream to wear and is produced by artisans who are provided with ethical working conditions and living wages. Because all the pieces are hand-crafted, it eliminates the need for machines that release chemical pollutants into the environment.