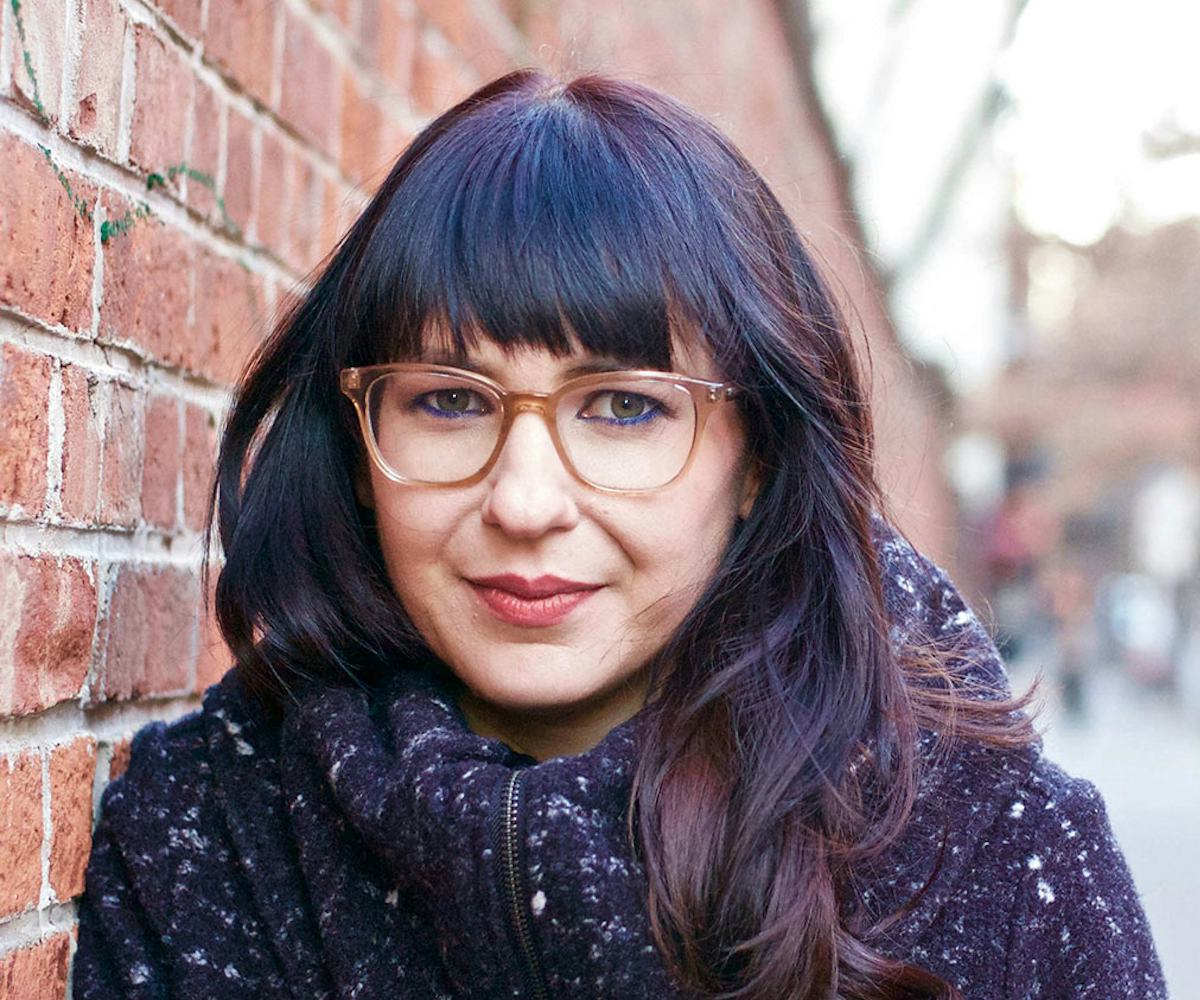 Photo by By Carol Wild Photography. All art by Mari Andrew.
Instagram Artist Mari Andrew Creates Art From Vulnerability
Her comics offer a candid look at life as we know it
Mari Andrew laughs when I tell her that, despite working for a fashion magazine, I'm currently wearing a bathrobe. It's Sunday afternoon, after all, and I'm exhausted.
"I'm recovering from crying, so we're both in recovery," Andrew giggles before revealing that she's calling from the lobby of an upscale hotel, where—clad in loungewear herself—she's waiting to get a facial.
"It's such a weird vibe," she says, setting the scene. "It's a really expensive hotel, so it's a lot of very conservative people and it's right by the White House. Every once and a while these gay men will come in shirtless looking for a bathroom. It's a fantastic viewing experience."
Her candor will likely sound familiar to followers of the artist-cartoonist-writer's Instagram account. There, updated several times a week, a girl with dark hair and glasses (that would be Andrew) navigates her way through a chaotic existence with equal parts wide-eyed wonder and confusion. With topics often plucked from the artist's own life the very day they're doodled, anything is fair game. Death, terrible dates, simple pleasures, and the dangers of creative vulnerability have all been explored. Rendered in stick figures and written in wobbly handwriting, her emotionally poignant takes on complex life events have a profound impact, even as they're rooted in a heartfelt simplicity.
But for all the silver linings Andrew finds through her creativity (see her Heart of the Month series, where she breaks down everything that brings her joy in a 30-day period), her career as an artist started from a very dark place—the death of her father and a terrible breakup, both which took place during a very short period in 2015. "I felt like I was at the bottom of a pit," she recalls. "I had to pull myself out. It took months to decide what was going to bring me out of this. I just wrote lists of things that make me happy. I liked to draw. I wanted to learn how to play guitar. I wanted to learn how to dance. So I just started all these hobbies. The doodling one stuck."
It didn't matter that she wasn't professionally trained, or that the Instagram account she started strictly to keep herself accountable only had a handful of followers. Andrew found that she liked the challenge of delivering a doodle a day—even if it meant racing the clock and posting at 11:58pm. "That was the amazing thing about having such a tough year, I just didn't care anymore," she says. "I didn't have to have a career. I didn't have to have a boyfriend. I didn't need to have abs. I can exercise because it makes me happy. I can start drawing because it makes me happy. It was very freeing."
It's through Instagram that Andrew found first her audience and then her career. With nearly half a million fans and a book slated for release in 2018, it's been six months since she started calling art her full-time gig. She's even finding peace in the uncertainty of the freelancer life. After all, there's commissions, a web store, and international adventures to think of. (A sabbatical in Spain earlier this year, where she was planning on exploring street art, was derailed by a mysterious illness that left her hospitalized for a month, but Andrew—now recovered—says another trip, this time to Ireland, has already been booked.) But as self-aware as her work would imply, Andrew acknowledges that none of this would have happened if she hadn't kept her expectations low, her appreciation high, and actually started doing, rather than simply dreaming.
"It's amazing that it took me until I was 28 to ask myself what I like to do," Andrew recalls:
I remember sitting around envying other people's lives and thinking, I wish I could play the guitar. Wouldn't it be cool if I could just salsa dance? It was around that time, when I was at rock bottom, that I thought, Why don't I do those things? I can learn how to dance. If you want to be a writer, you have to write. It's crazy, but so many people will say, "I'd like to play guitar." First step: get one! Things are a lot easier than we think they are. I didn't feel like I was good enough to be an artist because I never went to art school. I don't really know how to draw that well. So, for me, it didn't even feel like an option. And then it was like, "Whoa, I'm doing this now, so I guess it is an option." The fun thing is when a career is a total surprise to you, so is everything else.
Follow Mari Andrew on Instagram @mariandrew