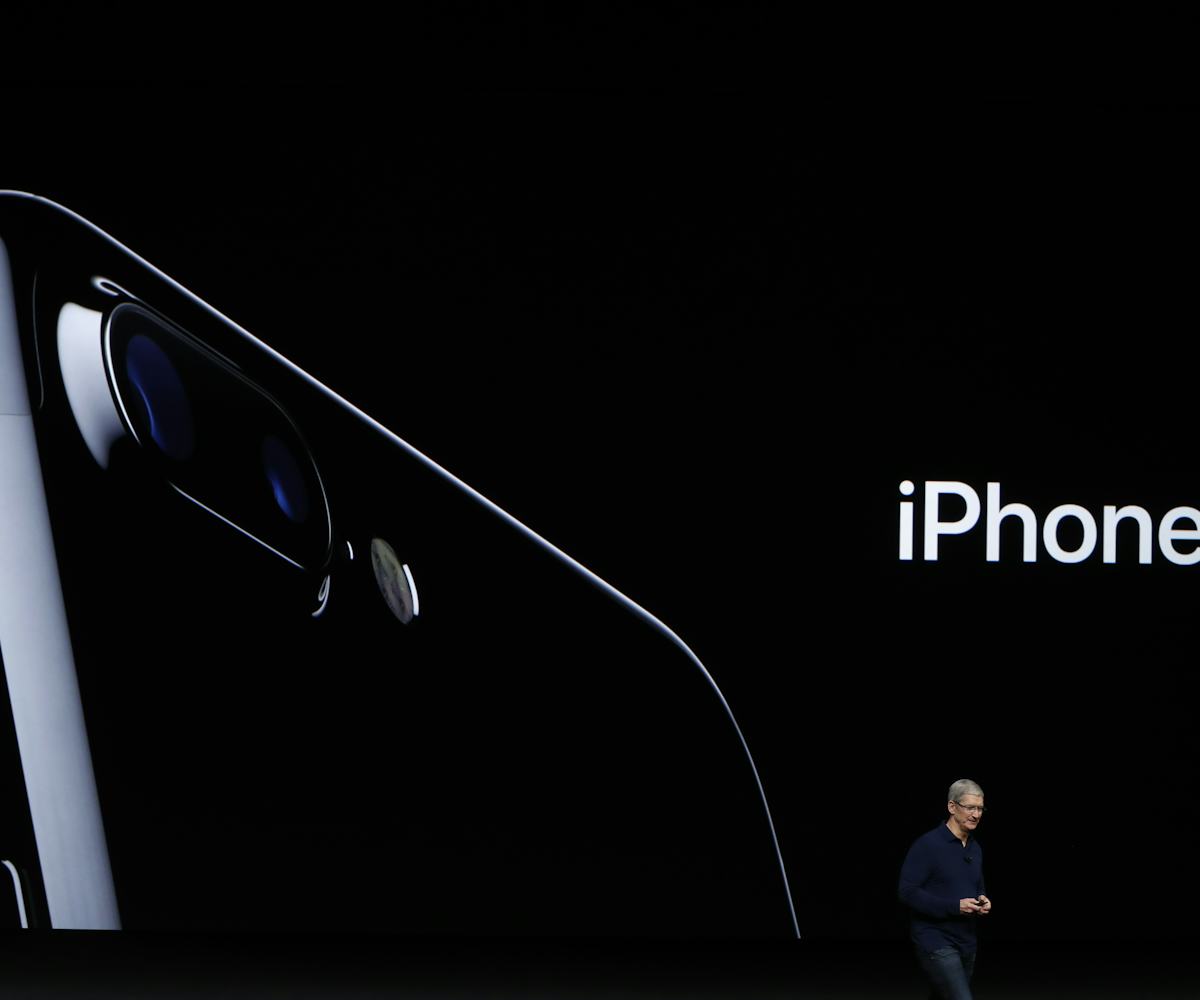 Photo by Stephen Lam / Getty Images
A Non-Techie's Guide To The iPhone 7
Everything you need to know
Thanks to weeks of intensifying speculation and rumors, the biggest surprises at Apple's iPhone 7 launch came before the company had the chance to unveil anything. In a fairly surprising (and embarrassing) pair of leaks, Amazon posted—and then removed—a page directing consumers to the new iPhone 7 accessories while Apple accidentally tweeted a photo of and new specs for the iPhone 7 well before company CEO, Tim Cook, had the chance to announce them himself. Apple, a company that has turned secrecy and control into high art, tweeted out their biggest announcement of the year, accidentally. Yeah, Steve Jobs is doing you know what in his you know what. 
Despite these gaffes, Apple still wins because the new iPhone 7 and 7 Plus are finally here, and there will be lines around blocks all over the world when it goes on sale on September 16. Here's everything you need to know about it.
The rumors were true (a reoccurring theme here): The new iPhone is water resistant. That means the next time you drop it in the toilet, you can just chill for a minute instead of fishing it out like a crazy person. That doesn't mean you can go swimming with it in your pocket, but this is still significant.  
Black is back. The new phone will be available in a glossy black finish that recalls the early days of the iPhone 3G.
Like every major iPhone upgrade, the new model features a new and improved camera system. Usually, that means higher resolution, but the 7's camera setup marks something of an overhaul, meaning that everyone is going to have to up their Instagram game. The back of the phone comes with two lenses, one wide-angle and one telephoto. They are both a whopping 12 megapixels, with a front-facing camera at 7 megapixels. Apple has also vastly improved the camera's zooming capabilities and its ability to shoot in low light. Photographers and filmmakers, rejoice. 
In the most reverberating but least surprising news of the day (thanks, internet!), Apple has finally done away with headphone jacks. Thirty years from now, when headphone chords are a relic of the distant past, you will look back on this moment as the ground zero. The new iPhones will still come with ear pods, but you'll have to plug them into a Lightning port in order to use them. In a show of good faith, Apple is also providing consumers with a Lightning adapter to use other headphones. They'll also be selling "AirPods," which will be recognized by your phone as soon as you open the case, a sure signal that the age of wireless audio has officially begun. Apple's Phil Schiller reasoned that "our smartphones are packed with technologies... it's all fighting for space. Maintaining an ancient analog connector doesn't make sense." We believe you, Phil. 
And now for the cost. The new iPhones, like the old iPhones, will start at $650 and $770 and go from there. Storage starts at 32GB and has been jacked all the way up to 256GB. 
So there you have it. Are these new features enough to make you shell out for a new phone? Or will you wait until next year, when the iPhone's 10th anniversary guarantees that Apple will finally transform it into the slab of glass we've been promised from the beginning?