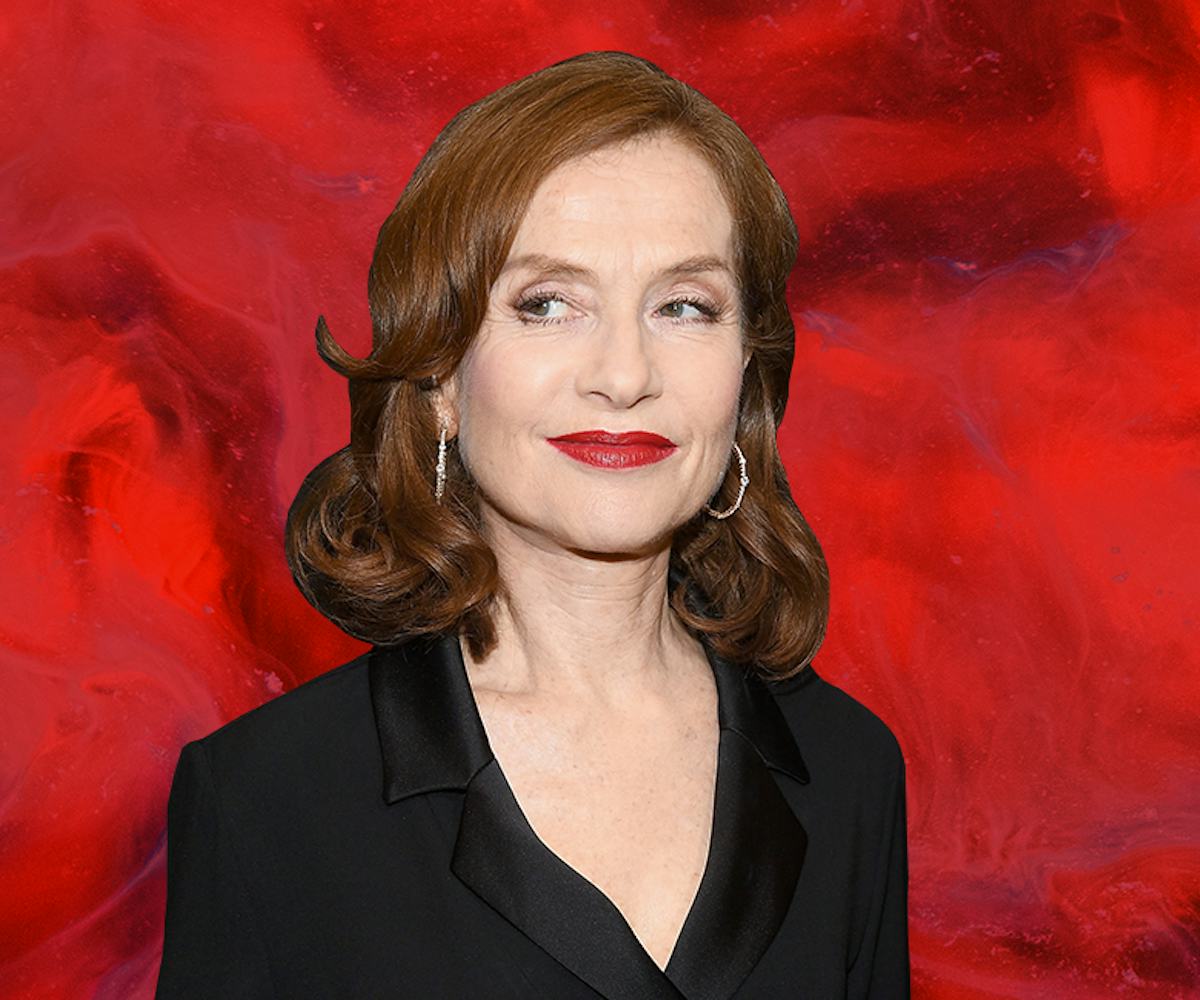 Photo by Getty Images/Pascal Le Segretain
Isabelle Huppert Isn't Interested In Your Ideas Of The "French Woman"
"People tend to insist… most of the characters I play are edgy or twisted"
Isabelle Huppert is a screen legend. In her four-decade-plus career, she's worked with an enviable lineup of auteurs and has brought a keen intelligence to all her roles. Mrs. Hyde, her latest film, now playing at New York's Metrograph theater (with a wider release to follow later in the season), is no exception. The film features Huppert as a timid teacher, Mrs. Géquil, who takes on a powerful alternate persona after being struck by lightning, in a loose reworking of the classic Jekyll and Hyde story. I spoke to the actress back during the New York Film Festival (a "wonderful" festival filled with an audience of "real cinephiles," she says), and Huppert was unsurprisingly chic and self-possessed as she shared her insights on this quirky and compelling role.
You've worked with Mrs. Hyde's director, Serge Bozon, before. Were you involved at all in creating the character, or was it written with you in mind?
I wasn't involved in the creation, but maybe I was involved in the sense that he wanted to work with me after we did Tip Top [2013] together. He wanted me to be very different from other things he had done. The character I was playing was the opposite of the character in Tip Top. From the beginning, he said, "I want her to be very shy, very shadowy, she hardly dares to enter a room."
Where do you see the part fitting in with your other roles? When the film opens with your character being insulted by her students, I was surprised to be seeing you in this sort of role. Your characters are typically more strong-willed. Is it a challenge playing against type?
No, it's not a challenge at all. It was fun. You don't want to be typecast. It was an opportunity for me to be a completely different person. It was very interesting.
Were there any specific preparations you made to play a dual role?
It was a very particular type of work. For instance, we had to think a lot about the costumes. The movie is obviously not realistic, and from the very beginning, I saw her as like she was coming from a different planet—there was a kind of Mary Poppins aspect to her. We thought she had come from a different world. We had to work a lot on that. On the other side, there's a lot of freedom to it. She can be dressed any way. From the very beginning, I thought her hair should be a bit old-fashioned.
The use of color is interesting. There are a lot of soft blues, and then there's an occasional pop of red. 
We did a lot of research with the costume designer, and Serge was also on top of it in the end. He likes things to be quite colorful. There's an aesthetic to his movies. His movies are a bit like tales, but not exactly fairy tales. The colors are all part of that invented world. It has to be cinematic, but like when you're having a dream and the colors pop out.
Was there any improvisation at all?
Not really. It was all written, but acting by definition is a type of improvisation. I like Serge's creativity. He gives a lot of freedom to the actors. Nothing surprises me in a film. You might be surprised as a spectator—quite rightly, of course—but as an actor, you are never really surprised.
You've had such a long and varied career. Are there any specific types of roles that you haven't played yet but hope to in the future?
I don't really have these kinds of dreams and obsessions. It's all about who you work with.
So are there directors you want to work with that you haven't yet?
Yeah, a lot. All the good ones!
Like who?
Oh, I think it's a bit vain to name them.
You've done a lot of stage acting. Do you feel there's a different approach in acting onstage versus in a film?
I never thought there was a big difference. It might just be my input or personality, but I think onstage I behave exactly the same way I do in films. It's very natural.
How did you relate to the role of science in the film?
That all came from Serge, since he's from the scientific world. He used to be a teacher. He was a real mathematician and has some leftovers from that. He wanted to do a movie about the education system—what it means to speak, learn, and understand. And then it all leads to philosophy. They're all bound together.  
Do you have any favorite actors or favorite films?
No, I can't say I have a favorite actor or a favorite film. I mean, I love too much cinema, and I think cinema is such a versatile media.
You work with a lot of teenagers in this film. Were they professional actors?
I didn't even think about it. It didn't occur to me to think of it in terms of, "Here I am, a professional actress." The setting of the film was strong enough to make everybody forget where they came from and who they were. The reality and strength of the situation, the power of the characters, that's what drew us.
Do you feel like as a French actress you're viewed differently from American actresses? There's so much in the media now about this cliché idea of "French women."
Certainly, but I don't know how much. The only thing people tend to insist is that most of the characters I play are edgy or twisted. People might see my input there as French, but I don't know if it's true or not. A good film is a good film.