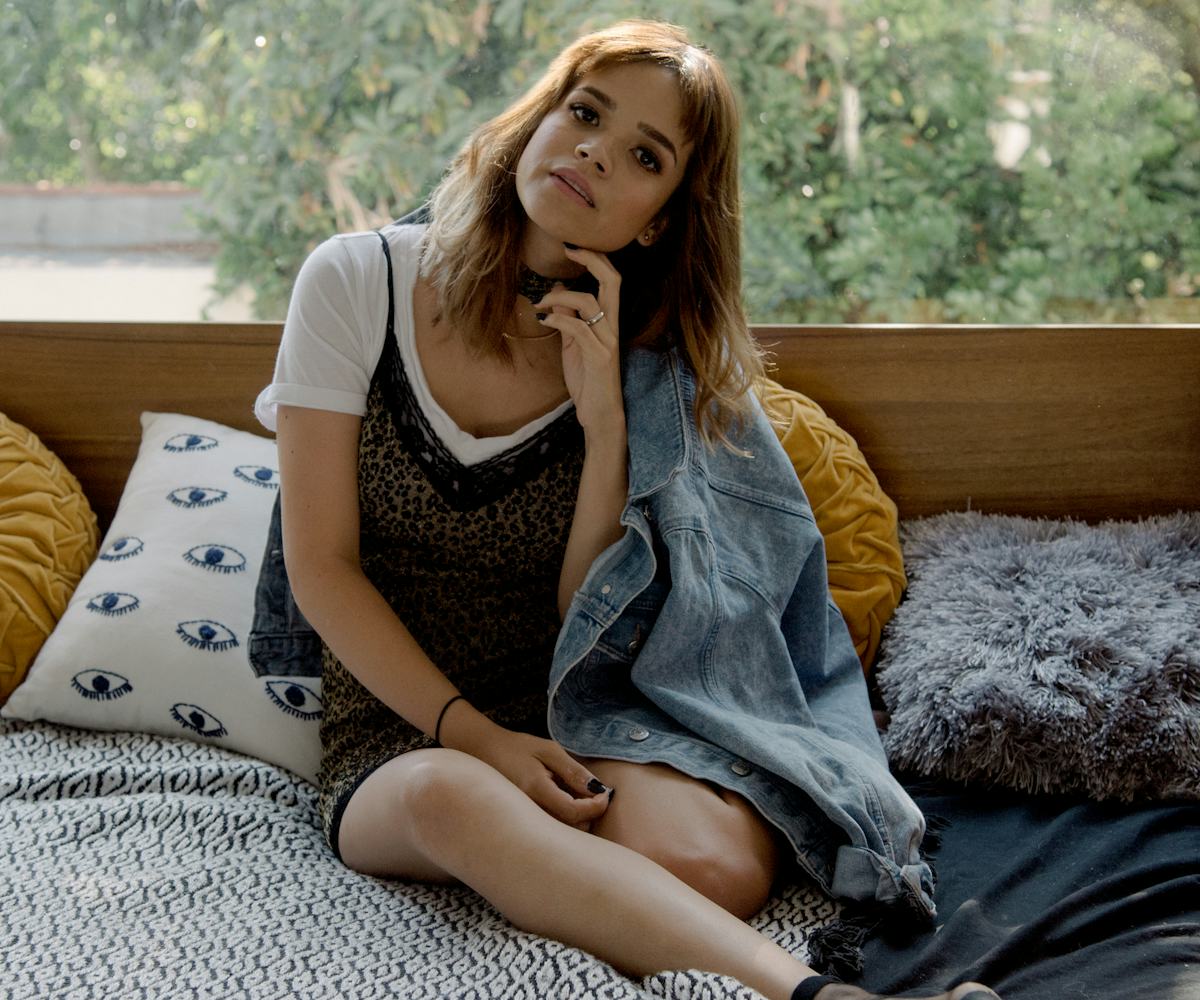 Photographed by Amy Harrity.
Illustrator Ilse Valfré's Designs Are Quirky and Fabulous
The 28-year-old artist discusses her career so far
The following feature appears in the October 2016 issue of NYLON.
The doe-eyed, star-freckled Bettie Page types that inhabit Ilse Valfré's illustrations might go sunbathing in BDSM-style harnesses. They may melt their own pretty faces off with a blow-dryer or strip out of their skin so that their skeletons can take a bubble bath. Sometimes they'll even sip from a carton of "100% Boys Tears." People are so drawn to Valfré's cast of playfully subversive female characters—which are, as she explains, cute, "but not too cutesy"—that she's been able to translate her aesthetic into a popular cult clothing label and garner a loyal Instagram fan base of more than 600,000 followers who eagerly await her latest work.
Born and raised in Mexico, the 28-year-old artist always had a knack for drawing, and turned to it when she needed a creative escape from her teaching job at a Montessori school. "My sister randomly said, 'Why don't you become an illustrator?' and I was like, 'What? Is that a thing?,'" she recalls. "I Googled it and thought, 'Wow, you can make money for just drawing?'" Valfré quit her job, moved home with her parents, and started the journey to being her own boss—which wasn't as glamorous as she imagined. "I was really broke," she concedes.
Click through the gallery to read the rest of the feature.
Inspired by artists like Edward Gorey, Mark Ryden, and Miss Van, Valfré began posting original sketches on her blog in 2010. After a few years, she opened a Big Cartel online shop that sold clothing and accessories featuring her art prints. Before long, she noticed an interesting trend: It seemed customers didn't just want to appreciate her illustrated femmes, but rather to emulate them in their own lives—to some extent, be them. It's a sentiment she immediately recognized. "Growing up, I always wanted everything Barbie had," Valfré explains. "I dreamed about that little Lamborghini, and I wanted her purses, her hat. So it got me thinking, maybe the girls who follow my artwork, they want the stuff my characters would have."
She moved to Los Angeles and began bringing her illustrations' clothing and accessories to life. One of her more famous pieces, a 3-D iPhone case that's an IRL version of the "100% Boys Tears" beverage, was an instant hit. So big, in fact, that a friend called to let her know that she had spotted knockoffs being sold at a market in Mexico City. While initially peeved, Valfré knew then that she had made it: "That was my first aha moment. It was kind of exciting."
Valfré's success can in part be attributed to her steady three-times-daily drawing schedule. "I'm not organized at all in my life, but that's the one thing that I feel like I've always committed to," she says. Her advice for other artists trying to stand out in the crowded marketplace of talented Insta-illustrators is to do the same. "Stay persistent," she advises. "Work on your craft every day."
Between raising a family (Valfré has a newborn and a three-year-old) and developing her fashion line, she is busy finalizing an upcoming art exhibition in Tokyo and working on an animated TV pilot. How will that look? "Sex and the City-meets-Adventure Time," she says coyly. Sold.
Get to know Valfré:
Eating Sushi is always a good idea; my fave spot is Sushi Ike on Hollywood Boulevard.
Drinking A cold glass of white wine at the Chateau Marmont
Wearing Nike, vintage, and Valfré, of course ;)
Beautifying I'm obsessed with Lime Crime and Glossier—their products make my skin look and feel good.
Listening  Isle&Fever and Tame Impala 
Browsing The websites for DNA and Oyster
Reading I'm very into psychology books.
Visiting Japan and any beach destination in Mexico
Coveting A full night of sleep—haven't had one in a while
Believing In the power of glitter
Rejuvenating I just started getting IV vitamin therapy. It makes me feel so fresh and energetic.