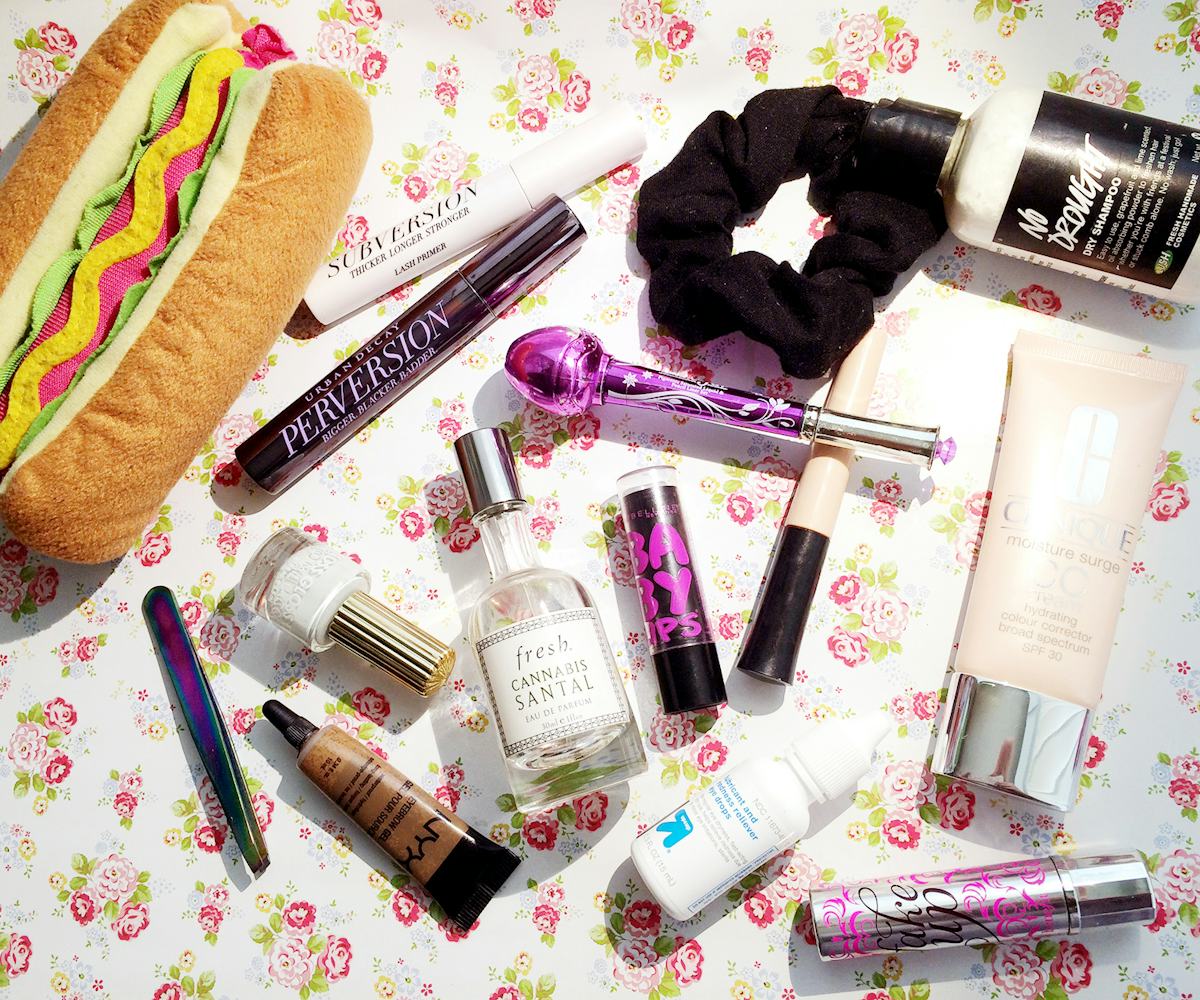 photo by sara m lyons
go inside the beauty bags of 3 nylon it-girls!
chanel eyeliner + cannabis perfume + a disposable camera.
There are so many reasons why NYLON hearts all of their October It Girls, but a major one is definitely their perfect locks, ultimate lips, and cheeks that glow effortlessly. If you're anything like us, you've before wondered what exactly it is that these It Girls carry along with them inside their beauty bags to pull off their looks. Now, we're going inside the beauty bags of three seriously cool NYC ladies (Taylor LaShae, Sara M Lyons, and NYLON's very own TV Producer Blair Waters) to find out.
TAYLOR LASHAE
actress, model, mod babe.
INSIDE HER BEAUTY BAG
+Dior Face Makeup in Nude with SPF: I literally do not go without this. This is daily wear.
+Skullcandy Crusher Headphones: They make the train rides a bit easier for commuting.+D'Blanc Guilty Pleasure Sunglasses: Because they are grade-A amazingness.+Bobby Brown Nectar Blush: Gives the color needed for any day, especially auditions.+Smashbox BB Cream in Fair: Gets rid of any unwanted dark circles and it's super smooth on the face.+Giant Lion Single Rings: These are quaint and simple. Everything gold.+Disposable Camera: For memories on film. Film all the way!+ Nars "Double "Orgasm" and "Laguna": They make the best combo when it comes to contouring.+ Lime Crime Liquid Eyeliner: "Lunar Sea" and "Quill" are life in itself. Easy to put on and so bold!+Michael Kors Original Perfect Stick: You have no idea how handy this is!+TooFaced Better Than False Eyelashes Mascara: Because, duh!+ Real Techniques brushes: The softest way to put all your makeup on. Love these <3+Sephora Black Lace Eyeliner Pencil: Perfect as a base to the ultimate smokey eye.+M.A.C Cremesheen Lipstick in Lickable: For the perfect day lip.+ Bobby Brown Lip Color in Burnt Red: For a kissable evening lip.+ Poppy Lissiman Emerald Evil Eye Clutch: Last but not least, the most amazing bag of the year.
SARA M. LYONS
"professional weirdo, illustrator, nail decal queen"
INSIDE HER BEAUTY BAG
+Urban Decay Subversion Lash Primer+ Perversion Mascara
+ Floss Gloss Nail Lacquer in "Moon Baby": This is my favorite color to apply my nail decals with!+NYX Brow Gel
+Fresh Cannabis Santal Eau de Parfum
+Eye Drops: It's always good to be prepared.+Benefit Fake Up Concealer Stick
+Clinique Moisture Surge CC Cream
+Lush No Drought Dry Shampoo: Super oily skin + baby bangs = a near-constant need for dry shampoo. This one smells really good and is non-aerosol!+Black Scrunchie: A scrunchie is a must, no shame, get all other hair ties away from me. I have super unruly hair that's piled on top of my head 80-percent of the time so scrunchies are basically a livesaver.
+Kleancolor Pixie Jar Combo Liquid/Pencil Eyeliner: It's only like two dollars and the packaging is so cute, plus it's some of the best liquid liner I've ever used.+E.L.F. Eyelid Primer
+ Maybelline Baby Lips Electro in Berry Bomb: It's dark purple and kind of scary looking in the tube but so pretty and sheer and subtle on!
BLAIR WATERS
nylon executive producer and frequent contributor, "loves glitter and death metal"
INSIDE HER BEAUTY BAG
+Leather Atelier Pouch: If it has a face on it, I probably own it.+ Kirin J. Callinan Mirror: Love tiny mirrors.  :)+Dr. Jart's Pore Medic Pore Minish: You know that line from Clueless about having pores the size of dinner plates? This stuff is amazing. I also recommend their face masks.
+Marc Jacobs Marvelous Mousse+ Fresh Lotus Youth Preserve Lotion: I really don't like foundations, but this one is so light and silky. I mix it with the Fresh Youth Preserve so it's even lighter.+Touch E'Clat: A magical product. A couple days a week I'll just wear this, without anything else—because If you look too pretty all the time, people don't trust you.+Chanel Stylo Eyeliner: It's good—I found this in the great quest to do the ultimate Rose-McGowan-in-Doom-Generation lid.+YSL Rouge: For the lipstick challenged (like myself) this is the best thing ever. Its like a matte gloss but stays on like lipstick.+Obsessive Compulsive Cosmetics Cosmetic Colour Pencil: OCC rules. The founder is this amazing sci-fi geek, it's all cruelty free, and the colors are amazing.+M.A.C Lipstick in Pure Heroine: This is Lorde's special-edition lip color and regardless how you or I feel about Lorde, it's the best purple ever.+Lancome Definicils Waterproof: You never know when your day is going to end in tears. Best to come prepared.+Tom Ford Velvet Orchid: Tom Ford scents are always really strong without being slutty. This one is like a combination of his White Patchouli and Black Orchid perfumes i.e luxury times infinity.