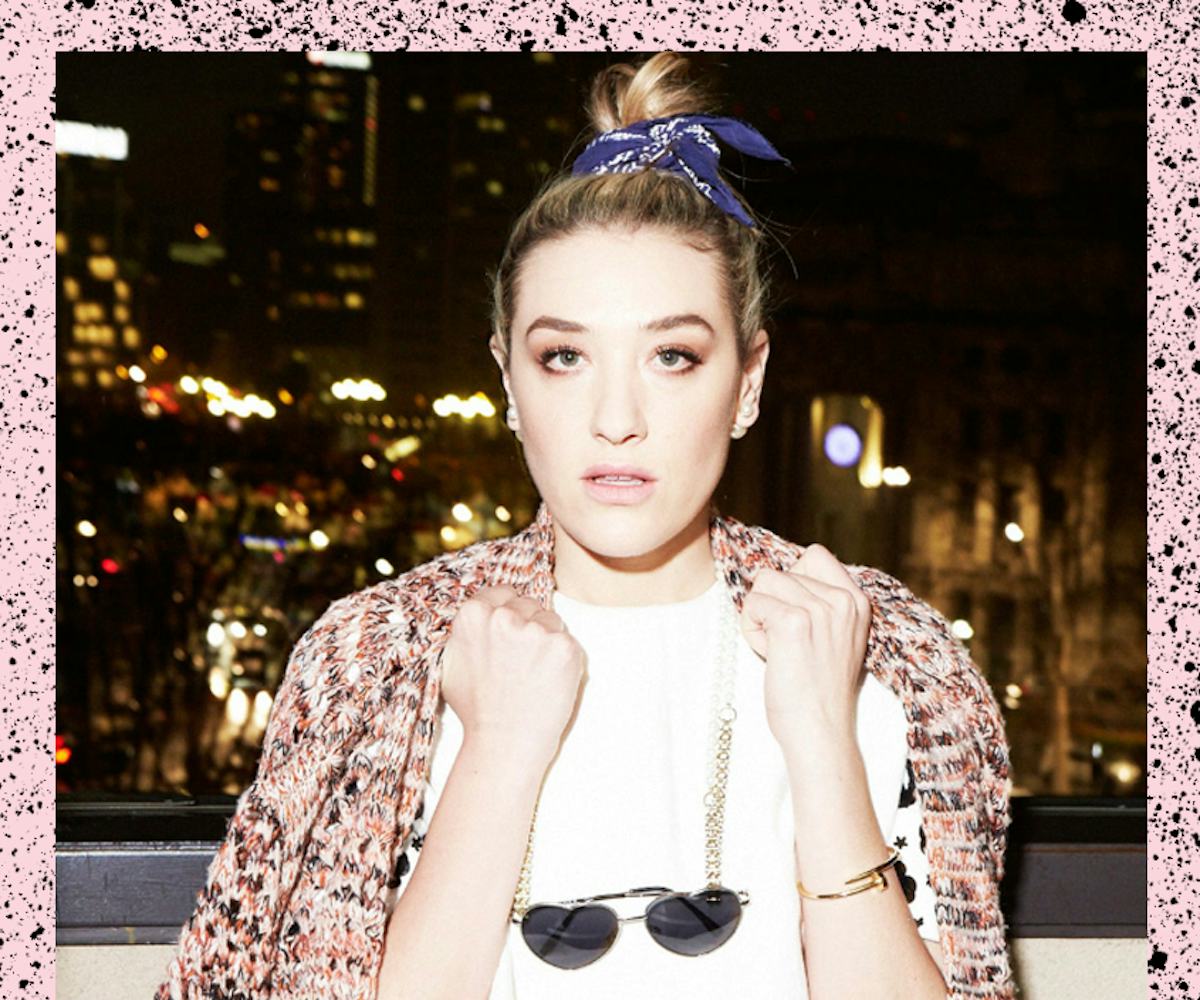 beauty secrets from the coolest girls we know
from leighton meester to cipriana quann
Knowledge is power, right? That's why we asked a stellar group of ladies who are no strangers to the spotlight to let us in on a few of their most treasured beauty secrets. Their answers left us enlightened and inspired, so we wanted to share them with you—because it's good to know you're alone in your quest for beautiful skin or your search for that perfect red lip. See what they have to say about sunscreen, how to use coconut oil for more than just cooking, and the revolution of the classic Vitamin C & E essentials.
photo via getty images
ZOSIA MAMET
As an actress and songstress, Zosia is one of the most badass chicks around. She makes "pretty" look easy with fresh-faced beauty that she wears with the type of confidence you wish someone would bottle up and add to the beauty world, ASAP. Read what she has to say about her brows, red lipstick, and why you should always wash your face.
WHAT IS YOUR MOST SACRED BEAUTY RITUAL?
I know this isn't very special or interesting but washing my face is definitely my most sacred ritual. Something about the consistency of it is like an old friend. I know it's there every morning and every night to start and end my day and if I walk out of the house without doing it or try and go to bed without it something always feels off, incomplete. 
TELL ME ABOUT YOUR AMAZING BROWS:
Oh man, my brows. They were once MUCH thicker but like a stupid teenage girl I plucked them and then an evil witch lady over-waxed them once without asking me and it's taken YEARS for them to grow back. I dream of a day when they'll be back to my 13 year old brows yet again…A girl can dream. But for now I don't so much as pluck a stray hair. They are wild and free, just as they should be. 
FAVORITE LIPSTICK LOOK:
I'm not a girl who wears makeup. I hate taking it off, I hate the feeling of it on my face, I inevitably end up ruining my eye and getting it everywhere. But red lipstick, that's not makeup, that is a category unto itself. I discovered MAC's Russian Red years ago and now never leave home without it. There's something about how a true-red lip will not only change your face but your entire attitude. It is my one and only beauty back-pocket trick. 
photo via getty images
REBECCA MINKOFF
Rebecca is the definition of gorgeous. The first time we met the designer and mama the second sentence out of our mouth was "You are SO pretty!" See what she says about that glow. 
WHAT IS YOUR MOST SACRED BEAUTY RITUAL?
I wouldn't say I have anything sacred with two kids and working full time, but when I get the chance to hit up a Korean spa, I am all about it. Juvenex in NYC is the real deal. If that's too intense I highly recommend Joanna Vargas for facials. She has a device that de-puffs your entire face in 30 minutes.
HOW DO YOU GET THAT INCREDIBLE GLOW, 24/7?
I still take prenatals and use June Jacobs skin cream only. I wash with Joanna Vargas face wash. Both give me the glow. 
WHAT'S YOUR SECRET BEAUTY WEAPON?
Sleep. I need at least seven hours to feel slightly normal. Water. 
photo via @shophelpsy instagram
RACHEL KIBBE
Rachel Kibbe is the founder of Helpsy and an all-around do-gooder. See what she says about exfoliation and Fraxel. Oh, and why Retinol boost works wonders for your skin. 
WHAT IS YOUR MOST SACRED BEAUTY RITUAL?
Exfoliate, exfoliate, exfoliate. And also drink a ton of water. I have combination skin so it's super-important that I keep really hydrated and also really exfoliated; otherwise it's a crime scene. I like to use a combination of retinol products and gentle facial scrubs, like Kiehls Ultra Facial Creme as well as hydrating masks and Daile Facial Moisturizer, which has a root in it that actually promotes DNA repair, first time ever used in facial care. I've also started going to the big leagues–fraxel and photo-facial treatments and hydro-facials. I love my doctor at Purely Natural Spa in Williamsburg—Dr. Cascya Charlot. She's a Harvard-trained skin-care ninja. She'll help you with whatever ails your skin and get you on a perfect regimen. When I travel I love bringing this vegan skin-care set by Osea—it has everything in it to keep my skin moisturized and refreshed in changing climates and altitudes. 
WHAT'S YOUR FAVORITE MATTE LIPSTICK OF ALL TIME?
I use Glossier Balm dotcom on the lips or any really dry areas. It's like homeoplasmine, which all the makeup artists and models swear by, but better. Since my skin is so dry I have a very hard time wearing matte lipsticks. I've heard Lime Crime mattes are incredible and I'm dying to try them. I'm really into NYX matte in Hippie Chic.They have some great inexpensive makeup if you're just trying out fun colors, which I'm doing right now, experimenting more with color. I love wearing their Primal Colors in Hot Pink as a cheek pigment. It's an amazingly vibrant, matte color; just a dab will do you.
WHAT'S THE MOST AMAZING BEAUTY PRODUCT YOU EVER TRIED OR WERE GIVEN?
Medik8 Retinol Boost. I use it a few times a week with Kiehls Ultra Facial Crème and it really helps my skin glow. Also Medik8 Vitamin C-Tetra once daily.
Also sometimes I use a derma roller  (I do it myself)—which is NOT for the faint of heart. It induces collagen production if done every four weeks for a year and is supposed to reduce signs of aging and heal scars. 
Photo by Neil Francis Dawson
LISA NGUYEN
As a stylist, Lisa defies space and time with her signature beauty look. We've never seen her without a black-lined cat eye and red lip. She wears the combo better than anyone we know and is the ultimate cool-kid. See what she says about fringe and who inspired her personal style.
WHAT IS YOUR MOST SACRED BEAUTY RITUAL?
Wear sunscreen, like Shiseido's Extra Smooth Sun Protection Lotion.
TELL ME ABOUT YOUR EYELINER AND HOW YOU DEVELOPED THIS STYLE:
My mother had a massive influence on my personal style. I developed my eyeliner look (using NARS) based on old photographs of her.
HAVE YOU ALWAYS HAD LONG HAIR AND WITH A FRINGE? FOR HOW MANY YEARS AND HOW DO YOU KEEP IT LOOKING SO GORGEOUS AND HEALTHY?
Yes I have always had long hair, for as long as I can remember! My hairstyle with the fringe started as a child, which is how my mother would cut my hair, so it traces back to when I was a toddler. As a teenager I experimented with lots of different styles and over the years I felt obligated to try something new. I would say for the past six to seven years I have never contemplated another hairstyle, I love it! I keep it healthy by routinely using hair serums and masques. 
photo by Jason Jean
CIPRIANA QUANN
Urban Bush Babes co-founder Cipriana has some of the most amazing hair of all time. And the girl really knows how to wear the perfect pink lip. See what she how she manages her beautiful locks, and what she uses to accentuate her lipstick color.
WHAT IS YOUR MOST SACRED BEAUTY RITUAL?
Besides having a healthy diet, which is crucial, my most sacred and cherished beauty ritual hands down (no pun intended) is just that—hands down: keeping my mitts off my face. As simple as this sounds, this ritual has saved me from a many of breakouts. You will be surprised the amount of germs you accumulate on your hands during the day while out and about, so it is impertinent to wash your hands before you touch any area of your face. I say all of this with risk of sounding like a complete hypochondriac.
TELL ME ABOUT YOUR INCREDIBLE HAIR!
Why thank you! Well my hair is my biggest accessory. I have been natural for 7 years, which means in the past I used chemicals, a.k.a relaxers and texturizers to alter my texture. Now instead of chemicals I use organic/all-natural products like Nature's Way 100% extra virgin coconut oil and Shea Moisture's 'Raw Shea Butter Reconstructive Finishing Elixir'. Though hair is aesthetics, the transition to natural was a physical manifestation of my inner confidence, acceptance of all of me and abolishing my old ways of trying to emulate a "stereotypical standard of beauty." Long story short, my hair completed me. 
YOU ALWAYS WEAR AN AMAZING LIP, BRIGHT OR NUDE. WHICH COLOR IS YOUR FAVORITE TO WEAR AND WHY?
I absolutely love lip colors, especially along the lines of fuchsia, red, and semi-dark natural pink spectrum. & Other Stories has an amazing line of lip colors that are not only moisturizing but sustainable with very little smearing. If I HAVE to choose, I would definitely go with a more natural tone. More subtle tones work for everyday wear since I love to highlight my mammoth size brows, and play with mascaras like Maybelline's Colossal line or L'oreal's Voluminous Original.
photo via miamoretti.com
MIA MORETTI
DJ and style icon Mia literally looks flawless in everything she wears—in fact, her style has become an industry standard. Read how she uses Vitamin C, why she named a lipstick named after her grandmother, and where her hair inspiration comes from.
WHAT IS YOUR MOST SACRED BEAUTY RITUAL?
I love using Ling Skin Care's Hi- Vitamin C 12% Serum at night to renew my skin. Vitamin C has a naturally occurring ascorbic acid that works to brighten and even your skin tone, and you wake up looking completely refreshed. 
WHAT'S YOUR GO-TO BEAUTY LOOK, DAY OR NIGHT?
A clean face and a red lip. I designed a true-red lip color with a touch of shine for my Mia Moretti X MAC collaboration and I named after my grandmother who was always delightfully glamorous; it's called Maria Moretti. 
WHAT INSPIRES YOUR HAIRSTYLE FOR EACH RED CARPET APPEARANCE? HOW DO YOU DECIDE WHICH ONE TO GO WITH?
Usually styling my hair is the last thing I think about when I'm getting dressed, and it's one of the things that's more off-the-cuff. I'll play off of my dress, my lip color, my mood or the mood of the season, and I try to always like to have fun with it. Your hairstyle says a lot about the character you're getting into for the night, so once I've decided what that is, I just run with it. If I'm ever not happy with it, I never hesitate to pull it out and just tie my hair in a bun. 
photo by felisha tolentino
LEIGHTON MEESTER
Songstress, funny-woman, former NYLON cove star, and all-around babe; Leighton is the cats pajamas and pretty much has the most gorgeous skin we've ever seen in person. See what she uses to get her dewy and flawless complexion.
WHAT IS YOUR MOST SACRED BEAUTY RITUAL?
Applying sunscreen, rain or shine. I use Biotherm's Lait Solaire.
TELL ME ABOUT YOUR FLAWLESS COMPLEXION. HOW DO YOU DO IT?
I have a regimen that I follow, morning and night. I like simplicity, so a gentle cleanser, moisturizing toner, and lotion with SPF is my routine. I'm also diligent about removing makeup before bed even if I'm tired. Other components, like staying hydrated, nourished, and getting enough rest play a big role too. I use coconut oil for makeup removal. It does wonders at removing everything without stripping or drying my skin. I also use it as an overnight oil treatment for my hair and on my cuticles and rough patches. And for cooking!
WHAT'S THE BEST WAY TO MASTER DEWY LOOKING SKIN? 
I'm a big fan of BB cream. I use Biotherm's Aquasource. For me, it just diffuses imperfections and lets your real skin come through. They usually have an SPF too, which cuts down on time and clutter. A highlighter is also an easy way to create a glow without being too bronzed and you don't need to be an expert to apply it. Tom Ford makes a really subtle liquid one. 
CLEO WADE 
Cleo, an artist, has ombré hair that's truly out of this universe, not to mention that her beauty game has us like whoa. See what she does to get those custom locks and how she uses Lavender water.
WHAT IS YOUR MOST SACRED BEAUTY RITUAL?
I am pretty devoted to Vitamin E oil and lavender water. I use them instead of moisturizer. 
TELL ME ABOUT YOUR OMBRÉ LOCKS. WHAT IS YOUR INSPIRATION FOR THIS SIGNATURE STYLE?
I leave all things hair related in the hands of Riawna Capri at Nine Zero One Salon in LA. I am super low-maintenance. She knows I cannot sit in the salon for FOUR hours every month for upkeep so she created the juxtaposition of dark and light in my hair before the ombré craze really hit, mostly as a creative solution for me to not have to touch up more than twice or three times a year. She has a really creative and unique approach to what she does, which is amazing for me because my hair is super-curly and most people don't get it. It is a little crazy that I only get my hair done in L.A since I live in New York but Riawna lets me eat In-N-Out burger while she does my hair so it is all worth it.  
HOW DO YOU CHOOSE THE PERFECT RED LIPSTICK?
I have been wearing Dragon Girl by NARS basically since I was allowed to wear lipstick. It is the perfect red because it has a nice blue tone rather than orangey, which doesn't work for me. When I am feeling more dramatic, I like NARS' Mysterious Red. I don't like to wear a lot of face make up so a lip is where I have the most fun and to be perfectly honest, I have never met a bad mood that a little red lipstick couldn't solve.
photos via Esperanza Spalding 
ESPERANZA SPALDING
Musician Esperanza Spalding is a force to be reckoned with. Her effortlessly beautiful afro-hairstyle takes natural to the next level. See why her favorite beauty look is au natural and how she lets her hair do what it wants to.
WHAT IS YOUR MOST SACRED BEAUTY RITUAL?
Exfoliating my face, washing off all my make-up before I go to sleep and most importantly getting enough sleep! 
TELL ME ABOUT YOUR INCREDIBLY BEAUTIFUL HAIRSTYLE. WHAT IS YOUR SECRET TO KEEPING IT LOOKING PERFECT ALL OF THE TIME?
Not trying to keep it perfect seems to be the key.  My hair tends to do what it wants, even when I strong-arm it with products, brushes, and pins. For my taste, healthy hair is beautiful hair, so I don't fight with it too much.  Whatever mood my hair is in (dry, extra curly, stretched out, knotted up) defines what style I'll be wearing on any given day.
WHAT'S YOUR FAVORITE BEAUTY LOOK AND WHY?
My favorite look is without makeup.  When I'm not performing, I don't wear makeup. I like the practice (especially in NY) of wearing my natural face. It builds a woman's confidence to walk outside, look people in the eye and be observed with no "beauty enhancements."  Also, when I know I won't be concealing those blemishes, I'm more likely to maintain a healthy skin routine. This photo represents my favorite and most beautiful me.