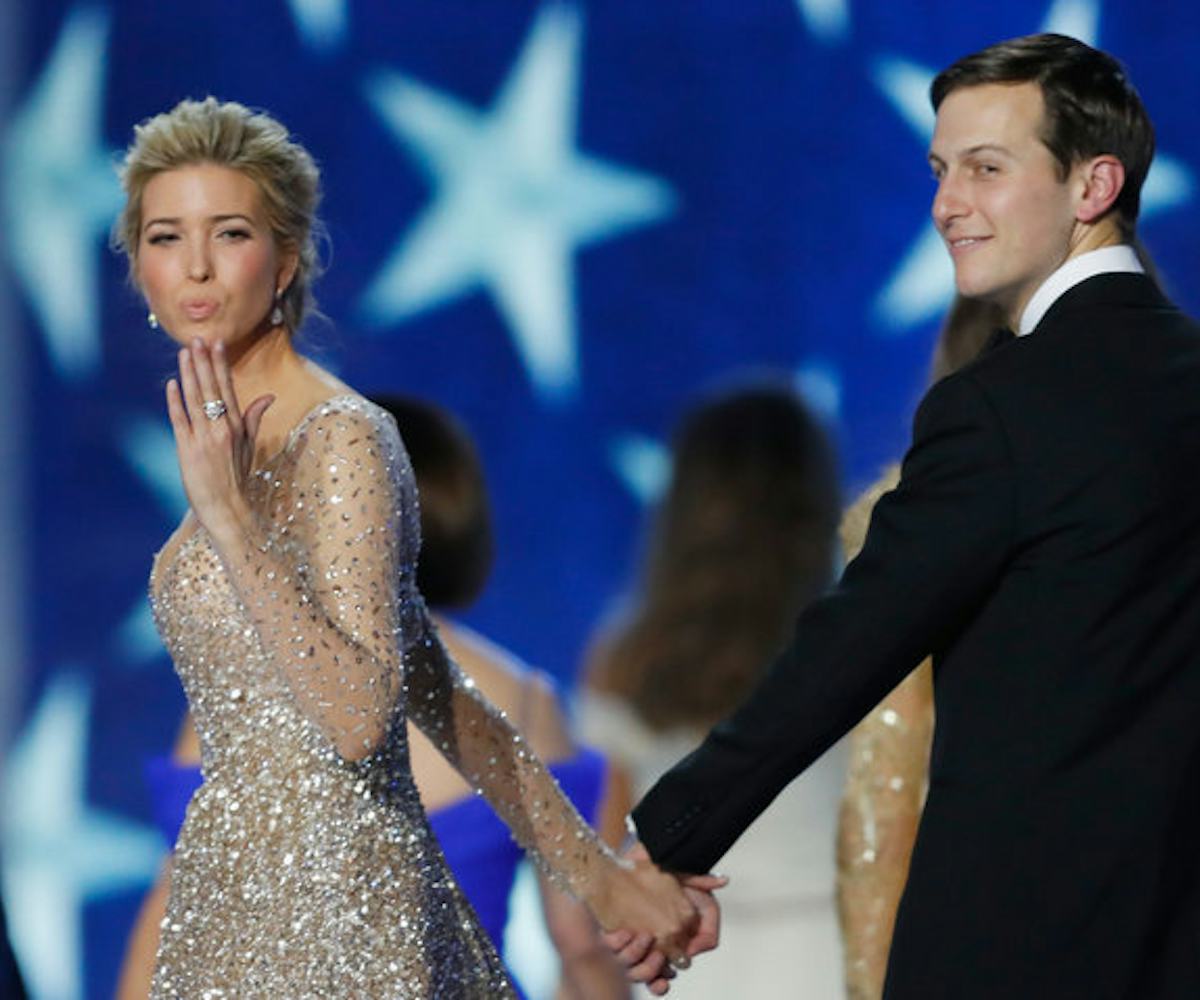 AARON P. BERNSTEIN VIA GETTY IMAGES
Everything We Learned About Ivanka Trump From Her Spotify Playlists
For starters, how long she and Jared have sex
Earlier today, the internet was unpleasantly reminded of the fact that Ivanka Trump has a Spotify account after she posted a new "sensual" playlist ahead of her eight-year anniversary with Jared Kushner. The yawn-inducing, 21-minute mix was dubbed one of the most boring sex playlists of all time by pretty much anyone with ears and revealed many things about the first daughter. For one, she and Kushner have sex for 21 minutes, which, depending on how steamy it is, can be pretty satisfying, but, considering the fact that her playlist was filled with piano ballads including James Blunt's "You're Beautiful" (seriously?), we believe that it's anything but.
And while we admit that finding the playlist was pretty hilarious, in the midst of the world collapsing beneath our feet every single day, discovering it was just the tip of the iceberg. As it turns out, her "romantic" playlist was just one of 14 cringe-worthy (in addition to 11 created by other people) mixes she put together over the years. Let's investigate.
Her playlists can be separated into four different categories: work, exercise, party, and miscellaneous. By analyzing her work playlists, we determined that they can each be separated into three different moods: one for walking to work, one for focusing on work, and one for when you need a boost during a midday slump. We're still not totally sure what, exactly, Ivanka does at work, besides watch as her father destroys millions of lives, but hey, we got to admire her attentiveness to rise and grind. 
Up next are her running playlists, because it's probably super-important for her to stay on top of her health care while Americans across the country struggle to afford it. She has a few including one weirdly titled "(Very) Long Run," which honestly sounds like the name of a desktop folder created by a serial killer. And if you must know, the playlist contains a wide array of songs from different genres, including Grimes' "Oblivion," Beyonce and Nicki Minaj's "Feeling Myself," and surprisingly Fabolous' 2010 hit "You Be Killin' 'Em."
Her party playlists give us the most insight on what a Trump soirée might look like, and honestly, it's as bland as you might think. Most of them, including this 2015 Holiday Mix, include nothing but Top 40 hits guaranteed to bore you to sleep. 
And as for Trump's miscellaneous playlists? Those are the gold mine. For starters, she's saved Spotify's popular rap party playlist, aptly titled "Get Turnt," in her collection, which not only puts a painful image of Trump attempting to spit a quick verse in our heads but also makes us question what, exactly, is she getting "turnt" up to? The demise of all humankind? Perhaps. 
Not to mention, she's created a series of questionable playlists in the miscellaneous category, including one for a person named Willa, titled "Willa's Twerk Out Mix," which features tracks like Bruno Mars and Mark Ronson's "Uptown Funk" and Lupe Fiasco's "Kick, Push," which are probably the least twerk-able songs in history. She also curated a mix for someone named Mel, full of country songs to run to, which just gets a big no from us. 
Overall, Trump's playlists confirm many two major things we already knew: She's pretty boring and has no idea what she's doing.