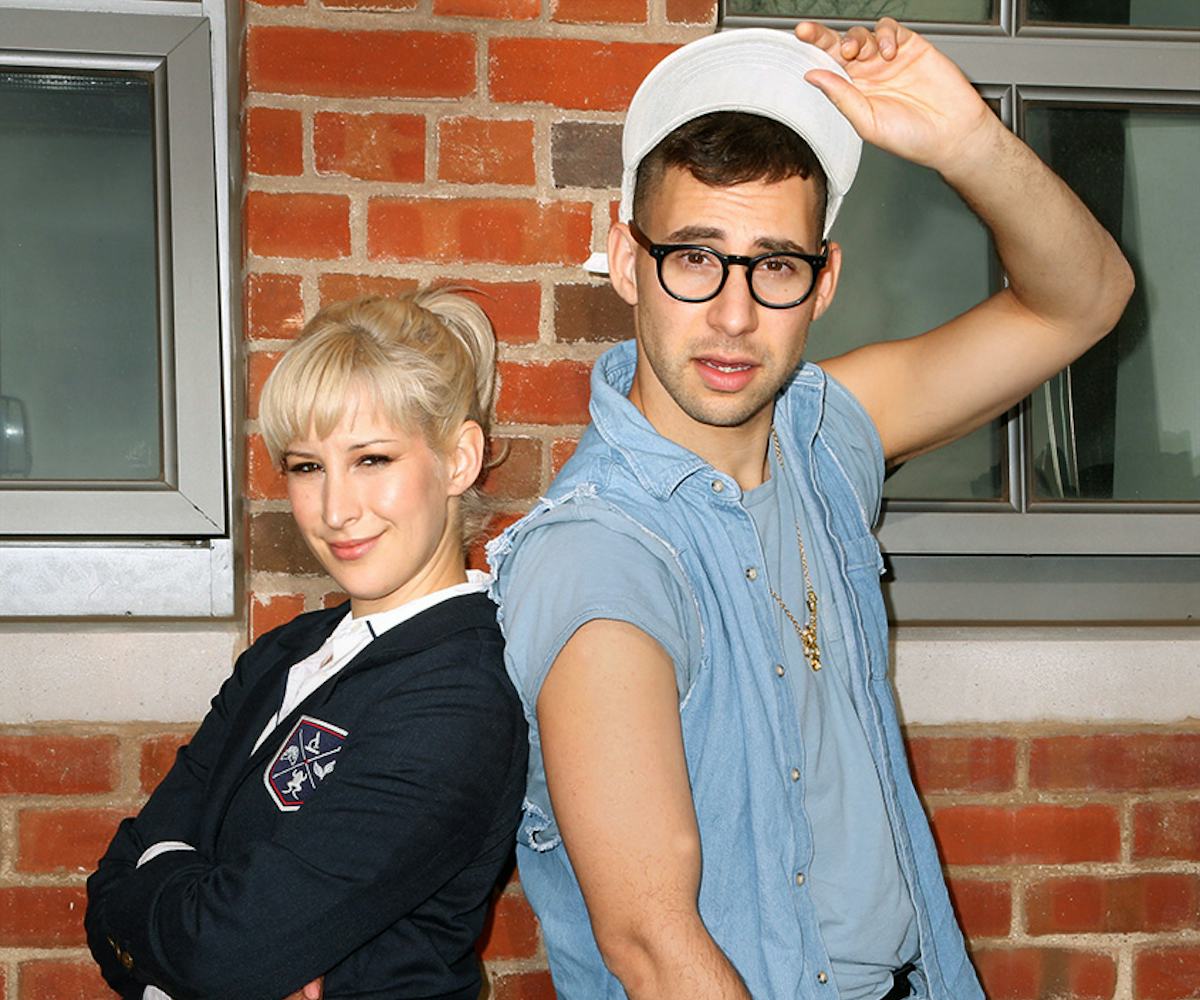 Photographed by Amy Lombard
welcome to the world of jack and rachel antonoff
In a sunny corner of Brooklyn's McCarren Park, Jack Antonoff not-so-subtly alludes to a weed-like smell emanating from his sister Rachel's bag. "It's a friend of mine's who shall remain unnamed—Voldemort," she explains with a smirk. "I want to point out that we're around a lot of children right now," Jack continues. "That's why I haven't taken my dick out," retorts Rachel, laughing. Well, that escalated quickly, although not entirely unexpectedly. The Antonoff siblings—you know him as the frontman of Bleachers and guitarist for Fun. (as well as Lena Dunham's beau), her as the fashion designer who turns out quirky, feminine pieces for her eponymous line—interact via a constant volley of witty quips. In honor of Bleachers' much-anticipated summer tour alongside Charli XCX and Rachel's awesome new collection (and collaboration with & Other Stories), we engaged the talented Antonoffs in conversation about style, music, awkward family photos, and that time their dad looked like Arsenio Hall.
Rachel Antonoff: Boy, do I have questions for you. Like, what were you feeling while posing for those life jacket pictures when we were kids? We have some photos of Jack, a series I'm sure I orchestrated because Jack used to follow me around and do everything I said, and he's like six or seven and just wearing a life jacket with nothing under it. But his face looks like he thinks he's Val Kilmer. 
Jack Antonoff: Nothing but Jimmy Choos and a life jacket [laughs]. I was thinking that I looked fabulous. As a kid you have these feelings on fashion that are at the core of what you're supposed to feel as an adult, like, "I'm in this, and I feel fucking great." But when you get older it turns into, "Do I look like an idiot?" I mean, what were you thinking when you had that hair as a kid? 
RA: I thought I looked great.
JA: There's an amazing picture of Rachel from the early '90s with her hairdresser Cindy who had a crazy perm, and in this photo of them together, it's clear that Cindy had just given Rachel "The Cindy."
RA: Cindy had built me in her likeness [laughs]. I feel like your style went through a lot of different phases growing up...what do you think influenced that?
JA: Mom and Dad have really interesting style even though they don't know it. Like, Dad has a lot of old Members Only jackets and sort of dressed like Arsenio Hall at one point. He had a weird salt-and-pepper flat top, but, like, not on purpose. And I just remember different moments when Mom was rocking, like, fruity-patterned suits.
RA: But you've always really dressed, I think, for yourself. 
JA: Thanks, I think you do, too. What do you think led you to be such a strange dresser?
RA: Just a lack of caring. I cared so much in high school. I wanted to be like everyone else, and everyone had this Louis Vuitton clutch that, like, went under your armpit and a Coach hat. I don't remember when exactly I began thinking that was ludicrous.
JA: Growing up, Rachel started taking guitar lessons early on. And I remember it because it freaked me out. A weird man would come over and set up two chairs in the living room….
RA: I probably gave it up because I felt like it was your thing. I can't remember you without music.
JA: You don't remember, like, baseball?
RA: No, I remember that, too. I remember baseball, I remember Pogs...you had a stamp collection, too, right?
JA: Still do.
RA: Jack gets really into things and excels at them. I get really into things and do them for a minute—I mean, besides my life's work. Like puppeteering, French.
JA: You never got into puppeteering.
RA: Exactly. Do you remember…when you fell in love with hip-hop? Sorry, Brown Sugar reference. But really, when did you fall in love with music?
JA: Dad would always play guitar and sing in a creepy falsetto along with the radio. A big part of our childhood was our dad being like, [high-pitched singing, Rachel joins] "The boys are back in town." And then the '90s happened, and that was when we started going to concerts and, like, Z100 Jingle Ball. And then we got really into the local punk and hardcore music that was happening in New Jersey. When you get into the music that's for your generation, you feel like you own it. Then you get new music that's local, and you feel like you own that, and it sort of keeps moving in that direction. Rachel and I were really into the Jersey scene.
RA: We went to shows every weekend. Are kids still going to see bands at fire stations and halls that no one else has heard of? Like Saves the Day, Midtown, Humble Beginnings…Shady View Terrace.
JA: Shady View Terrace! Remember "eternal Hoboken"?
RA: "Eternal Hoboken"! We went to a show in Hoboken, probably at Maxwell's, and this was before the time of the Internet, so you had to just sniff your way out, and we could not get out of Hoboken. It was like a horror movie where you'd go through a door and then the door would lock behind you. So we called it "eternal Hoboken." I remember at first Jack went on tour in our parents' minivan. And I would go, too—I toured for years with them.
JA: We'd print out directions, venue to venue, then we'd ask people how to get to the highway. And we've eaten in every shithole along the way.
RA: When I hear someone is from Tucson, [Arizona,] I'm like, "Have you had the beef tournedos..."
JA: "...at Club Congress?"!
RA:  There are so many weird little places. I used to tour all the time; now that everyone's busier, it's harder, but I try to go.
JA: She's like a tour rat. She sleeps in the back of the bus like a small infestation of one, just burrowed into the couch.
RA: I like to go in the cities where we don't know people. New York shows or L.A. shows are sort of un-fun for me because so many people come out of the woodwork. It's kind of like having to relive your bat mitzvah.
JA: Rachel's bat mitzvah theme was Broadway.
RA: Well, Jack did Star Wars for his bar mitzvah. I remember all of the parents getting together and being like, "This is a fucking nightmare with gifts; we need to stop this. Every family is going to give $20 per child to this fund and then the lucky bar or bat mitzvah kid is going to get a gift certificate…"
JA: Get ready for this. 
RA: "...for the Judaica shop on Cedar Lane in New Jersey." 
JA: Yeah, at Rachel's bat mitzvah, didn't some kids get in trouble for doing something in the bathroom? 
RA: That wasn't mine, but on my circuit. There were a few different bar and bat mitzvahs where the bathroom was demolished. Like, wet toilet paper everywhere. And to this day, I swear to God I would spend a day in the Judaica shop if I could find out who did it. It's still one of the great mysteries of my life.
"I cared so much in high school. I wanted to be like everyone else, and everyone had this Louis Vuitton clutch that, like, went under your armpit and a Coach hat. I don't remember when exactly I began thinking that was ludicrous." - Rachel Antonoff