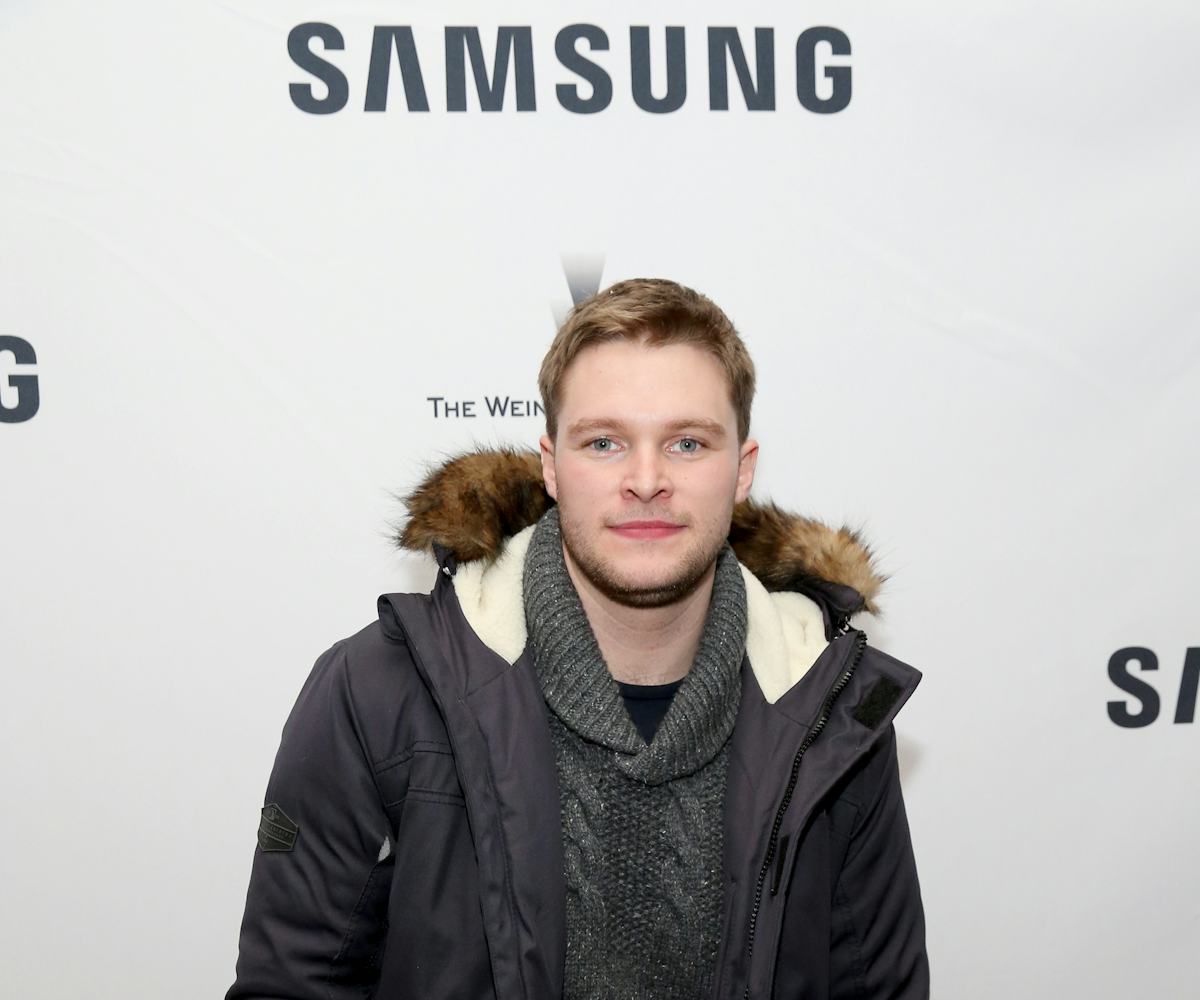 Photo by Neilson Barnard/Getty Images.
A Conversation With Jack Reynor, One Of Hollywood's Hottest Rising Stars
Catching up with the star of $1'sing street' at sundance
Jack Reynor's latest role in the Sundance favorite Sing Street is a far cry from his breakout role in the goofy blockbuster, Transformers: Age of Extinction, or last year's intense adaptation of Macbeth, opposite Marion Cotillard and Michael Fassbender. The crowd-pleasing Irish musical is packed with the sort of sweetness and pluck we've come to expect from writer/director John Carney, whose big break also came at Sundance in 2007, with the mini-phenomenon Once.
As the older brother of Sing Street's hero Conor (Ferdia Walsh-Peelo), Reynor is practically unrecognizable as a grubby stoner with long hair and ill-fitting clothes, but it suits the Irish charmer just fine. "I've been drenched in the tears of women from the Midwest of the United States for the last 24 hours. Drenched in their tears," he says with a laugh. He chatted with us about his new role, his first time at Sundance, the importance of the Irish film industry, and talking to jerks.
Were you sad that you didn't get to sing in Sing Street?
No, I was very happy not to sing, as a matter of fact. That wasn't for me to do. Certainly not in this film, anyway. The character that I play in the movie is a very dynamic character. It's something that I haven't played with before, the idea of a person who is kind of crippled by their insecurities and their inability to move forward and get some momentum and traction in their life, and instead kind of focuses their last shred of themselves into their younger sibling and tries to help that person to develop into a rounded human being. 
Was your character based on a real person?
Not one real person but many: Many different people who I've met and who I've experienced, especially in the younger years of my life. I know I'm obviously still a youthful person, but when I was a kid I certainly had people in my life like this guy, and I know those same feelings myself, of getting to a place in your head where you get into an almost reclusive mentality, and it's very, very difficult to tear yourself away from that.
At the same time, he has some great zingers.
Absolutely, he's a fun guy. He's the kind of guy you want to hang out with.
The introduction to the screening of Sing Street this morning was so touching, about how important Sundance is to John Carney's film career. Do you feel any of that, being here?
Well, I had a film here last year called Glassland, which I won the Special Jury Prize for, which was awesome. Unfortunately, I wasn't here last year, but it's really been nice to come out and soak up the atmosphere and the vibe and see what it's all about. I think it's a wonderful festival, and I'm really glad I've got a second film here now that's been received so well, and hopefully it's going to do well in the competition.
Did you feel a little bit ripped off that you didn't get a cool new wave outfit?
No! I wanted him to be exactly that way, and I wanted him to kind of look like a dirty, shaggy, unwashed David Gilmour. And I think he achieves that a little bit.
I overheard women in the bathroom saying that he looked a little bit like Seth Rogen.
Yeah, I get that.
The thing I saw you in before was MacBeth.
Where I don't look like Seth Rogen.
You're making some really cool choices. Justin Kurzel is not an easy filmmaker to get into, and you've got Ben Wheatley coming up, who's so intense.
Super hardcore.
What are you looking for? 
Interesting projects? A dynamic career?
Yeah, but they're really dark and intense. 
And now I've got Sing Street, which is super light! I've got The Jungle Book with Andy Serkis, that's gonna be a good one, all motion capture. I did HHhH, another pretty dark one. It's myself and Jack O'Connell hunting a pretty atrocious Nazi by the name of Heydrich. It's pretty serious.
Does it feel different to film in Ireland? More like you're home?
It feels like I'm at home, that's for sure! I've worked with pretty much everybody in Ireland; they're all my friends, so it's a great experience. It's like making a film with your family, and seeing people you haven't seen for a couple of years. Making Irish films is important to me. I try to make at least one every year, and it keeps me very grounded. It helps me to make interesting choices inside of Ireland.
Do you see a lot of people you know here at Sundance?
Yeah, a bunch of my friends are here, which is great, who I haven't seen in a quite a while either, so that's nice. It's weird to just come out to the middle of nowhere in the Midwest of the United States and see all these people you know. Even Irish people.
What does it feel like to do press for a movie multiple times? You're going to have to come and do this again for Sing Street.
Maybe do something in New York or L.A. or something, and obviously we've got the Dublin Film Festival. That will be lovely because we're opening that film festival. It's home. They're gonna buzz on this movie, I hope.