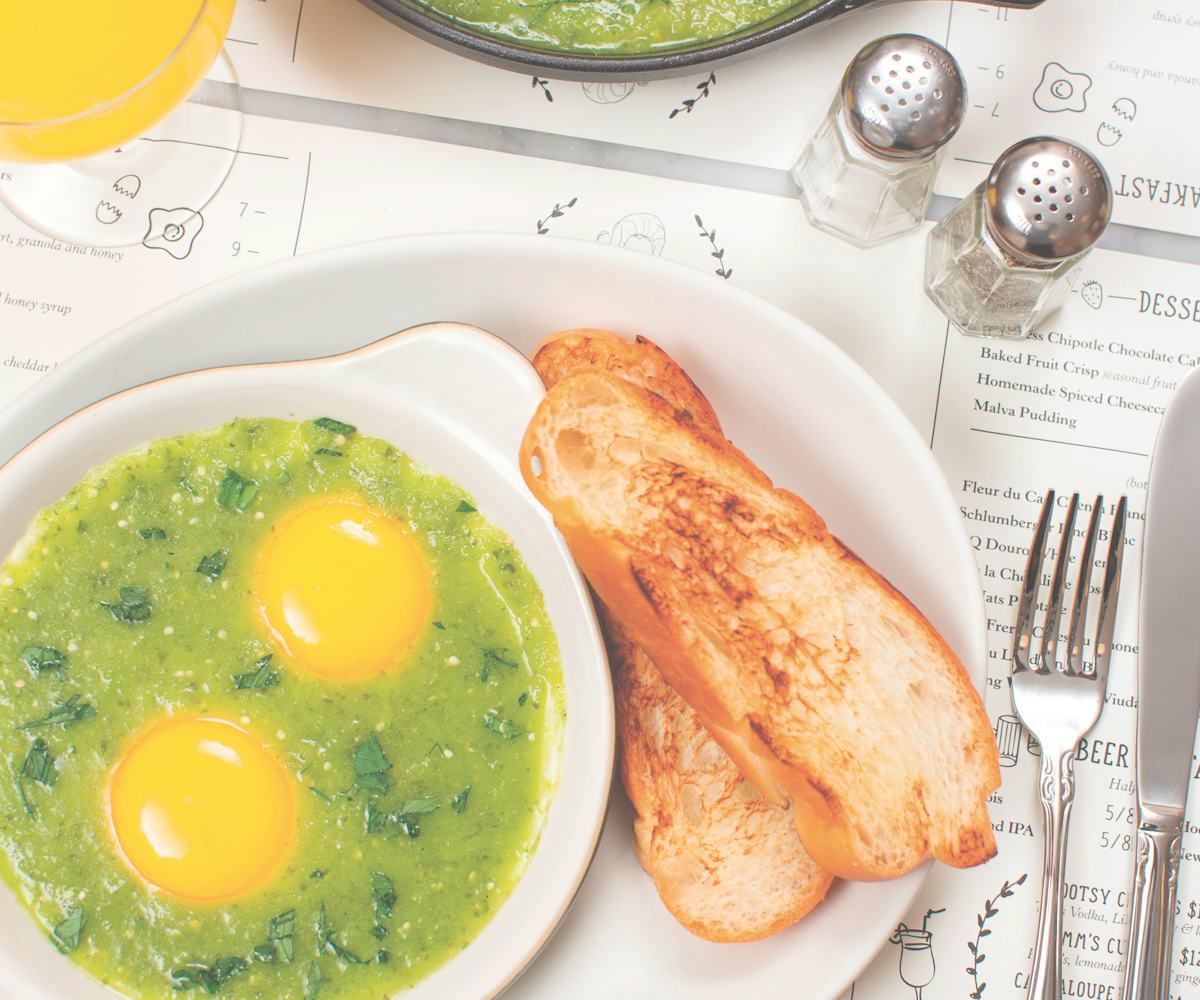 Your Favorite NYC Eatery Jack's Wife Freda Released A Book
Learn how to make their signature dishes
The following feature appears in the March 2017 issue of NYLON.
Plates brimming with beet red, tomatillo green, and yolk yellow have become synonymous with one of downtown Manhattan's (and Instagram's) favorite restaurants: Mediterranean bistro Jack's Wife Freda. Ever since the beloved spot started serving up its fresh, vibrant South African- and Israeli-inspired cuisine about five years ago, it's garnered an increasingly cultlike following. "Our regulars and guests just kept asking for our recipes!" explain the owners, Maya and Dean Jankelowitz.
This month, those pleas will be answered with the new Jack's Wife Freda cookbook, which showcases how to make the eatery's signature dishes. Loaded with enticing photography, playful illustrations, and personal input from family, friends, and staff, this book celebrates the community that Jack's Wife Freda has fostered—and invites you to join. 
Here, the Jankelowitzes and the restaurant's chef Julia Jaksic wax poetic on their personal histories with some of their favorite dishes from the book.
Madame Freda
"My love for Paris only grows—the café culture, those perfect dishes. A croque monsieur or madame always looked dreamy to me, but ham was an issue [because it's not kosher]. So Dean and I would hunt around Paris for a fresh made-to-order croque, and then to the dismay of the chef we'd ask to omit the ham. Croque madame sans ham: cheesy, creamy deliciousness. (When in Paris, try Café de Flore!) When we introduced duck bacon on the menu it slowly made its way onto a cheese sandwich, and then voila! Madame Freda. Serve with Worcestershire sauce and arugula, and experience the City of Lights while staying right at home!" —Maya
Peri-Peri Sweetbreads
"My grandmother Freda always used the entire chicken, so naturally giblets ended up in her chicken soup or covered in gravy and served on toast. I loved them, and as a child growing up in South Africa I thought they were some worldly delicacy that only we knew about. When Nando's opened in downtown Johannesburg and featured peri-peri giblets on the menu, I had found my dream indulgence. That texture and flavor—wow! So naturally, when deciding on the menu for Jack's Wife Freda, the memory, specialness, and taste came bounding back. Chef Julia played with the idea, suggesting we swap the giblets for the equal delicacy of sweetbreads. At first taste it both reinvented the wheel and reconjured all the flavors of childhood."—Dean
Shakshuka
"Our vibrant green shakshuka was one of my favorite recipes to create. A classic shakshuka is a Middle Eastern egg dish made with a rich red tomato sauce scented with spices. I love taking classic dishes and reimagining them, so for this I thought, "What about green tomatoes, tomatillos?" That led me to cilantro, onion, and garlic, all of the delicious salsa verde flavors that the Mexican cooks in my kitchens have prepared for me over the years. The dish came together beautifully and it made sense that including yet another cultural influence would turn this into one of Jack's Wife Freda's most popular orders—this being New York, we are always combining the contemporary with the classic, mixing flavors from all corners of the globe, and the results so often make everyone happy!"—Julia
Dean and Maya Jankelowitz.
Julia Jaksic.
Jack's Wife Freda: Cooking from New York's West Village by Maya and Dean Jankelowitz. Recipes by Julia Jaksic