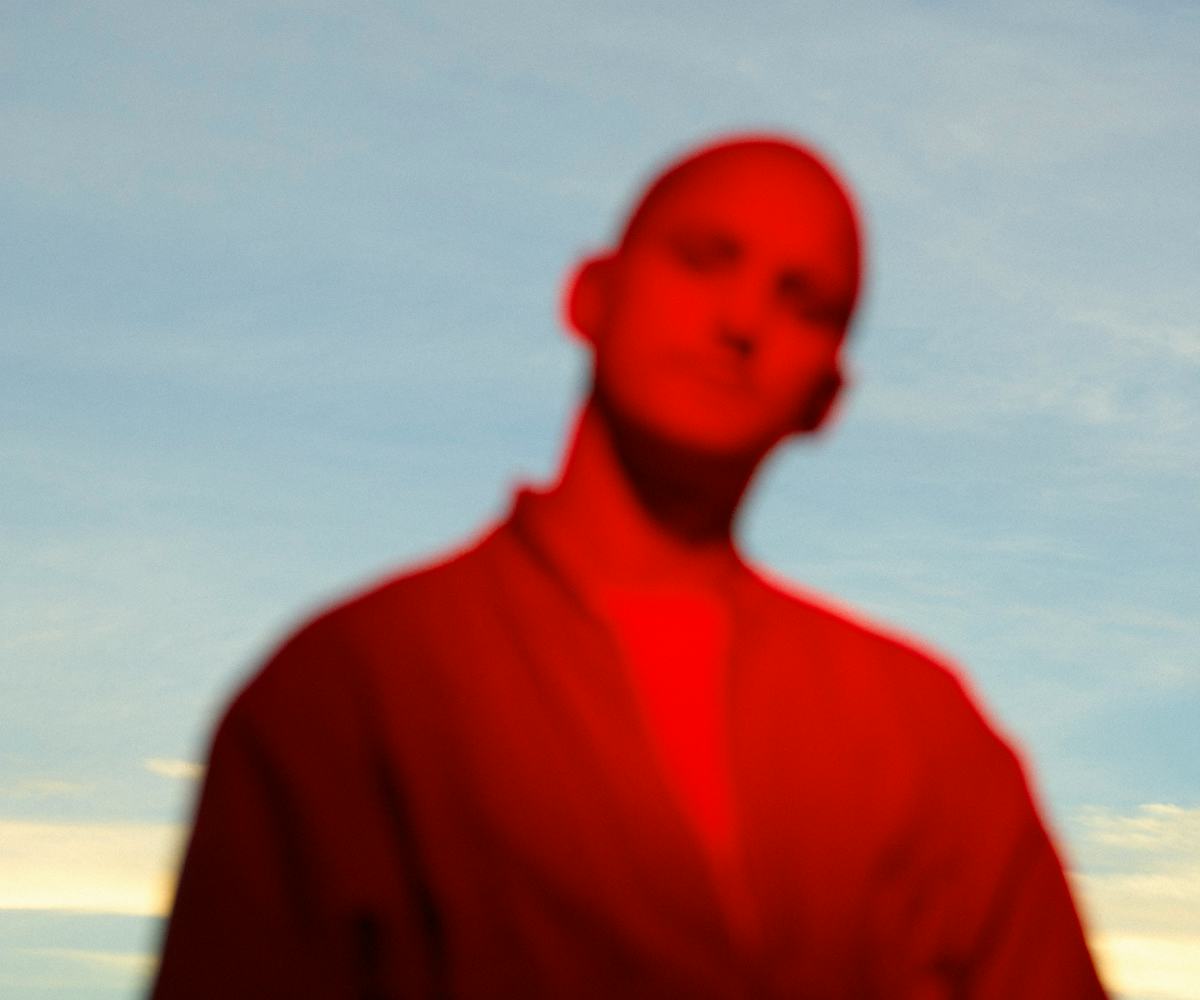 Photo by Mathieu Fortin
Jacques Greene On Why He Makes Music Where Desire Is About Feelings, Not Gender
Unrelated to 'The Perks Of Being A Wallflower'
In Jacques Greene's debut album, Feel Infinite, the artist takes listeners on a musical journey in which it's hard not to feel compelled to mull over our ultimate purpose in this complex universe we call home. Prior to this release, the Montreal-based producer had only given fans a handful of EPs and remixes; at most, Greene was used to completing four tracks at a time. The full-length record presented a new challenge, but he tackled it by creating "one string to cut through the work," a unifying thread comprising his own distinct sound and musical philosophy.
The afternoon of our interview falls the day after the Super Bowl LI, and Greene lets me know that he's disappointed with the results. We agree that we're living in a weird time, one that, at least, comes with the silver lining of being an ideal period for art to provide some form of escapism.
Greene feels this deeply; he has been experiencing an existential crisis over the question of where his responsibilities fall as an artist and a human being when chaos is happening all around him. He acknowledges how insensitive it feels to be promoting flyers for upcoming shows and releases on social media while his friends post photos from protests. Despite the conflict of interest, Greene has found comfort in the idea that, through his music, he's offering his fans a means of hope and a way of experiencing joy during these trying times. 
"Feeling like a fan is a very important thing to reconnect with a lot," he says. "Talking about myself here feels fucking weird and kind of irresponsible almost, but then I remember personal problems in my life when I was a kid... it was actually that one record coming out that was exciting. I try to remember that as we navigate these tough times." 
He also turns to cooking as a way to get out of his head and de-stress when he's removed from the studio because it "has the element of creation and satisfaction." Greene adds, "The most impressive thing that Frank Ocean did right is disappear so he could actually have a life to have something to write about... I think I manage to live a private life that is so damn normal, and I really cherish that."
The album's title relates to the producer's feelings of togetherness and desire to break down boundaries. "I like this idea of the unity and the safe space and the connectedness that it provides," he says. Greene feels like live music venues, whether they be clubs or raves or festivals, offer people a way to interact with different lifestyles to which they're not otherwise exposed. He likes how music gives us the opportunity to co-exist in a space and "lose this sense of the border of yourself versus other around you in life." With Feel Infinite, Greene explores the idea of euphoria and "being lost in a moment of music," and the way in which life can ultimately be about how we can forget about "the border between yourself and others" and just "feel that tapestry of matter."
The artwork for the album, created by Mathieu Fortin, reflects these themes, and is centered around the idea of presenting a "fragmented perception arriving to a bigger whole." Greene wanted to showcase the feeling you can sometimes get, that "your whole life [has been] leading up to this point," and how it's all about capturing little moments and repeating them.
"Fall," the opening track on the album, plays out like credits rolling in the beginning of a film as the abstract lyrics come and go. "You don't really know what she's falling for, who she's falling for, and I really enjoyed that ambiguity," Greene says. The closing track "You See All My Light" is a climax that complements the level of intensity he's been channeling throughout the album, rounding out the two sides of a record. Greene describes both songs as "pure distillations of what I like to do and what I try to feel with music." Anytime that he's played the closer live, he gets choked up about it. He explains that maybe it's because it reminds him of leaving his hometown, but he still can't quite articulate it.
Another stand-out is "True," made with longtime collaborator How To Dress Well. It's the only track with a feature because Greene didn't want to make a disjointed record full of "forced collaborations" that made it seem dishonest. It's an ambiguous song about love and desire, and there's a genuine sense of openness as Tom Krell casually switches genders on the pronouns, a reflection of his fluidity. 
"In general, with a lot of this stuff and what's happening, it's important to try to normalize these lifestyles and cultures," says Greene. "We still have to make a point of these things, but I'd like to think that in music or in our area at least, it's not even our job to be overt with it. I'm glad to have a piece of work that kind of touches on that." The subtext of what matters is conveying the "feelings toward this person, not the gender of the person."
"I Won't Judge" is a playful song that nods to cuts from his earlier work like "Another Girl" and the "Body Party" edit. "It was sort of like flexing the old Jacques Greene muscle," he adds. "I liked the idea of slipping one in there." 
"You Can't Deny" also mirrors this approach with the vocals belonging to that of a singer that Greene randomly discovered on SoundCloud. The producer refers to "Feel Infinite" as the tunnel track that takes his mind back to being in the studio every day and extracting music out of himself. 
"The whole record kind of came together like that, where it was like I didn't really pursue ideas that didn't feel right right away," he says. "The ease with which they just came out speaks to some honesty of myself. Like I'm not banging my head against the wall to make this one work it just does, and I shouldn't fight that. I should respect that that's how my brain wants to go like let's go."
For every piece that is tied to this album, Greene didn't want to make any compromises. For his upcoming tour, he'll finally be selling merchandise for the first time ever. He's most excited about an item that references early '90s MobiTV. In addition to hopefully working out a collaboration with fashion designer Will Fry, he's currently in the process of designing a custom, unscented candle shaped the signature Jacques Greene bust. 
"Because the record is called Feel Infinite and it's about this boundless and timelessness, everything leading up to it is very finite," he says. "I'm wearing out this record online right now—it's like a dying flower, it's sounding really fucked up right now. It's really cool—wearing out this vinyl, and then effectively burning down Jacques Greene iconography to make way for the new."
Oh, and, for the record, Greene was completely unaware of the fact that the phrase "feel infinite" is a huge part of Stephen Chbosky's best-selling novel The Perks of Being A Wallflower when he settled on the name for his album. "I feel like I owe it to this author, and also to myself [to read it]," he laughs. "I definitely would have nixed the title had I known. It's not a reference to that, but I guess maybe there's an overlap. It's an honest mistake!"
Feel Infinite is out on March 10 via LuckyMe. Catch Jacques Greene on tour at the following dates:
April 4 - Los Angeles, CA @ ResidentApril 5- San Francisco, CA @ Swedish American HallApril 7- Seattle, WA @ BarbozaApril 8- Portland, US @ Liquor StoreApril 9- Vancouver, CA @ Fortune Sound ClubApril 12- Washington, DC @ FlashApril 13- Brooklyn, NY @ Good RoomApril 14- Montreal, Canada@ NewspeakApril 15- Toronto, Canada @ The Velvet