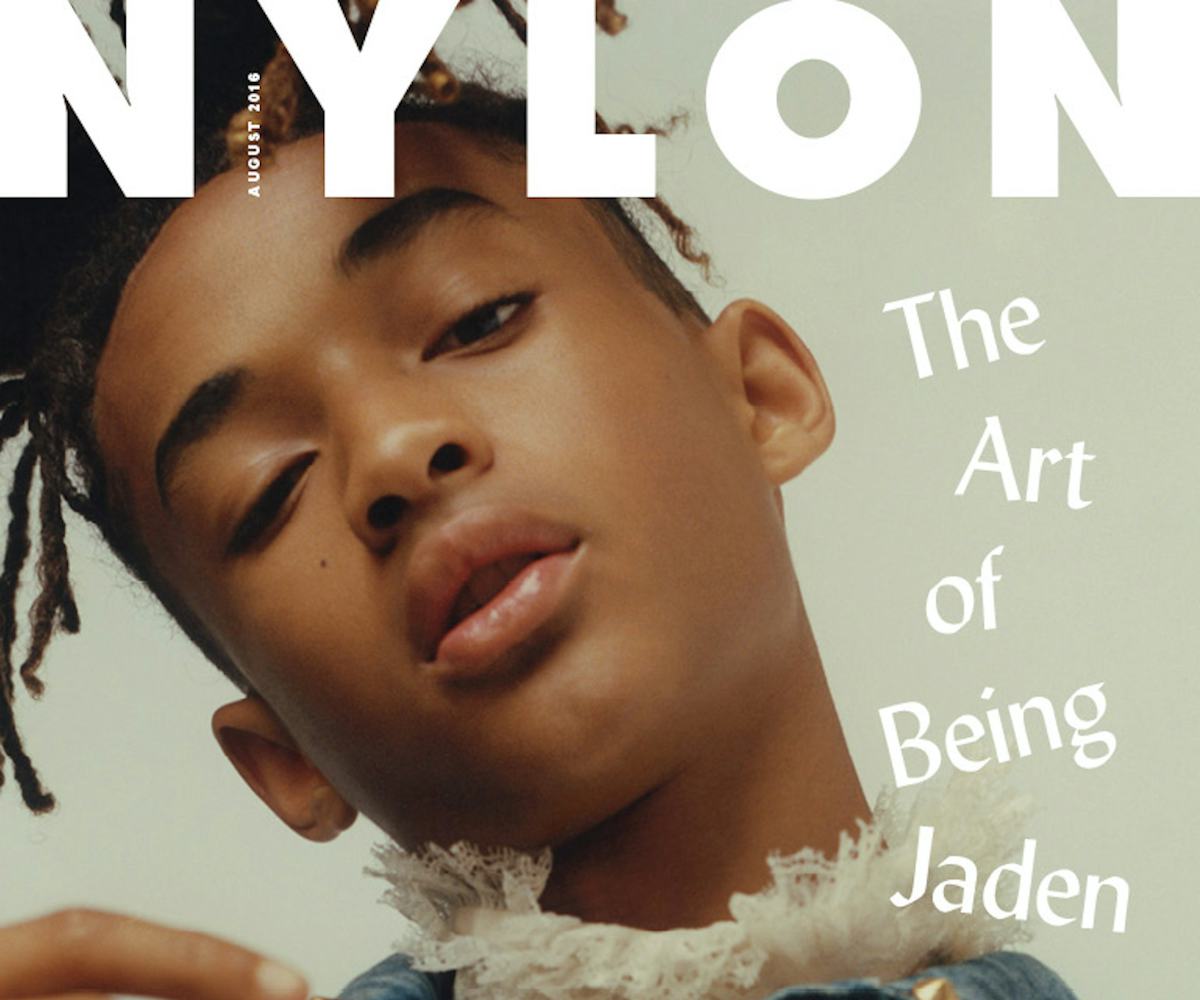 Jaden Smith Is Our August Cover Star
Hollywood's most famous progeny is entering adulthood as the key progenitor of a boundless mode of existence
The following feature appears in the August 2016 issue of NYLON.
Jaden Smith is at a loss for words.
He tilts his head back to face the pitched ceiling of Milk's massive Hangar studio in Los Angeles. "Do I have a favorite emoji? Uh…uh…probably…the—" He nods his head back down and a little to the left to give some gravitational assistance to his chin-length dreads that won't stay flopped to the side. "The square emoji," he says finally, punctuating his answer with a finger-gun gesture.
I'm puzzled, though not unexpectedly so. His response matches up with his entire social media persona—playfully profound à la Yoda or Mr. Miyagi (or Mr. Han, rather) with lines like "How Can Mirrors Be Real If Our Eyes Aren't Real" earning him Twitter oracle status. But, really, who can blame him for trolling us? Smith's millions of followers clearly can't get enough of his riddles, like the blank images he posts to Instagram that consistently generate roughly 20,000 likes each. On the other hand, could "square emoji" be a Beyoncé-style diss to conspiracy click-baiters who link his interest in pyramids and crystals to the Illuminati and bioterrorist cults? Is it irony? A cry for help? Or is it just a silly answer to an even sillier question?
Whatever it is, it's a very Jaden Smith thing to say. And he offers it in a very Jaden Smith way—that is, thoughtfully, provocatively, and with the slightly up-to-no-good smirk of a kid making polite small talk with the parents of his prom date; all signs that point to the fact that while Smith may be the most recognized actor-musician-designer-model-thinker-artist of his generation, he is also very much an 18-year-old kid who happens to like skateboarding and Twilight a whole lot. 
Click through the gallery to read the rest of the feature.
And he's incredibly sweet. "Please note that Jaden would like to add a smiley face after his last answer," reads the email from his publicist, a couple of days after his NYLON shoot at the Hangar. The question was about what he had coming up, and truth be told, I wasn't planning on including his response, because, well, it wasn't very illuminating. But the fact that he took the time to make an amendment for fear that it wouldn't be perceived properly suddenly made it seem essential: "There are a lot of things coming that I'm very excited for that I'm not going to tell you about any of them :)," he wrote. A cryptic hint to a surprise album, perhaps? Apparently I'm not immune to the pull of the rumor mill.
Jaden Smith was born on July 8, 1998, in Los Angeles to Will Smith and Jada Pinkett Smith. At age eight, he starred with his father in The Pursuit of Happyness. Then came The Karate Kid and After Earth. He's also released a few mixtapes. Everyone knows this. And everyone has read far too many analyses of the inherent and complex privileges and perils of being a celebrity spawn. Thankfully, when it comes to Smith, there are far more interesting things to talk about. Like his clothing and lifestyle brand MSFTSrep, a collection of T-shirts featuring eye drawings or Martin Luther artwork and French terry straps, tie-dye socks, and joggers, with which he wants to "inspire and change the way people think about clothing and about life."
Click through the gallery to read the rest of the feature.
Or we could talk about the fact that he is among the first wave of young Hollywood stars to shun ascribed gender norms that don't align with their inner truths. Of course that's not a completely new trend. In fact it's an ancient one. When early humans dressed, we can assume it was for warmth, comfort, and mobility—modern notions of modesty came later, which meant breezy loincloths for men, freed nipples for women, and vice versa. Fast-forward about 170,000 years and we find Oscar Wilde criticizing restrictive clothing, Coco Chanel designing sporty suits in practical fabrics, athleisure becoming a thing, and the recent move by countless brands from Acne to Zara to embrace gender-fluid fashion. If you're not convinced, try walking around New York City when schools let out at 3pm, and delight in the freedom with which gender-nonconforming teens express their style, as well as the double takes by those who were not born into a generation that is becoming increasingly more tolerant of alternative ways of being. Or look to the 80 publicly funded schools in the U.K. that adopted gender-neutral uniform policies this past June.
"You just have to believe in yourself, you know," Smith says when asked where he draws his confidence from and what advice he'd give to anyone struggling with low self-esteem or bullying. "The world is going to keep bashing me for whatever I do, and I'm going to keep not caring. I'm going to keep doing the same things—I'm going to keep doing more things. I'm going to take most of the blows for my fellow MSFTS. So, you know, in five years when a kid goes to school wearing a skirt, he won't get beat up and kids won't get mad at him. It just doesn't matter. I'm taking the brunt of it so that later on, my kids and the next generations of kids will all think that certain things are normal that weren't expected before my time."
Click through the gallery to read the rest of the feature.
Smith's distinct sense of style caught the eye of Louis Vuitton creative director Nicolas Ghesquière, who cast the young actor to appear in his spring/summer '16 women's campaign earlier this year. "He represents a generation that has assimilated the codes of true freedom, one that is free of manifestos and questions about gender," Ghesquière said of Smith's inclusion upon the campaign's release. "Wearing a skirt comes as naturally to him as it would to a woman who, long ago, granted herself permission to wear a man's trench or a tuxedo. Jaden Smith conveys something very interesting about the integration of a global wardrobe. He's found an instinctive balance that makes his extraordinary attitude a new norm. That really inspired me in the creative process for this collection."
"Flame" is the word Smith uses to describe the vibes on the set of the Vuitton shoot: "It was lit because we all knew that we were going to impact the culture and change the game and make a difference."
Click through the gallery to read the rest of the feature.
It was this same élan that made Smith stand out on the set of Netflix's Baz Luhrmann-created series The Get Down, about the birth of hip-hop in late-'70s New York, premiering in August. "From what I've seen of Jaden, this guy…he's not flighty. He's not overly artsy. He's a very hard worker," says author, cultural critic, and member of The Get Down's writing team Nelson George. "And to a degree, he's one of the leaders of this group of young men [on the show], in that when they're doing these routines, he is always on point. He is very, very conscientious. When people's energy is flagging, he's the guy who says, 'Hey, come on! Let's do one more!' That's maybe a bit at odds with this artsy-fartsy guy that he projects."
Smith says that aside from the dancing, singing, and keeping his Bronx accent authentic, the greatest challenge of the role was fitting an Afro wig over his dreads. His biggest takeaway was how people in the '70s had to search for the things they loved: "They were more dedicated to learning and I feel like that is not something that we necessarily have right now. People would go to record stores and actually buy the records they wanted. They would go to bookstores and read up on Martin Luther King, Malcolm X, Gandhi, and all these different people. And now we just have the internet to do everything for us."
Click through the gallery to read the rest of the feature.
Moises Arias, who appears in August's Ben-Hur and The Land (but who is probably best known for playing Rico on Hannah Montana), is one of Smith's oldest friends. About eight years ago, they started running into each other at events like the Kids' Choice Awards. "He was the flyest kid. I knew when I saw him," Arias says of spotting him at the party where their friendship gelled. Smith was sitting with Brenda Song of The Suite Life of Zack & Cody, a show that he and Arias had made guest appearances on. "I just remember going, 'Yo bro, your shoes are sick,' or something like that. He was one of the first to really put Supra on the map. So from there, I think Cole [Sprouse] came up to me, like, 'Yo, get this dance floor started,' and Jaden thought he was talking to him, so he just started dancing, like, back flips—he's a karate master, you know. It was just a really fun night. He's a wild kid. From the beginning, he's just always been himself and that's something I think the whole world can appreciate."
These days, the two friends like to skate around Calabasas, visit L.A.'s Broad museum for inspiration, and shoot short films and photography (see 490tx.com for Arias's intimate portraits of Smith and famous pals like Kylie Jenner and Bella Hadid). "When I was 16, Jaden was 12 years old," says Arias. "At that point in time I was very lost in terms of who I wanted to be and what I wanted to do and all that, and Jaden just makes you aware of all these unique attributes everybody has. So we'll sit down in a circle with all of our friends and just speak about it, and that's something that Jaden still very much likes to do—to talk to people about how they're feeling and just give them any sort of response that feels right in that moment. Jaden's gone through many experiences, but at the same time, not, so he likes to communicate with people that are in different situations and positions."
Click through the gallery to read the rest of the feature.
Tavi Gevinson, another friend of Smith's and a similarly oft-cited voice of her generation, calls him "one of the warmest and most openhearted people I've ever encountered, while also sharply discerning." She recalls with fondness an outing with Jaden and Willow Smith and Amandla Stenberg: "We started by holding hands and saying 'blastoff.' Then [the Smith siblings] had all these questions for Amandla about race theory, so we talked about that. Jaden questions everything. Then he monologued about the innate unity of all beings. Then we just goofed off around the water at the Hudson River."
When thinking about Jaden Smith, it's hard not to acknowledge how he and his peers, who came of age in a time of war, are now grappling with the ecstatic, and at times tragic, mess of progress. Whether it's viral outrage over a short jail sentence in a society that still propagates the myth that passed-out women are fair game for groping (but only if the perpetrator is rich and white), or the fact that trans women are being featured on the covers of Time and Vanity Fair while the trans murder rate in the U.S. is at an all-time high, or the news of a killing spree at a gay bar during Pride Month. These are confusing times, to be sure, rife with mixed messages: Are trigger warnings a step forward or censorship? Are we too outraged or not outraged enough? Are guns killing or protecting us? Is the U.S. being primed for a fascist takeover? Delete your account.
Click through the gallery to read the rest of the feature.
Smith finds clarity in places like the Mediterranean Sea, off the coast of Italy. "I've only been there once, but it's my favorite place to be, and it's the easiest place to forget about all of the misconceptions, misunderstandings, and misfortunes of planet Earth," he says.
It also helps to have the coolest parents on the planet. "I know his father from back in the day, and the thing that's most alike for the both of them is the focus," says Nelson George. "Will came up very differently than his son did, but that sense of wanting to be really good, to be able to be part of something—Will was always very good at that, with Jazzy Jeff and touring in the hip-hop world. But he was not Eric B., not Rakim—he was always a little different, a little outside of the norm, and I think that's why he became successful. And I think Jaden has that quality: to be part of something but also to have a sense of an individual path."
It's not surprising, then, when Smith says, "The greatest lesson I've learned from my parents is to be myself, at all costs, no matter what anybody thinks." There's certainly nothing square about that…or is there? :) 
Additional reporting by David Walters.
Hair: Marcia Hamilton at Fr8me.com using Keracare. Grooming: Steven Aturo for Theonly.agency using Dermalogica skincare. 
NYLON's August issue hits newsstands July 19. Buy it now (and receive a 15 percent discount off your next order!). Or, subscribe.