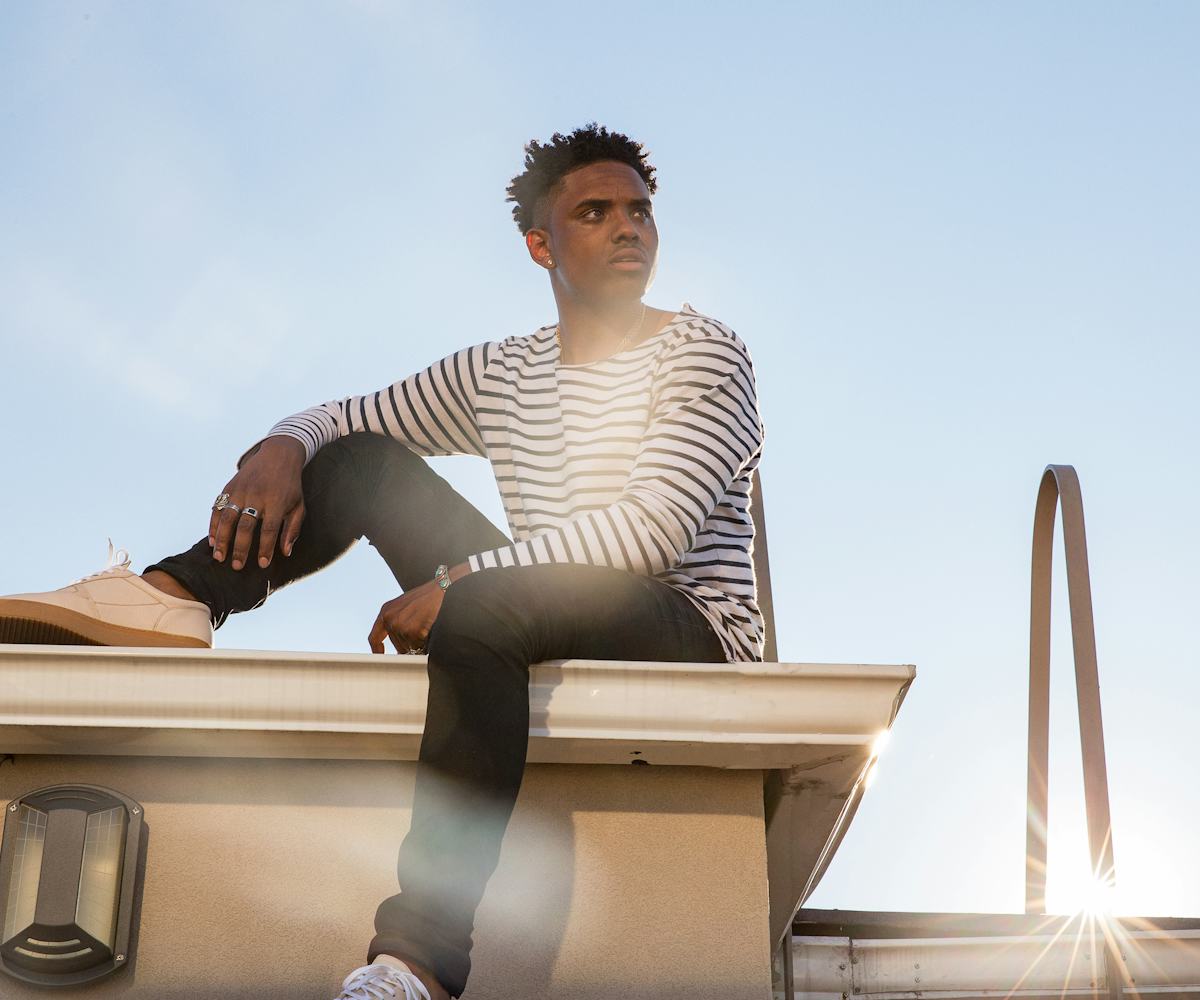 Photographed by Matt Martin.
On Jahkoy's Debut EP, the "R" in "R&B" Stands For Romance
Listen to 'Foreign Water' here
A quick survey of today's R&B landscape reveals a pretty disheartening truth about the genre: It's lacking in good, old-fashioned love songs. Sure, the presence of John Legend on the Billboard R&B chart provides some consolation, but with the lofty positions of tracks like Drake's "One Dance" and Partynextdoor's "Come and See Me," it seems like romance is somewhat of an afterthought—real romance, at least; the type for which a Hennessy-fueled grind on the dance floor or a reluctant late-night visit just won't do. But it's exactly what's motivating Jahkoy, and his debut EP, Foreign Water (out today), is proof that love does, in fact, still exist.
"Social media did a lot of this," says the 22-year-old rising singer-songwriter of the need for more emotion in today's music. We're catching up at NYLON's office in SoHo, discussing everything from his TV debut on MTV's Wonderland to the fact that he's never watched Game of Thrones. The talk of his inspirations—namely Usher and Craig David—inevitably leads to him revealing his nostalgia for timeless, meaningful records. "A lot of the music out now is about just living in the moment, but a lot of the music I grew up listening to was like, we're going to live in this moment forever." The sentiment is obvious from his amorous tracks like "Still in Love" and "Hold Your Hand," but on "No Regrets," the third track on Foreign Waters, he expresses it explicitly: "Everybody singin' 'bout war, nobody wanna sing about love."   
But there's way more to Foreign Water than Jahkoy singing about catching feelings. With a title that plays on the idea that there's something in the water in Toronto, considering the number of musicians from the singer's hometown who have found success in recent years (thanks, Drake), the EP is a snapshot of the Canadian metropolis' culture. It cleverly parallels the ethnic diversity of the city with its diversity of sound; there truly is something for everybody on the project, whether it may be the acoustic "No Regrets," the reggae-tinged "Don't Stop the Vibe," or the slow-burning "F In Sexy," the latter of which puts Jahkoy's bars in the limelight as he raps on the second verse.
Though the influence of Jahkoy's hometown is undeniable on his genre-fluid sound, his current digs in Los Angeles have had their share of impact, too; his sunny lead single, "California Heaven," is an ode to the West Coast and the opportunities that his new zip code has brought him over the few years that he's lived there. "There's music coming from Toronto, but nobody was really going to Toronto to make music, whereas in L.A., everybody's doing it all the time," he says of his reasoning for leaving Canada. "So I wanted to get involved, get more experience, get more motivated because I felt like if I was in that space, I could do more. And I did. I was getting myself into happy accidents, running into situations like when I met Jaden [Smith]."
Smith is just one of a handful of high-profile names who have taken note of Jahkoy's talent. Apart from ScHoolboy Q, who's featured on "California Heaven," hip-hop/R&B mainstays Jeremih, Yung Berg, Rico Love, and Boi-1da have lent their talents to the EP. Plus, Drake played Jahkoy's "Odd Future" on an episode of OVO Sound Radio early this year. But if Jahkoy's tweets are any indication, it's the Bad Gal herself who he's most determined to impress. "I want to record with Rihanna because I feel like she's so able to tap into different worlds, and I feel like there should be someone else trying to do that, too," he gushes. In fact, the eclectic nature of Foreign Water was actually inspired by her last album. "Anti is one of my favorite albums right now," says Jahkoy. "The way that she delivered the music was ahead of its time. No record sounded like the last record—it was like every record lived in a world of its own…. That's what makes an artist an artist: When they're able to do different things and keep you excited. I feel like music should be explored as much as possible. Why would you want to do the same thing all the time?"
Until his dream collab happens, Jahkoy's got plenty to keep himself busy, between touring with his newly formed band, exploring his interests in fashion, and taking advantage of his opportunities to travel by, say, visiting 50 Cent's childhood home in New York. "Everyone knows each other," he says of the Queens' rapper's former neighbors. "I went with my cousin, so when we pulled up to the road, people were looking at us because they knew we were not from there. They asked us, 'Can we help you?' We were like, 'We're just here to see 50 Cent's house!'" he recalls with a laugh. It's heartwarming to see a young artist taking it all in, but clear that this is just the beginning: "Foreign Water is more of my introduction, introducing the different sides of me throughout the record," he says. "Once I settle in more, I'm going all the way with it."
Listen to Foreign Water below.