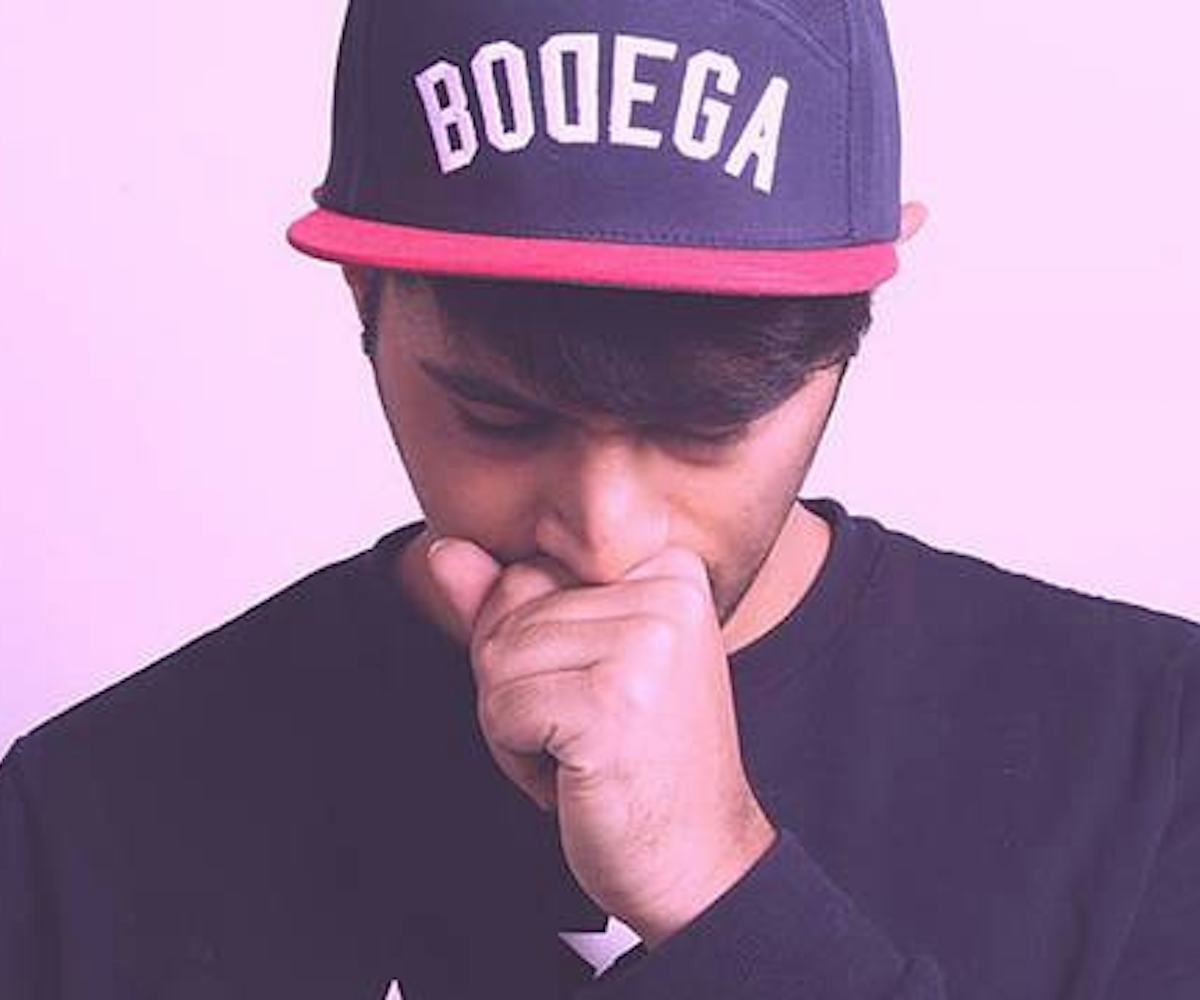 Photo by Sarah Perdue
Jai Wolf Loves Pop Punk Just As Much As You Do
You can hear it now, right?
Sajeeb Saha, aka Jai Wolf, meets us in Chicago in a supremely modern cranberry jacket, white T-shirt, and, perhaps most astoundingly, crisp white sneakers that have evaded every trace of mud, despite the week's heavy rain. He's certainly not as flashy as some other artists we've met, but, as he tells us, it's by design. Saha has honed both his style and sound over the years into something timeless, with his taste morphing from dubstep in his earlier days into his now signature dreamlike sound that nods to pop, downtempo, and indie dance. With an itch to find out more about the person behind hits like "Indian Summer," we tumble into topics from Game of Thrones to pop punk, each bit giving a glimpse into the journey of his vision to create something enduring.
What famous person dead or living do you wish could have as a roommate?
Michael Cera. I feel like he would not bother you and would be doing weird things. I'd want to observe him for days at a time. I feel like he's hiding something… what's Michael Cera's secret?
What is your favorite driving music?
I think ODESZA's older albums from way back. Also, for road trips, when I was starting out and we would drive from New York to Boston, Philly, D.C, we would throw on old-school pop punk records, like blink-182.
I would have never guessed you were a pop punk fan.
2007 was a good year for that. There was Fall Out Boy, My Chemical Romance; Panic! at the Disco just came on the scene, Paramore was blowing up. I really loved the music, but I never penetrated the scene fully. Something about pop punk really spoke to me. I really like the poppier side of pop punk; I wasn't listening to too much Taking Back Sunday or Good Charlotte. I liked straight-up big hooks.
Describe your aesthetic in three words.
Timeless, classic, simple. I'm trying to dress more simply, where I can look back on photos in 10 years and be able to say, "Oh, I'd still wear that today." So I always wear solid-colored T-shirts and white shoes. I'd wear black skinny jeans 10 years from now; I'd wear white or black T-shirts 10 years from now.
When are you most relaxed?
When you're an artist, you have a very stressful schedule that's nonstop. My ritual for the day, my absolute Zen moment, is watching Netflix and eating food. There's something about shutting the world off completely and watching a TV show and eating. I know it sounds weird, but as you grow older, you begin to appreciate really tiny things a lot more. For me, I savor that moment.
What was the last thing you binge watched?
I'm currently rewatching Game of Thrones. I've rewatched it a bunch throughout the years, but now that we're seven seasons deep, I need a quick refresher. I started again at Season 4. I get super into it; I keep catching new things after a few rewatches, and I go on forums and read fan theories.
What's the last good thing you read?
Oh man, I used to read a lot as a kid. Now, I dunno, I guess I mainly read Reddit [laughs].
Okay, so what's your favorite sub-Reddit?
My favorite one to show people is r/cringe. It's full of cringe videos of people doing cringe-y things. I love things like The Office where you get second-hand embarrassment—it's like torturing yourself. I love cringe videos.
What kind of person were you in high school?
I was very dorky. I was in orchestra. I was in all the AP classes. I was shy and kind of quiet. I don't think I dressed well. My mom would buy my clothes and at some point, maybe 10th grade, way late, I was like, "I think it's time to start buying my own clothes."
Do you have any phobias?
I have arachnophobia. I hate spiders. I read somewhere that a true phobia is super-intense? I don't get super-scared, but I hate pictures of spiders, movies with spiders… close up, even the way they move, I hate it. If it's a house spider, it's not that bad, but I definitely don't enjoy their presence.
If you had to live in a past time, what do you think would be the most fun era and why?
I'm addicted to technology so that's a hard question.
You could go to the recent past, like the '90s.
I feel like so many people fetishize the '90s and feel super-nostalgic about it, and I kind of don't get it. Maybe it's because, as an immigrant, I didn't get the full force of '90s culture. I wasn't watching Friends; I missed out on things like Boy Meets World. I was just a kid, doing my thing. My nostalgia is for 2000 to 2010—the aughts? So I guess I'd hop back a few years. They were simpler times, minus high school. Something about that time was super-cool and hopeful.