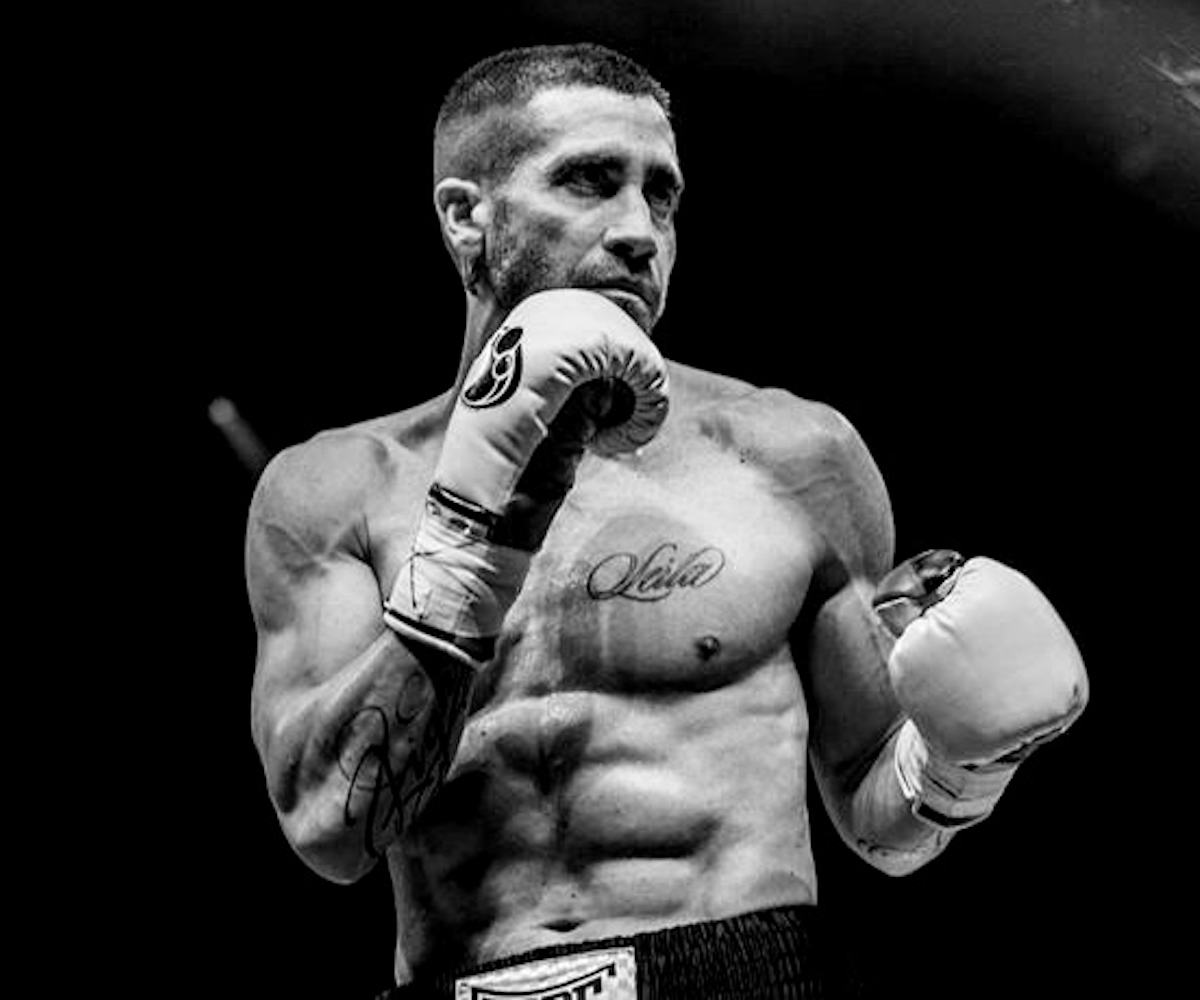 Photo via Escape Artists Productions
Jake Gyllenhaal Is Covered In Blood And Better Than Ever
$1'southpaw' may be his oscar redemption.
He was robbed last year when he was denied an Oscar nod for his unsettling portrayal of skeevy ambulance-chasing reporter, Louis Bloom, in
Nightcrawler
. But Jake Gyllenhaal is back at it with a new boxing movie generating Oscar buzz,
Southpaw.
He plays Billy Hope, a contender who loses everything before punching his way back up to a title shot.
Gyllenhaal has gotten notoriously ripped in the movie, which was easier for him to prepare for than
Nightcrawler
, which required drastic weight loss. Working with director Antoine Fuqua and costar Rachel McAdams, he found himself exploring the limits of his craft and his physical endurance in intensely emotional scenes—as well as fight choreography that left little room for error. But that, it appears, is the Gyllenhaal way. 
Did you have to watch what you ate in prepping for this role? Was that a little easier than a movie like Nightcrawler...?
I do remember a couple of times thinking, "This is so much better than
Nightcrawler,"
because I could eat what I want and then exercise. To me, it was like learning a whole other language. I didn't know how to box when I started. I was just basically scared that I wouldn't get there. So, the training part was just motivated by fear.
How was it shooting such intense scenes with Rachel McAdams?
I remember specifically [a night in which the marriage took centerstage]. There was a lot of laughter and noise on set, and I remember being very frustrated. I wasn't okay with this being funny. Rachel and I had created this marriage, created this relationship, and I knew it was going to be taken apart at this moment, so I felt very protective of it. I remember going up to Antoine saying, "If people want to joke, please tell them to leave. This is not funny to me." He was always like, "Yes." I remember him saying, "Everyone be quiet."
Talk about working on an Antoine Fuqua movie.
Sometimes, you were in spaces that you knew were a mess. You're like, "This is so bad." Then you cut, and everyone's like, "That was so great!" You have no concept of what's happening or how it's translating. Antoine's yelling, "Add more blood! Put more blood on his hand! Come over here!" And I'm starting to get exhausted and Rachel's starting to get exhausted. And all of a sudden, everything just kind of comes together in that moment. 
You recently were in Little Shop of Horrors in New York. Are there plans for more Broadway musicals?
Jeanine Tesori, who wrote
Fun Home
, actually, came to me after she saw a show I did called
Constellations
on Broadway this year. She said, "Look, we're dong this thing on
Encores!
, it's four performances. We're doing
Little Shop of Horrors
and you play Seymour." I go, "Are you crazy?" She goes, "I heard you can sing and I think you'd be great at it." I was like, "I dunno. I'll think about it." She sent me a succulent plant with a Barbie doll cut up into pieces with blood all over it, with a note that said, "Just do it."