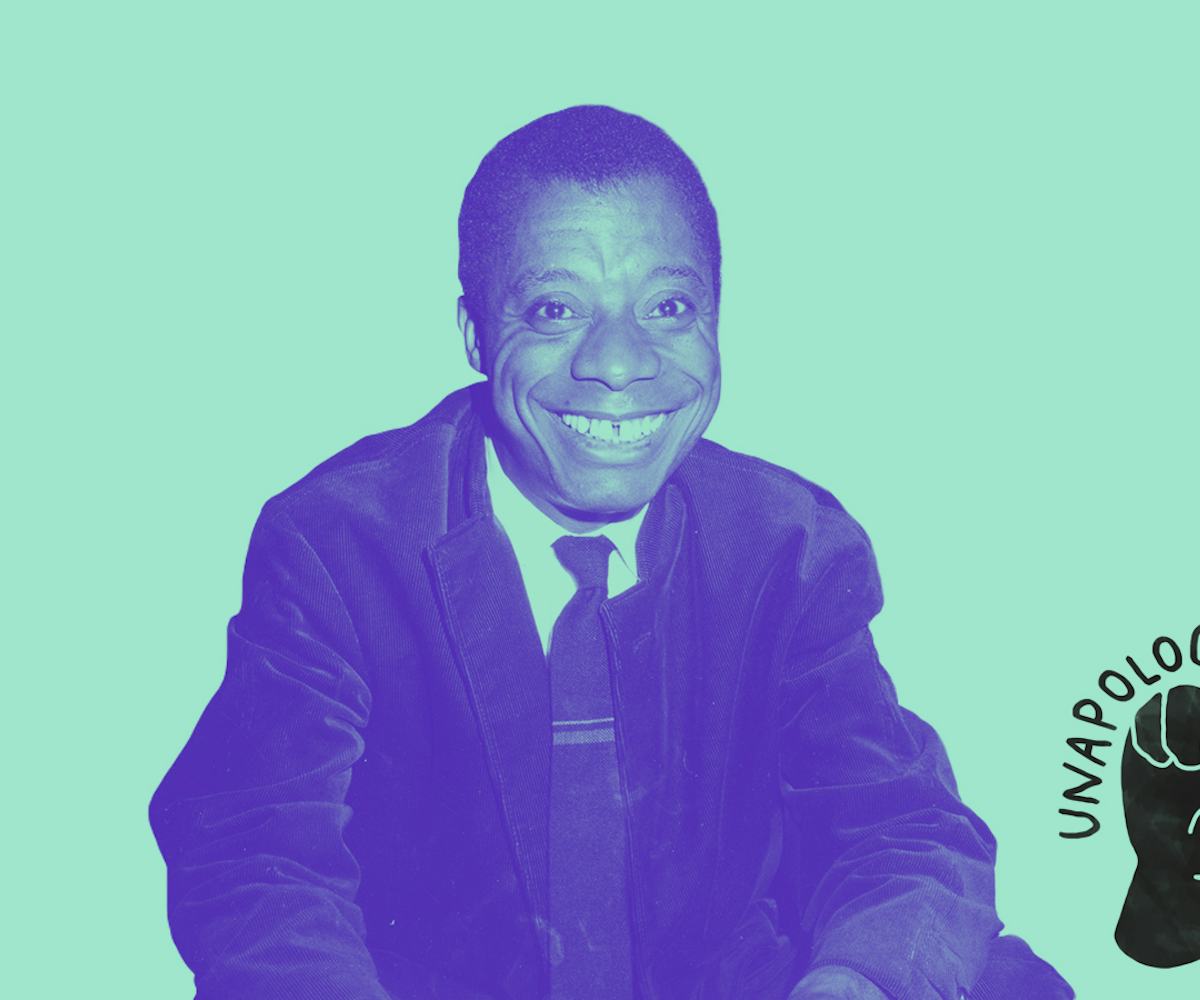 Photo via Getty Images
On James Baldwin And Feminine Self-Actualization In The Post-Trump Era
In celebration of Black History Month, NYLON is running a spotlight series called UNAPOLOGETIC. Every day, we'll celebrate different aspects of black culture through profiles, interviews, roundtables, reviews, videos, and op-eds. #Blacklivesmatter and we hold that truth to be self-evident.
My journey toward James Baldwin began shortly after my arrival in New York. Though I was introduced to Baldwin's work during my freshman year at Spelman College, I never fully understood the power of his words, not, that is, until I was a young woman attempting to find myself while living in a place that was so close to his heart: his beloved yet tempestuous Harlem. 
It was a time of self-discovery for me. I had finished grad school and entered the adult world. And I was coming to terms with my identity as a single woman. After ending a relationship with a partner I had hoped to marry, I questioned everything within and around me–including my desire to have children and my ability to sustain a long-lasting relationship. I was growing at a rapid pace, and it often left me physically and emotionally exhausted.
Baldwin's words were a mirror that enabled me to see a lot of unhealthy behavior in which I was engaging. I was on a quest for self-actualization; I saw New York as an opportunity to challenge myself as a writer and a woman. With a myriad of opportunities to pursue my dreams in fashion and art, New York was exactly where I needed be. 
Arriving fresh from Oakland, California, where I had been enrolled in grad school, Harlem immediately made me, a military brat who moved every two years, feel as if I was home. Though it was currently in the final throes of a losing bout with gentrification, Harlem, with its rich history and vibrant population, turned out to be everything I thought it would be and more. As I constantly boarded the train for my daily overcrowded commute to work, I endlessly devoured his words, fascinated by the similarities between our lives. 
I immediately felt a kinship with Baldwin, both of us seemingly the products of families deeply rooted in the traditions and practices of the Christian Baptist church. The more I read about Baldwin's life-long journey of self-realization, the more at ease I became in my own search for self-realization and confident in my ability to pursue my dreams. 
When I heard about the film I Am Not Your Negro, I knew, as both a Baldwin fan and a champion of the intersectionality, that it was my duty to see it. Directed by Raoul Peck and narrated by Samuel L. Jackson, the documentary is based around the notes for Remember This House, Baldwin's unfinished personal recollections of Civil Rights leaders Medgar Evers, Martin Luther King, Jr., and Malcolm X. (Baldwin died before he could finish it, causing his publishers, McGraw-Hill Inc, to file a suit against his estate which was then dropped). 
Throughout the film, I was moved by the similarities between the political climate of America of the past and that of today. From the push to continue segregation to Trump's desire to build a wall that separates immigrants from the shores of this country, racially charged rhetoric has consistently worked to tear this nation apart and, as it stands, continues to push us further and further away from our ultimate goal as a nation: the ability to live freely, the very principle upon which America is founded.
Baldwin's legacy constantly challenges me to use my passion for the arts as a call to social activism. As a black woman, I aspire to be a vessel of truth, using my abilities to aid other women in dire need of a voice to express their innermost feelings, no matter how uncomfortable they may make others. Furthermore, art, when politicized, can be used as a corrective to the hateful ideologies that currently run rampant in societies, and artists willing to express their truth will always be a necessity.
Baldwin was–and is currently–a beacon of hope in a nation plagued by tumult and "alternative facts." By showcasing his conviction and vulnerability in the face of adversity, Baldwin challenged individuals of all backgrounds to take accountability for their actions. He fiercely believed in learning from the past as a means to reconcile the future. As a black woman in a post-Trump society, I use I Am Not Your Negro and all Baldwin's work as how-to manuals on living fearlessly and speaking truthfully. With Baldwin's words in my heart, I—and millions of others—will continue to resist. Baldwin surely would be proud.