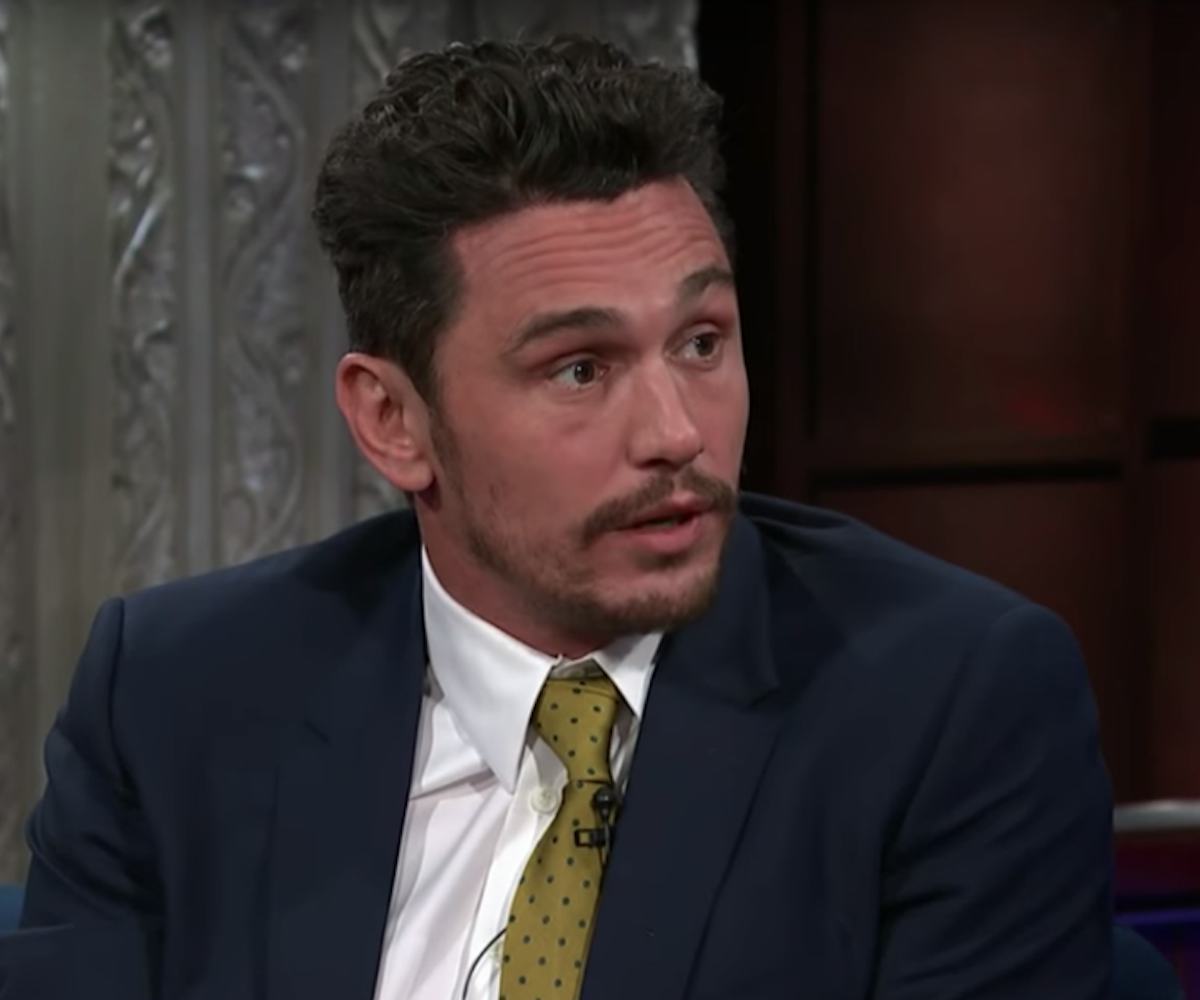 James Franco Addresses Sexual Misconduct Allegations, And It's Not Great
The actor appeared on the 'Late Show' last night
When James Franco received the award for Best Actor during Sunday night's 75th Golden Globe Awards for The Disaster Artist, many rolled their eyes at the sight of his Time's Up pin, given his seedy past. Some brought up instances when Franco acted inappropriately to a teenager while actress Ally Sheedy posted a vague (since-deleted) tweet that read, "James Franco just won. Please never ever ask me why I left the film/tv business." On Tuesday night, while appearing on The Late Show with Stephen Colbert, the actor-director addressed the accusations in a pretty uncomfortable interview.
"First, I want to say that I do support [Time's Up]," the actor started off, explaining why he wore the pin. "Look, I was so excited to win but being in that room that night was incredible. It was powerful, and there were incredible voices, and I support it. I support change." Though he applauds the people who are "coming out," he says the allegations lauded against him aren't true. "There were some things on Twitter—I didn't read them. I've heard about them," he awkwardly says, going on to add that he has "no idea" what he did to Sheedy and "why she was so upset." He continues: "The things that I heard that were on Twitter are not accurate, but I completely support people coming out and being able to have a voice because they didn't have a voice for so long. So, I don't want to shut them down in any way. It's a good thing, and I support it."
When Colbert doubles back to ask if there's a way to get to the truth when two parties have different views, there's a brief silence. Then, Franco says, "If there's restitution to be made, I will make it. So, if I've done something wrong, I will fix it. I have to. I mean, I think that's how that works. I don't know what else to do." Following the many "ifs" and "don't knows," he concludes: "I'm here to listen and learn and change my perspective where it's off. I'm completely willing, and I want to."
Shortly before the interview aired, it was announced that The New York Times would be canceling an upcoming TimesTalk with Franco due to the "recent allegations." So, maybe those restitutions should start sooner rather than later.