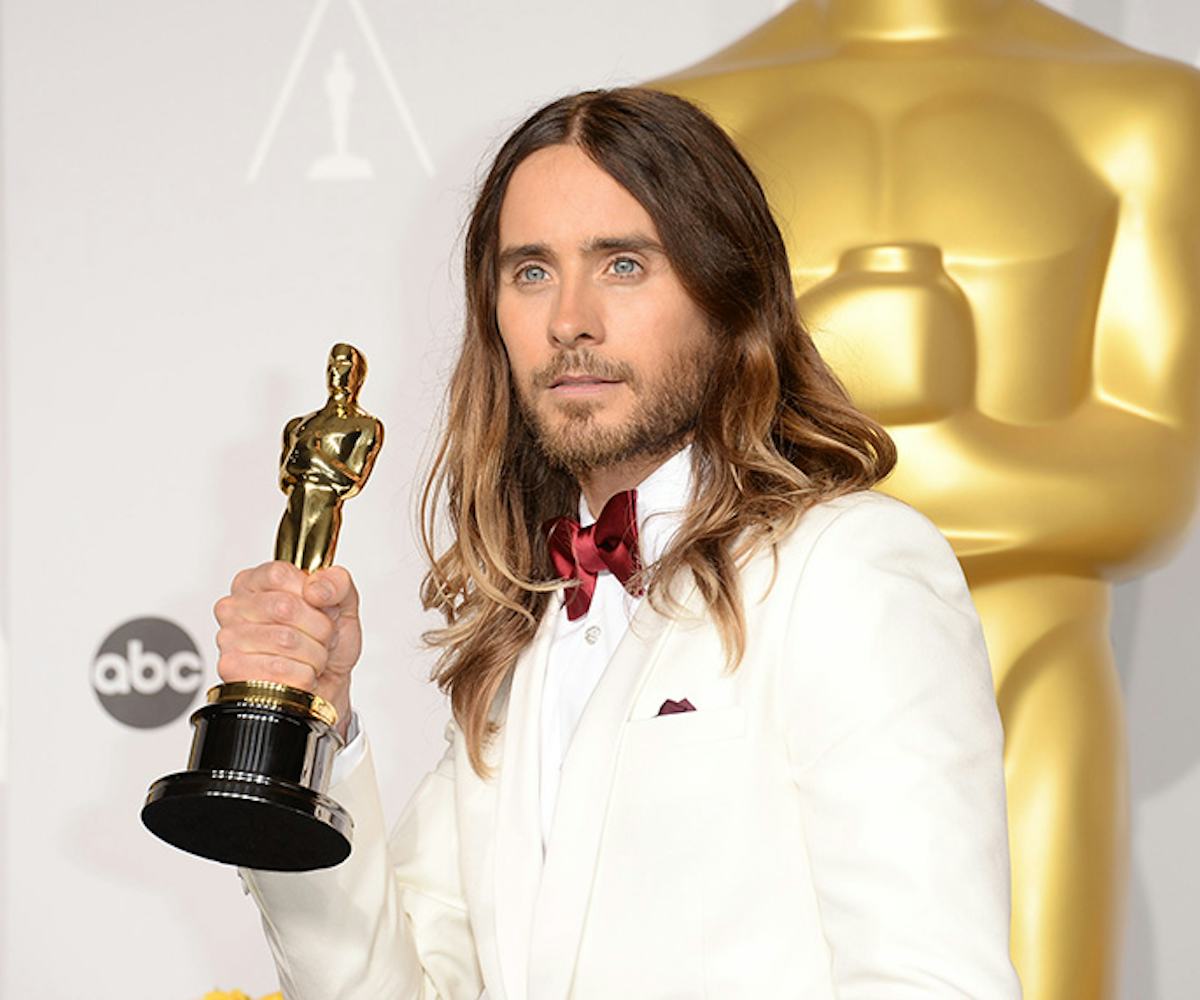 all photos by getty images
the best oscars beauty
how to get jared leto's hair and lupita nyong'o's nail polish.
by steff yotka and liza darwin
So, the Oscars are over. And by now, you've probably already celebrated your fave actors' wins, ordered a sky blue dress a la Lupita Nyong'o's, and eaten two slices of pizza in honor of Ellen DeGeneres' genius sketch. 
But if you ask us, the most useful way to carry the 2014 Academy Awards into your everyday life is by channeling the best hair, makeup, and nails of the night's coolest stars.
You might not have a golden statue, but luckily, copying Jennifer Lawrence, Charlize Theron, and more of the prettiest beauty looks is easier than you think. 
And obviously we have the breakdown for Jared Leto's perfect ombre hair, too....because in the words of Ellen Deneneres, "he's the prettiest."
HOW TO GET DIANE KRUGER'S HAIR:
Start by drawing a straight part on damp hair.
Apply Moroccanoil Volumizing Mousse and Root Boost from root to mid-shaft and Moroccanoil Treatment Light to the ends.
Blow out hair out using Moroccanoil's 35mm Boar Bristle Round Brush, paying close attention to keeping the roots very smooth. Once hair is fully dry, section off the bangs as well as a 1/2" strip from each ear, downwards, all the way to the nape of the neck. Secure this section with an elastic at the center back nape and weave it into a single braid.
Keeping the bangs sectioned off, mist the main section of the hair with Moroccanoil Luminous Hairspray and brush it smooth in a backward direction.
Beginning at the center of the head working outward, weave the remaining hair into 15 small braids--not making them all the same size. Once all the hair is in braids, wrap two fine braids from left-to-right and then right-to-left to create a finely braided headband. 
Leaving out one braid in the center, one-by-one loop the remaining braids under and tuck them into the base of the braided section--pinning along the way. This creates the illusion of a large "chignon."
Wrap the last braid horizontally across the top of the chignon to finish it off.
To finish the style, leave the bangs soft and swept them backwards toward the braids and secured.
Mist the hair with Moroccanoil Luminous Hairspray to add shine and long-lasting hold.
HOW TO GET LUPITA NYONG'O'S NAILS:
Apply a layer of Gel Lab Base Coat to make the polish last twice as long as a traditional polish.
Apply two coats of Deborah Lippmann's new pale pink shimmer La Vie En Rose.
To complete, finish with a layer of Gel Lab Top Coat.
HOW TO GET CHARLIZE THERON'S HAIR:
Start with freshly washed and conditioned hair using Wella Professionals Brilliance Shampoo and Conditioner.
Apply a generous amount of Wella Professionals Natural Volume Mousse, gently working through hair from roots to tips.
Blow dry on a medium heat using a brush to flatten hair to head, discouraging any natural waves until the hair is almost dry, a little cold to the touch.
Next, using Wella Professionals Oil Reflections, apply a few drops at this stage with fingertips all over.
Continue drying the hair and see the Oil Reflections really lock in the shine and hold the style together.
To finish and always set the style, use Wella Professionals Stay Essential Finishing Spray, lightly spraying on just the front of the hair to prevent flyaways.
HOW TO GET JENNIFER LAWERENCE'S NAILS:
Apply a layer of Gel Lab Base Coat.
Then apply a single layer of Deborah Lippmann Sarah Smile nail polish, a subtle pink and then apply a coat of sheer pink, Deborah Lippmann Tiny Dancer on top. 
Complete your mani with a layer of Gel Lab Top Coat.
HOW TO GET JARED LETO'S HAIR:
First prep wet hair with Vidal Sassoon Pro Series Waves Primer Spray, applying it throughout the hair to enhance your natural wave.
Then apply Vidal Sassoon Pro Series Waves Pomade to the length of the hair, providing a flexible hold and soft, glossy curl definition. Create the desired part and let hair air-dry.
The next day, spray Vidal Sassoon Pro Series ColorFinity Dry Shampoo in Rich Darks to the roots to refresh your second day hair while protecting hair color.
Then spray Vidal Sassoon Pro Series Heat Protect & Shine Spray to the ends to protect hair from heat before straightening it. Take several sections of hair and straighten for a smooth look.
HOW TO GET KERRY WASHINGTON'S MAKEUP
Prep skin with Neutrogena Shine Control Primer on face and Neutrogena Revitalizing Lip Balm on lips for hydration before lipstick application.
Highlight cheekbones with Neutrogena Healthy Skin Blends in Sunkissed.
Use Neutrogena Crease Proof Eye Shadow in Stay-Put Plum all over eyelids and blend on crease.
Use Neutrogena Nourishing Eye Liner in Cosmic Black to line the upper lash line, right where the lashes connect with the skin.
Apply 5 coats on top lashes with Neutrogena Healthy Volume Mascara in Carbon Black to add lots and lots of volume, and two coats on the lower lashes.
Dark lipstick topped with Neutrogena MoistureSmooth Color Stick in Rich Raisin to add a bit of sheen.
HOW TO GET OLIVIA WILDE'S MAKEUP
Use Revlon PhotoReady Perfecting Primer, followed by Revlon PhotoReady Makeup in Nude.
Highlight cheekbones with Revlon PhotoReady Skinlights Face Illuminator.
Apply Revlon ColorStay ShadowLinks in Taupe on lids, and Revlon ColorStay Eyeliner in Black.
Follow with Revlon ColorStay Liquid Liner in Blackest Black, and Revlon Lash Potion Mascara.
On lips, use ColorBurst Matte Balm in Complex Revlon Super Lustrous Lipstick in Pink Cognito.