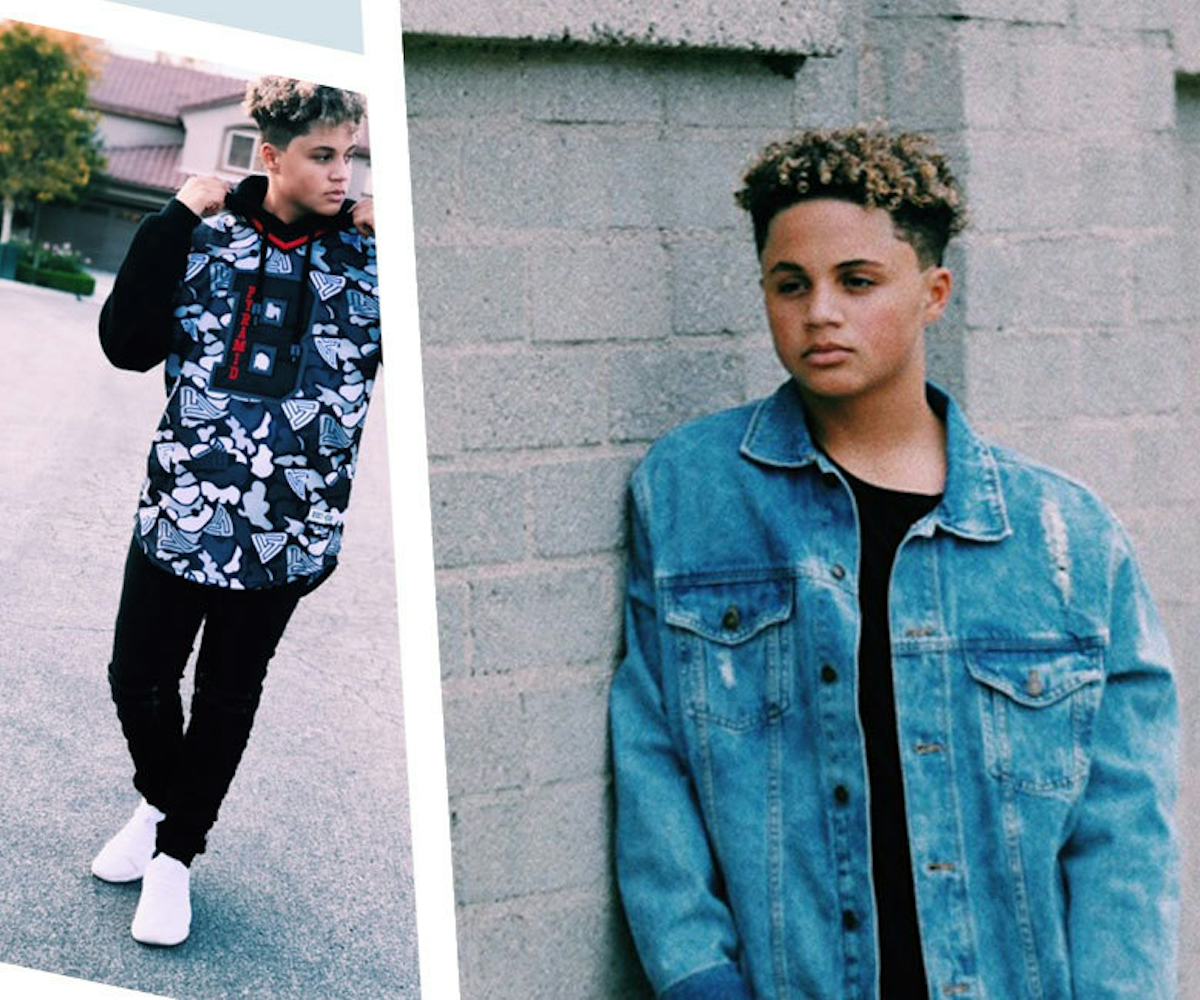 How Jason Hancock Is Taking The Hip-Hop Dancing World By Storm
"You can tell when people feel your energy when you're dancing"
At 9pm on Mondays in an unlighted North Hollywood parking lot, a collection of teenagers loiter outside a cluster of unlabeled warehouses. The energy of their adolescent roars is the only sound within miles of this residential desert. As their phone screens light the way into a studio plastered with the words "IMMASPACE," they instinctively spread the room, facing the mirror. A baseball-capped man faces them and yells, "Alright, crew."
Immabeast, the dance crew and brainchild of dancer-choreographer Will "Willdabeast" Adams, is a training ground for aspiring hip-hop dancers from across the world. "Aspiring" might be a relative term at this point—a company of dancers, ages 12 through mid-20s, they cumulatively amass millions of Instagram followers and billions of YouTube views. They are the most elite teens in the business, in the ranks of their reality show celebrity counterparts Maddie Ziegler and Nia Sioux. Immabeast dancers are the Olympians of hip-hop.
Among them is 16-year-old Jason Hancock, —a Los Angeles native and protégé of Willdabeast. In a room of immeasurable talent, Hancock stands at the front, spitting out eight-counts within seconds of instruction. He maintains a level of focus only recognized in professional athletes, and, between takes, musters the rest of his energy to cheer on his crewmates. It's nearly inconceivable that he's only been dancing for four years.
But, for this aspiring dancer, music runs through his veins. As the grandson of late R&B icon Barry White, Hancock's cadence is expected. His path to becoming a dancer, less so. In his formative years, he was primed to become a football player—he trained in the sport while his sister, six years his senior, paralleled that training in dance. His mother served as team manager, and his father as team coach. After practice one night, a 12-year-old Jason was asked to momentarily step into his sister's competition rehearsal. He reluctantly volunteered to participate. In the weeks following, he told his parents he was done with football and wanted to pursue dance.
"I knew that this was what I wanted to do," he says. "Now I just want to keep growing and growing until I get to the top."
According to Willdabeast, Hancock's potential was never a question. "His confidence just wasn't always there," he says. "Over the past year, something has clicked—he changed his mindset, work ethic, and his confidence has grown."
Now, Hancock is training under world-renowned choreographers and dancing with musical artists including French Montana and Swae Lee. His mother Bridgett, who, four years ago felt reluctant about his choice to dance, is now his greatest supporter. 
"After years of watching him dance every day, I am still in total awe and memorized by his dancing," she says. "I'm his number one fan and a proud momma."
The momager is a self-proclaimed "die-hard dance mom." A former USC dancer herself, she grew up in the height of her father's fame. Now, she's constantly advocating for the dreams of her 16-year-old son—everything from the decision to homeschool him to scheduling his jobs and transporting him to rehearsals in every direction. It's evident from the stream of iPhone buzzes with the subject "Jason Hancock" that Bridgett's support is on a 24/7 basis. Her devotion makes her a leader in her own right—an ample presence in the studio, Bridgett is the mom that every dancer, parent, and teacher knows. She quite literally sits on a couch amid a sea of fold-out chairs, but unlike her peers on Dance Moms, Bridgett leads with a fortuitous humility about herself and her family. She rallies not just Jason, but all of his peers. She is greeted with constant glee and reciprocates in bear-like hugs. She is, without a doubt, the woman behind the man.
"She's always screaming," Jason teases. "And she's my greatest support system."
The adolescent dance world, much like any competitive league, is replete with conflict. A unique industry that combines intensive teen training with full-length mirrors, constant filming, and repeated rejection is unsurprisingly now a very successful reality show. Hancock is no stranger to that pressure. But, he seems to enact in a league of his own. In his mere 16 years, Hancock overshadows conflict with camaraderie—he spends as much time raving about the talents of his teammates as he does his own. In fact, in a recent six-week audition cycle where Jason was cut in the final round in place of his two close friends, he felt no disappointment for himself, too distracted by excitement for his teammates' success. 
"I want to stop the division in the industry," he says. "There's a lot of competition, there are people who get jealous of others, and I just want to stop that. In the end, we're all in the same industry together, and we're all fighting for the same thing."
Jason's passion for dance extends past himself—he is drawn to the talent of others—and makes a point of expressing that.
"If I see someone that's killing it, and I feel their emotion, I just have to go tell them how good they did," he says. "You can tell when people feel your energy when you're dancing—it's the best feeling."
As he prepares to continue devoting the hours of 5am to as late as 12am to training, auditioning, and working with his team, Jason's personal goals are much greater than his ambitious ones. Inspired by White's legacy, Jason hopes to provide unity through his craft. 
"My grandfather wrote a lot of love songs, and it made everyone come together. That's really what I want to do in my dance: to share happiness and love—not hatred—and just bring everyone together."
You can watch Jason dance, in the video below.