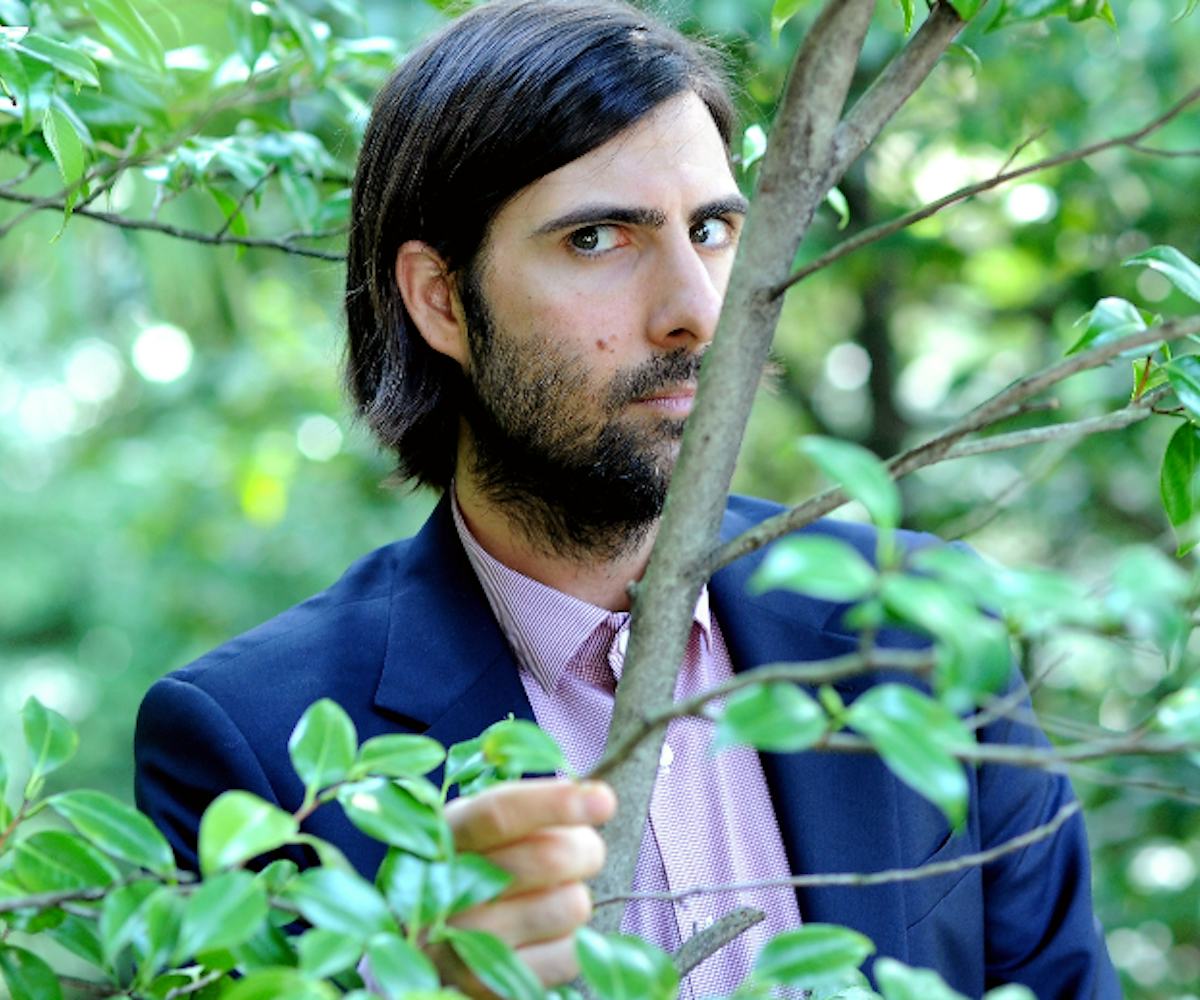 Jason Schwartzman on Art: Appreciating It, Talking About It, and Making It
When I sat down with Jason Schwartzman at the Park Hyatt hotel in Manhattan, the first thing he did was offer me a glass of water.
more
It's an unusual move for an actor in the throes of a press junket, when the mentality is usually, "Hi, how are you, let's get this over with." But Schwartzman has built a career on offbeat choices, and clearly that's more of a personality trait than a calculated career move. Snappily dressed in a suit (I can imagine he goes to bed like that), Jason Schwartzman was there promoting Big Eyes, the new Tim Burton movie about the painter Margaret Keane (Amy Adams), whose paintings of children with those big, sad eyes became a sensation in the 1960s, while her husband (Christoph Waltz) took all the credit. Schwartzman, in a small but memorable, plays a pretentious gallery owner who tries to school Waltz's character on what makes something worthy of being called art. In real life, Schwartzman isn't so sure. We spoke to Jason Schwartzman very little about the film he was there to promote, and more about his relationship to art, his fascination with the songwriting process, his love of Howard Stern, and the future of his HBO series, Bored to Death.
You've got a very small part in this movie, and you seem to like popping up in things, leaving your mark, and then disappearing. Does Jason Schwartzman enjoy working that way ?I don't think it's even working that way, I think its just that I enjoy working. I love a movie or a record, I love a thing, and I just want to be a part of it, so it doesn't matter what the part is. Obviously you have to relate to it, but that's when you want to play it. Even more than the movie, I wanted to work with Tim Burton, Christoph Waltz, Amy Adams, so it was so much that was already part of the context of it. And then the script was so great and I thought it was a great part. You always hear people say there's no such thing as a small part, but I just thought it was going to be a fun experience.
You play the sort of quintessential stereotype of an art dealer. Are you able to find meaning in paintings and fine art?I would like to think that I can appreciate all forms of art. There's so many levels to art appreciation and art connoisseurs. I'm not like on a super high level of it, but I'm interested in artists and all forms of art and learning about art, and of course that's one of the great things about New York and Los Angeles.
Are you able to visit the MoMA and look at a painting and talk intelligently about what you're looking at and how it makes you feel?I don't think I have the vocabulary. I'm not like a wine person, I don't even order wine. Or like a food person, like this coffee was just handed to me, I don't know where this coffee's coming from, it tastes fine to me. But if you really like coffee, you could say there's a cherry overtone. I don't have the vocabulary to know a cherry overtone, so when I look at a painting I don't say, I like the way he exhausts his reds. But just on the way up here there was some Robert Longo drawings upstairs, did you see those?
I was in a rush, so I missed them.They're amazing. I love Robert Longo, and it's funny that art can be in so many places. I've never seen a Robert Longo before and I'm walking through the Park Hyatt and there's two of them. These particular ones, as far as I know, were pieces that he made--he had bankers come to the studio, and he played very aggressive music--I forget if it was super fast punk hardcore or if it was hip-hop, but he played it and they danced to it and then he drew them. Art is beautiful even if you don't know the story behind it. But I love art.
Of course. You make it.I don't know about that.
Do you see yourself as an artist?I dont know, I can't even begin to answer that question. But there's a great documentary called Painters on Painting. I love the movie The Mystery of Picasso. I love art and I love to see art. I love all forms of art, abstract art, impressionism. It's amazing when someone can sketch or paint someone, even if it's very crude, just the ability to understand dimension, it's like a great cook.
Do you think the ability to create art is something that can be taught or is it something that you're born with?There's probably arguments for both. Music you can be taught, but songwriting is a different thing.
What about playing the guitar like Jimi Hendrix? Can that be taught?No, obviously not. That's just the answerable question: How did the Beatles happen? It's fun to think about. It's sort of like the Big Bang, you'll never really know.
You've been in a band and written music. What was the songwriting process like for you?I'm obsessed with the creative process, and I'm a big fan of demos. A lot of people don't like to listen to demos. I'm a big Beatles fan, and I know a lot of Beatles fans who didn't want to hear the Anthology. They want to hear the final thing. I'm interested in demos because I'm interested in someone getting to something and what they were working through. There's a million books about it that I love. An important one to me is called Songwriters on Songwriting. It's basically transcribed interviews, and the author talks to Bob Dylan, Neil Young, Randy Newman, just about their process.
Howard Stern is really good at interviewing songwriters about their process.Oh, absolutely, I love him. He's so curious about it. He loves to know so much about peoples' lives and the way they work. What he's doing is near impossible. Can you imagine every day going on the radio and having to talk.
You're a big fan, I take it.Huge fan. I listen every day. There's another great book called Daily Rituals that is little biographies on peoples' daily work days. It's fantastic. Last night I was listening to Barry Gibbs' demo of "Islands in the Stream" that he wrote for Dolly Parton. It's really interesting for me to hear a demo that's done. It's like, Fuck, the whole thing was there! Some people aren't melodists. They worry more about chord structure and stuff, and they'll give that song to the singer.
Do you still make music?Every day. If you said every day after work I played soccer with my friends, you enjoy it and you feel good, but each game you play is not like the World Cup. It's not a discipline, well, making a record is a different thing. The ultimate way to spend time is with my family, but if they weren't there, the other ultimate way would be playing music.
Are you bringing back Bored to Death?Jonathan Ames is currently writing a script, but it's not official. HBO is like, talk to Jonathan about it, but it's such a capricious mysterious industry that I don't want to be like, It's happening. But it's somewhere between happening and not happening, would be my answer.
Photo of Jason Schwartzman via Getty.