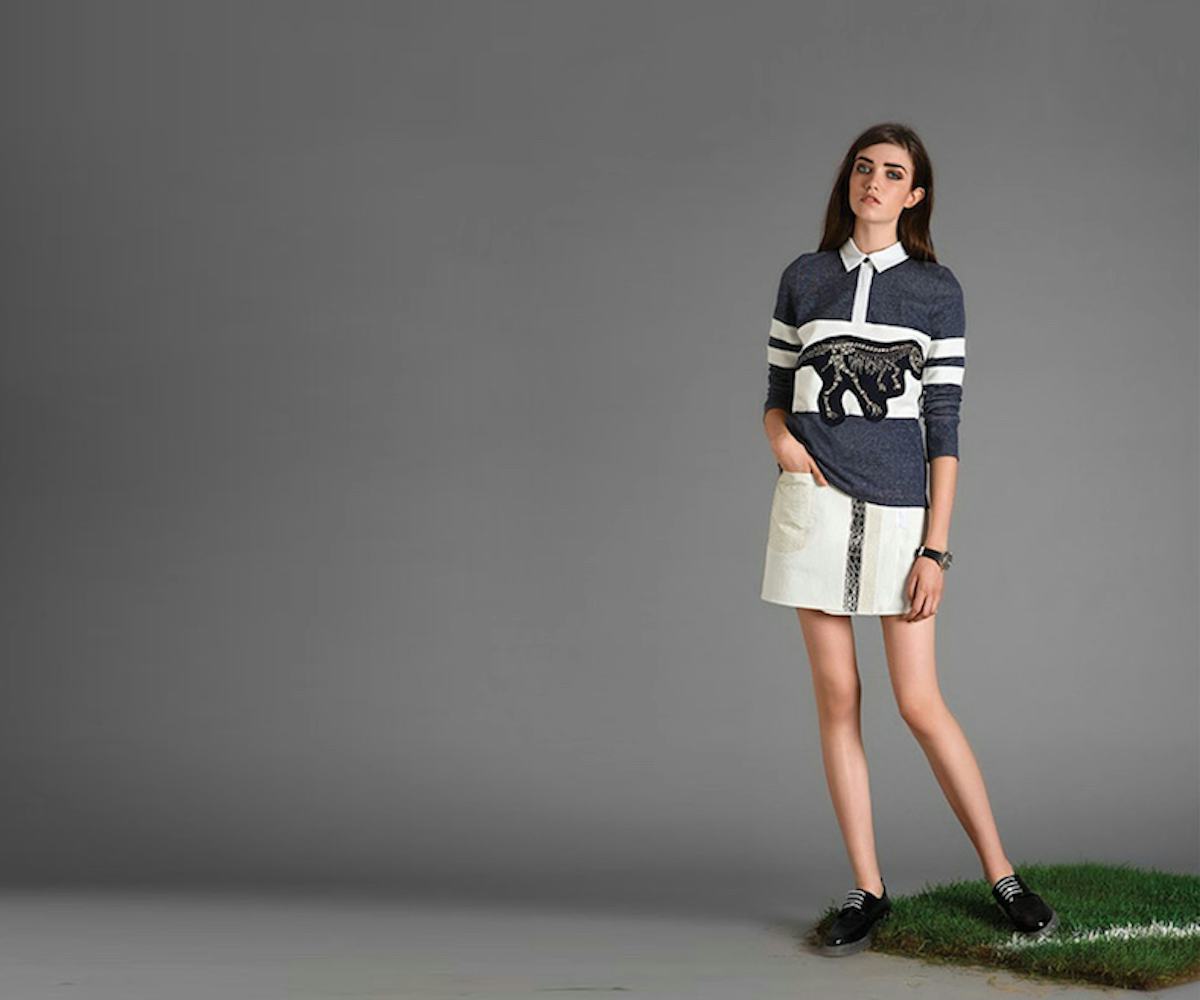 Take Preppy To A New Level With Jennifer Chun
Dinosaurs and rugby stripes have never looked so good.
Little brothers are notorious for being good at making messes and ruining your date-night plans, but you have to admit that they can come in handy when it comes to style inspiration. Sure, you made fun of your lil' bro for his obsession with Barney back in the day, but you know that it was only because you were jealous that you couldn't rep your love for the purple dinosaur among your peers. And if you ever had to wear uniforms in school, you probably always wished you could have rocked what the boys were wearing—because they made preppy look cool. So now that you're a 20-something, how do you channel that adolescent prepster without looking like you belong back on the playground? We recommend taking notes straight from Jennifer Chun.
Far from your typical prep, this designer isn't hung up on those old-school letterman sweaters. Instead, her collection consists of sheer, striped tees and floral button-downs, rugby shirts, sweatshirts, skirts, and polos. (It'll really help you nail the college midterms look without seeming like you've been pulling all-nighters in the library all weekend.) To top it all off, we're now convinced that sequined dinosaurs are the staple of the season. 
Flip through the gallery to see some of our favorite Jennifer Chun garments, and be sure to shop all the looks here at NYLONshop.
Jennifer Chun, Dinosaur Rugby L/S Polo, $395, available here.
Jennifer Chun, Silk Organza T-Shirt, $250, available here.
Jennifer Chun, Dinosaur Short-Sleeve Sweatshirt, $380, available here.
Jennifer Chun, Peach Rugby Stripe Skirt, $345, available here.
Jennifer Chun, Rugby Stripe Silk T-Shirt, $265, available here.
Jennifer Chun, Floral Organza Polo, $275, available here.