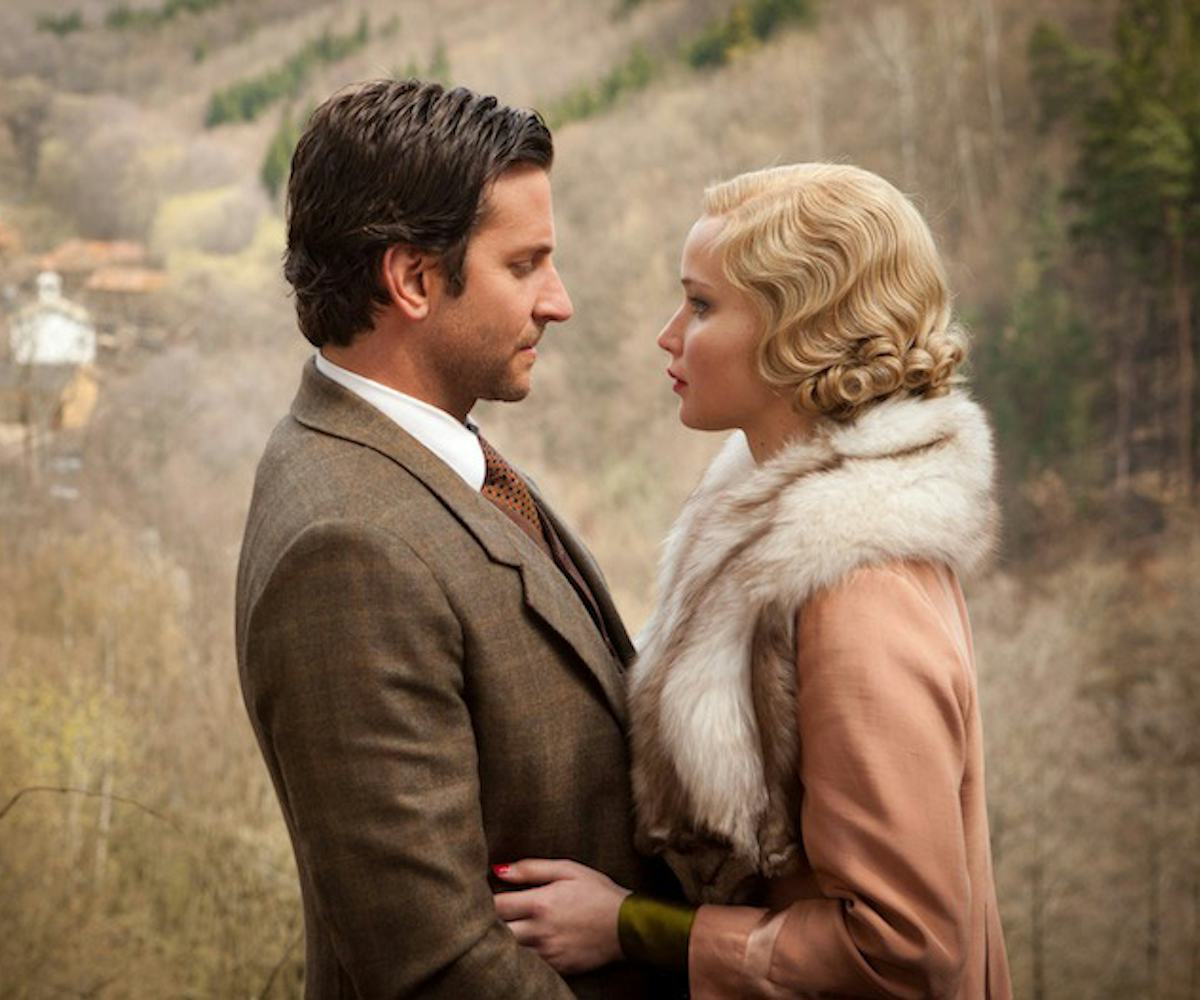 how a jennifer lawrence and bradley cooper movie went horribly wrong
the strange story of $1'serena'
Last Saturday in New York, a strange thing happened. Jennifer Lawrence and Bradley Cooper—the reigning king and queen of Hollywood—showed up to the Landmark Sunshine Cinema for a subdued "screening" of their new move, Serena. There were no red carpets, no mobs of screaming fans, and very little security. That's because Serena, a stormy period romance that was shot two years ago, has—somewhat astonishingly—been languishing on Video On Demand for the last three weeks, before its limited theatrical run this weekend. How, with arguably Hollywood's two most bankable and beloved movie stars as its leads, did this happen? 
From the beginning, Serena had prestigious ambitions. Based on Ron Rash's best-selling novel of the same name, the story is set in the smoky North Carolina Appalachians during the Great Depression, and follows George Pemberton (Cooper) as he tries to keep control of his timber empire, while his wife Serena tries to keep control of him. It's the stuff old-school Hollywood epics are made of, and once the original director, Darren Aronofsky, dropped out—and his star Angelina Jolie did the same—he was replaced by Danish filmmaker Susanne Bier, who won the Academy Award for Best Foreign Language film two years earlier for In a Better World. Jolie was replaced by Jennifer Lawrence, who was on the cusp of superstardom, but hadn't yet hit peak J. Law. Lawrence convinced Cooper to join her in the Czech Republic for the shoot, which wrapped in May of 2012. 
Most movies with disastrous reputations achieve that notoriety during plagued productions. Either they've gone over budget, or the stars are being difficult, or massive rewrites are needed. By all accounts, Serena's two-month production hit no major snags. The film stayed near its $25-30 million budget and wrapped on schedule. It was in post-production where things began to unravel.
If everything went according to plan, by the time Serena was supposed to be released, Jennifer Lawrence and Bradley Cooper would have been newly minted superstars. The producers could not have predicted that Silver Linings Playbook, which came out in the winter of that year, would have won Lawrence an Oscar, gotten Cooper a nomination, and made the two of them the toast of Hollywood. (Lawrence also had a tiny movie called the The Hunger Games that upped her box-office cred just a little.) But Bier, who some say began to feel the pressure of having to suddenly follow the success of Silver Linings Playbook, struggled in the editing room. Reports say she edited and re-edited the movie over the course of 18 excruciating months. Bier, who has been called a perfectionist, was reportedly extremely indecisive, cutting several versions of the film. During this time, Cooper and Lawrence's profiles grew exponentially, and the two starred in American Hustle together, solidifying their stature as Hollywood's leading onscreen tandem.
This only intensified the mystery and confusion surrounding Serena. Can a movie starring two extremely capable actors and directed by a proven artist be that bad? How could an American distributor not want to snatch up the rights to a movie starring Jennifer Lawrence and Bradley Cooper? But that is exactly what happened. Serena premiered at the London Film Festival last year to less-than-enthusiastic reactions. Lawrence made what was surely a contractually obligated appearance, which must have been surreal for an actor who by then was accustomed to starring in and promoting the buzziest movies in the industry.
At that point, the word on Serena was out. It wasn't the disaster many were anticipating, but it was oddly bad, considering the talent involved. Many felt that Cooper and Lawrence—two actors we're not used to seeing in period costumes—were badly miscast and looked uncomfortable on screen. But the consensus was that while they did not give their best performances, Serena's serious shortcomings were not their fault. The blame instead went to the filmmakers, and more specifically Bier herself. Writing in the New York Times yesterday, Manohla Dargis echoed this sentiment: "Whatever the case, she seems as unsteady as her two stars although, given how overedited the movie is, it can be difficult to tell if the scenes ever had any integrity before they were put in a Cuisinart," she writes. 
When no U.S. distributor agreed to pick up Serena, it became Magnolia Pictures' problem to deal with as their sister company 2929 Productions financed the film. That brings us to today, where Serena is playing in just one New York theater on its opening night, and currently enduring a horrific 20% rotten rating on Rotten Tomatoes (if you'd like to see a bunch of movie critics gleefully tear a Jennifer Lawrence-Bradley Cooper movie to shreds, go here). To Lawrence and Cooper's credit, they were all smiles when they showed up to the movie's premiere last Saturday. They faced reporters together, and if anyone can cut through what must have been an incredibly awkward exchange, it's those two. Case in point, this back-and-forth when Variety asked them what it was like to be starring in a VOD release:
Cooper: "I think it's great."
Lawrence: "I don't know what VOD is. I thought it was some sort of disease."
Cooper: "It could be."
Lawrence: "I think it's a huge crisis. Let's talk about it, build awareness about it."
Following the screening, Lawrence and Cooper headed to the Top of the Standard for the after party. Instead of celebrating the movie, they were most likely celebrating the fact that they would never have to speak of it again.