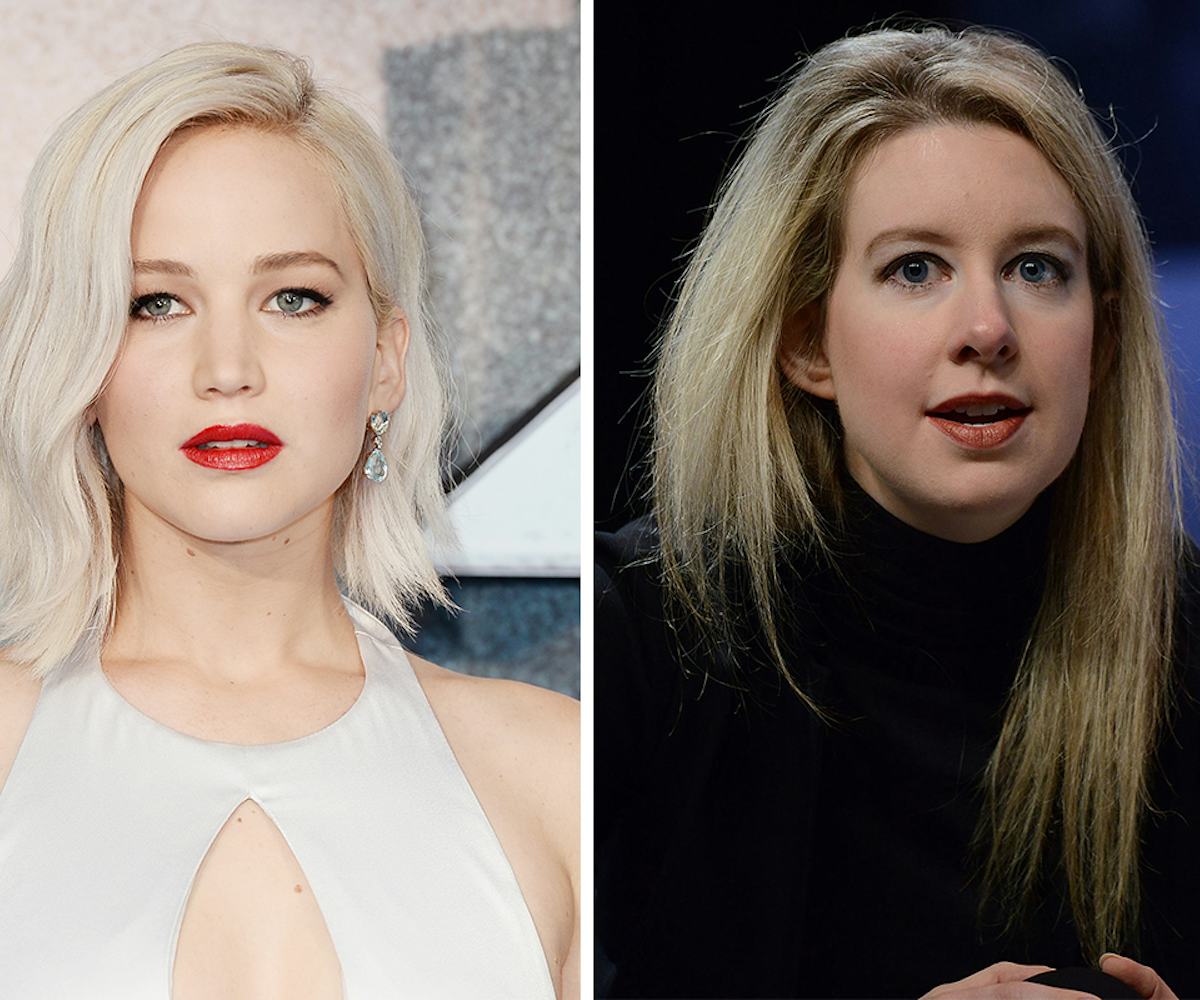 Photo by Jeff Spicer / Getty images and Lisa Lake / Getty images
Jennifer Lawrence Is Set To Play The Richest Self-Made Woman In America
She'll play Theranos CEO Elizabeth Holmes
As we've said before, the release of X-Men: Apocalypse essentially marks the end of the franchise portion of Jennifer Lawrence's career. With Hunger Games a distant memory, and her days as a mutant heroine likely over, it's time for Lawrence to focus on the prestige portion of her career, which entails collecting as many Oscars as her increasingly crowded mantle will fit.
What better way to do that than with a biopic, something Lawrence seems keenly aware of. She already earned a nomination for playing Miracle Mop inventor Joy Mangano in Joy and is in the midst of prepping to play war photographer Lynsey Addario in Steven Spielberg's upcoming It's What I Do. 
On Thursday, news broke that Lawrence is circling yet another film based on a real-life person, this time, Theranos' founder and CEO, Elizabeth Holmes. Holmes rose to prominence on the strength of her revolutionary biomedical startup, which promised to change the industry forever. But, after it was revealed that the company's signature Edison machines provided faulty blood tests to doctors and patients across America, Holmes and her company plummeted from grace, with recent reports suggesting that her net worth of $4.5 billion had evaporated. 
It's an astonishing story begging to be told, and who better to do it than Adam McKay, the comedy impresario who proved he can handle a corporate saga with his Oscar-winning masterpiece The Big Short. According to Deadline, McKay would direct the film, with Lawrence attached to star. While no ink has dried quite yet, Variety is reporting that Lawrence and McKay will meet with studios next week, which will "likely result in a heated bidding war."
May the best studio win.