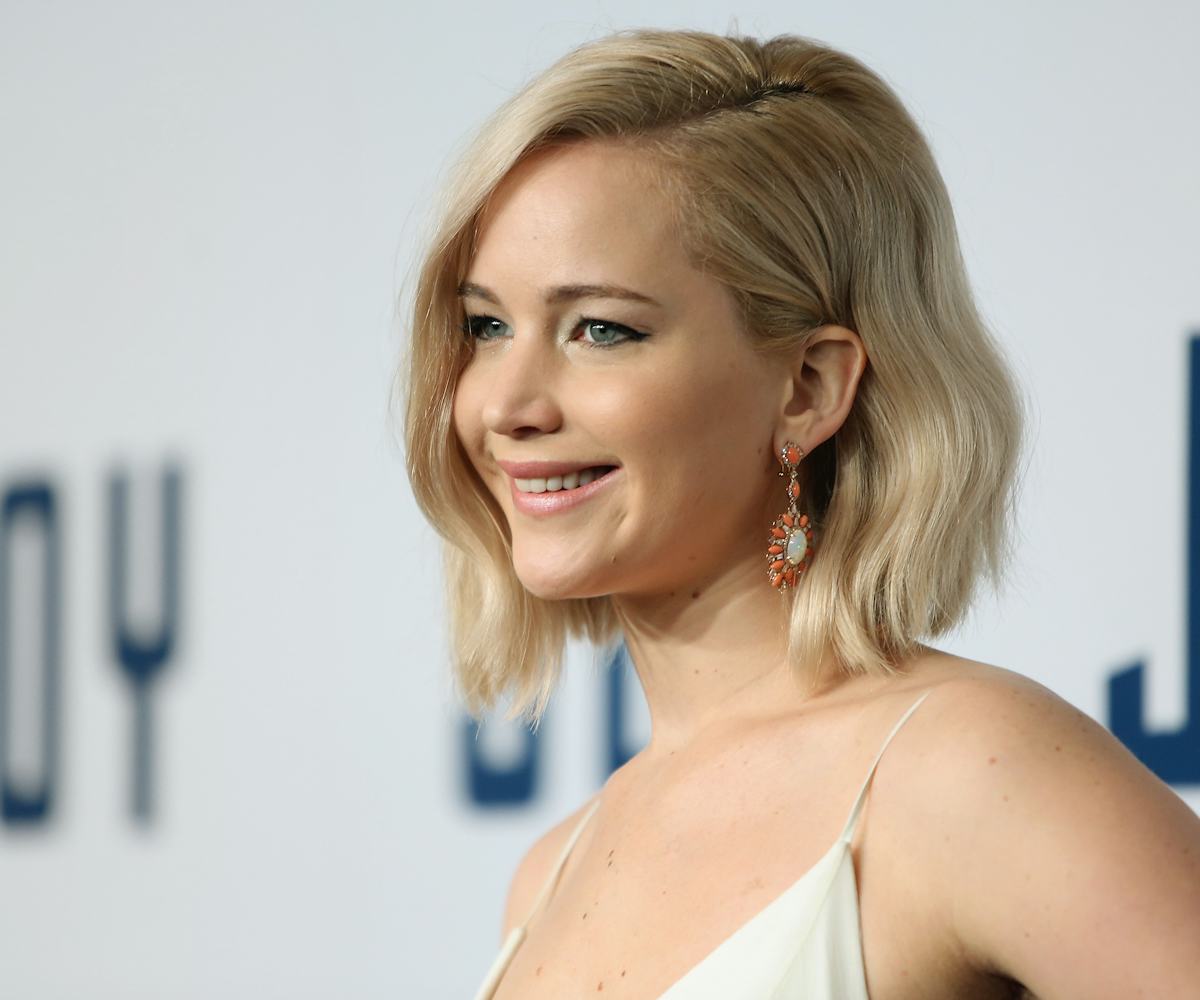 Photo by Monica Schipper / Getty images
Jennifer Lawrence Just Gave The Best Interview Of Her Career
Jennifer Lawrence just gave Glamour the kind of off-the-cuff interview that spawns a thousand headlines. "Jennifer Lawrence Thinks We Pay Too Much Attention to Her," or "JLaw on What Makes Her Brand-New BFF Emma Stone So Special," or "Jennifer Lawrence Has Major Tits and Ass and She Knows It," or, well, you get the idea. It's vintage JLaw, oozing with honesty and packed with quotes that range from goofy to earnest to sometimes kind of sad. Below, some of our favorite snippets. Take it away, JLaw.
Jennifer Lawrence on the price of fame
"It took a few years to adjust. I didn't really realize how angry and distorted I felt. For, like, probably a solid three years. It had nothing to do with Hunger Games… It had to do with the thing that came with Hunger Games. I still felt entitled to a certain life that I just wasn't allowed to have [anymore]. I felt like I had the right to say, 'I don't want to be photographed right now, I don't want people outside my house right now, I don't want my nephews in People.' I felt so much anger of 'Why can't I just do my job?' And then you just get used to it—and it just is."
Jennifer Lawrence proposes a mandatory fame vacation
"I think that we should be allowed time off. Three months. 'Oh, it's my three months off. You can't photograph me.' I would love to be able to control being photographed. Then I wouldn't have a new headline out today that I wore the same jeans three days in a row. I was like, 'First of all, yes, I did. Second of all, f--k you, yes, I did.' But I hate the 'movie star blues.' We are so lucky, and I love my life. I wouldn't take any of it back for anything. So I don't like complaining about it."
Jennifer Lawrence on Emma, Amy, and Adele
"I love Emma. She cracks me up; she's so 'theater.' She's so adorable. And Adele and I met, like, a year or so ago. Adele and I are a bit harsher; Emma's never had a bad thought about anybody in her life. It's so weird; I don't like new people. But these two women—and Amy—they're really lovely. And they're so normal. I feel like I'm hanging out with my friends—my friends that don't give a f--k about what I do. Amy and I have a life plan—we were with Diane Sawyer in Martha's Vineyard for Thanksgiving. Not to brag. Diane politely threw it out, and then we're sitting at the dinner table with her family, like, 'We shouldn't be here.' Anyway, Amy's always wanted to live on Martha's Vineyard, and we saw this house, and we're like, 'This is where we're gonna Grey Gardens, and we're gonna grow old and crazy together.' That's our life plan."
Jennifer Lawrence knows she's a klutz
"I spilled milk this morning. Last night I spilled red wine all over the rug. All I want to be able to do is just walk from one place to another without falling! It's so annoying, honestly. And now I've gone from the charming, like, 'Oh my God, whoops, I fell'—now it really pisses me off. 'Cause it's embarrassing now. So now I fall, and I'm like, 'Stop looking at me! Don't take a picture!'"
Jennifer Lawrence on her famous figure
"I've got tits and an ass. And there are things that are made for skinny people—like a lot of embroidery, or it covers a lot—and those make me look fat. I have to show the lumps. If you have boobs, you have to show, like, 'These are boobs. This isn't cellulite.' Not that there's anything wrong with that. 
Jennifer Lawrence knows the Internet is obsessed with her
"I don't feel like I'm misunderstood. I feel like I'm over-paid-attention-to. I'm not trying to be a GIF. I'm not trying to be a picked-up-on-Twitter quote. All I'm trying to do is act. And I have to promote these movies. And I am, at the end of the day, I guess, a f--king lunatic. So if you record what I'm saying, it's gonna be goofy."