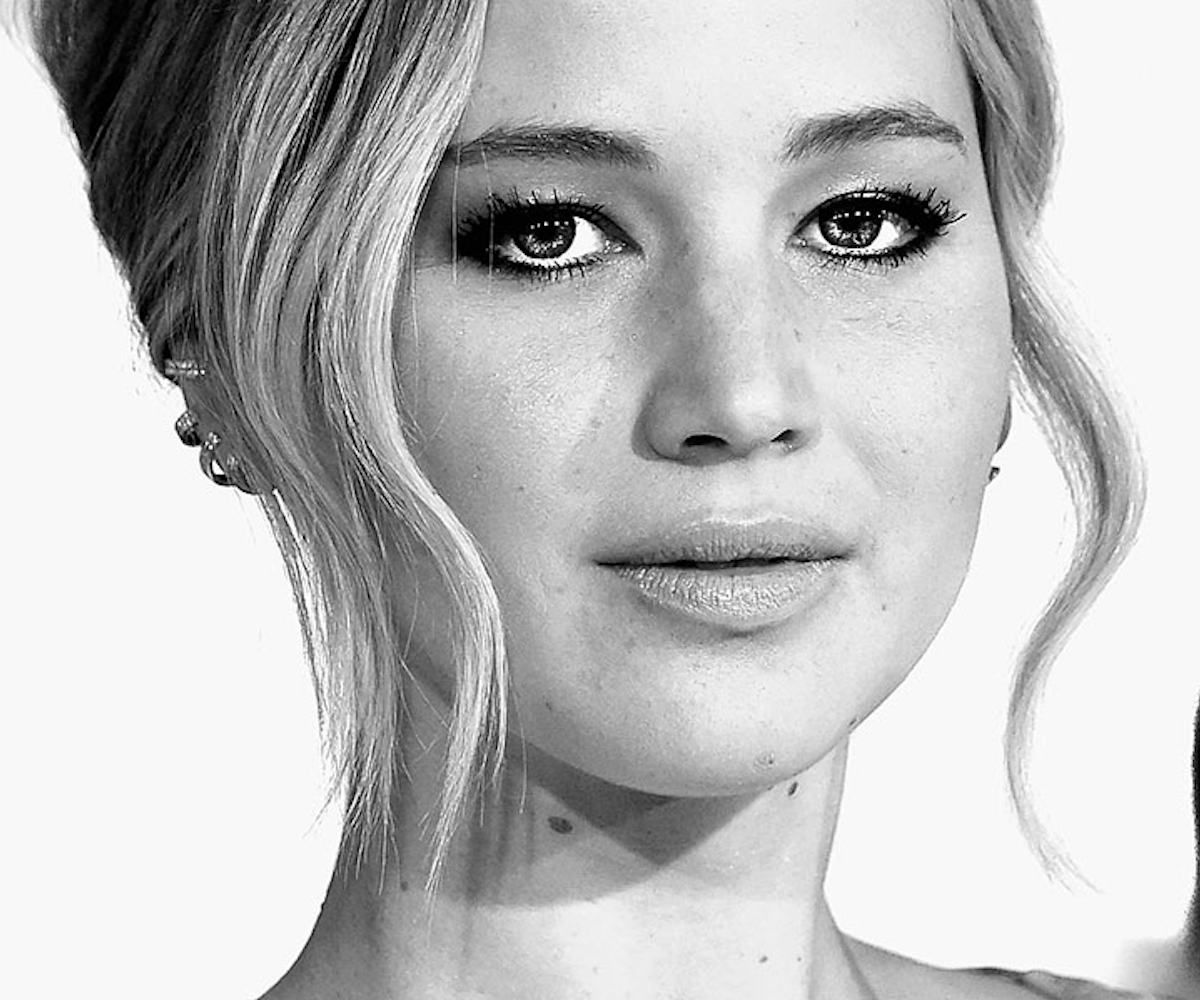 photo via getty images
jennifer lawrence opens up about 'the hunger games' in our interview
plus, her amazing relationship with liam
It's been a long, strange ride for Jennifer Lawrence since joining The Hunger Games franchise. After all, when she signed on to the adaptation, she was an ingénue with little more on her resume than her Oscar nomination for the 2011 noir Winter's Bone. Since then, she's won an Academy Award for Silver Linings Playbook and was nominated again last year for American Hustle.
It's almost the end of Jennifer Lawrence's role as The Hunger Games' head rebel, Katniss Everdeen. And although filming has wrapped for the series, fans are still waiting to see the action play out in the penultimate film The Hunger Games: Mockingjay Part 1. 
On Jimmy Fallon, Liam said you chewed garlic and onions before the kissing scenes... 
I wouldn't say that—I just wouldn't think so much about the kissing. I would just kind of eat whatever I wanted; I think the onions that you were referring to was that I just had a sandwich with mustard and raw red onion.
How are you like your character? 
I always get nervous making comparisons because Katniss is the leader of a rebellion that changes the world and I'm not. [I'm] just chilling.
What is something you learned about yourself that surprised you?
[Referencing Liam Hemsworth] I guess the thing that surprised me is that I would never expect to ever have a man this good-looking ever be my best friend. I just would never assume those things could happen, but he is. He's the most wonderful, lovable, family-oriented, sweet, hilarious, amazing guy.
He actually taught me how to be fair and to stand up for myself. It's my biggest weakness: negotiating. I'm a wimp about standing up for myself and Liam is always fair. He's always on time, he's always doing his job, and he's good about making sure that things stay fair. He's teaching me to toughen up a little bit. That was important, I need that.
A lot of people look up to you, what's that pressure like? 
I have an amazing group of people around me. I surround myself with "no" people. They will tell me, 'Stop doing that' or 'You look terrible'—honest, real people. My publicists I've had since I was 16 years old, they watched me grow up and they know me and they do love me; my agent, I've had since I was 17. I have an amazing group of friends that are not in the business that I've been friends with for years before any of this happened that I trust. Something strange does happen that you don't expect. A very tiny thing that makes a big emotional difference is just the way people look at you. Because I don't feel any different and so sometimes when you go out and you see the way that people look at you, it makes you feel alienated and kind of odd. So I try to surround myself with people that never look at me that way, never fake laugh at my jokes. 
For the last day of filming were you thinking that it would be really emotional?
It's complicated because it was such a long shoot. It's hard and exhausting, so there was a part of wanting to wrap so we could give our bodies a break but realizing that it was over that we weren't coming back. It was complicated, a mix of feelings. It was relief on one end because we were exhausted, but just so sad. We're still best friends with each other, and we talk to each other all the time—way too much—but it's different.
If all I had was this friendship with Josh and Liam—if that's all I ever got from this—I would consider it a blessing. Our lives changed together and we had each other.