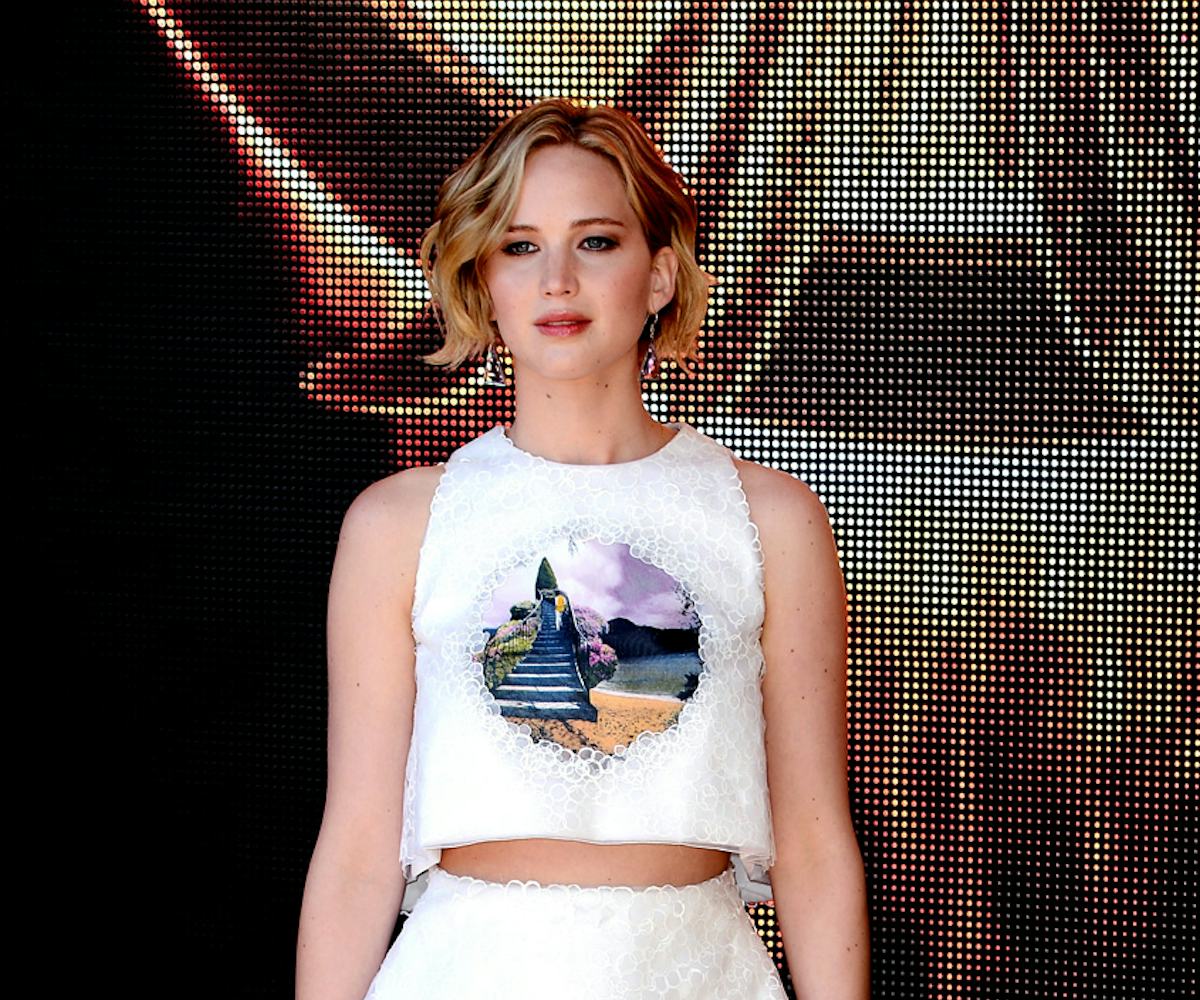 photo via getty images
jennifer lawrence speaks about the hacking crime
and she's got some strong words
Jennifer Lawrence was always slated to be Vanity Fair's November cover star. It makes sense, as The Hunger Games, a.k.a the biggest franchise since Harry Potter, lands next month. But two weeks after the interview wrapped, hackers stole photos of Jen and posted them all over the internet, stealing headlines and exposing the unwilling star. So Vanity Fair reached back out to the actress to let her have the last word—to speak after her voice was taken away from her when those photos were illegally obtained. And she didn't mince her words.
"It is not a scandal. It is a sex crime. It is a sexual violation. It's disgusting. The law needs to be changed, and we need to change. That's why these Web sites are responsible. Just the fact that somebody can be sexually exploited and violated, and the first thought that crosses somebody's mind is to make a profit from it. It's so beyond me. I just can't imagine being that detached from humanity. I can't imagine being that thoughtless and careless and so empty inside."
The two most ridiculous comments made about the photos both put the blame on the actress: The first is that it is all a part of fame, and the second is that, if she doesn't want to have naked photos on the internet, don't take naked photos. Each negates the fact that she was unwillingly violated, which she adamantly points out: "Anybody who looked at those pictures, you're perpetuating a sexual offense. You should cower with shame. Even people who I know and love say, 'Oh, yeah, I looked at the pictures.' I don't want to get mad, but at the same time I'm thinking, I didn't tell you that you could look at my naked body."
That's the key takeaway from the "scandal," which she rightfully identifies as a crime. She didn't give anyone permission to look at her naked body, and as an accomplished, successful, smart, funny woman, she has no reason to apologize for being naked in the first place. She thought about saying she was sorry, but she says that "every single thing that I tried to write made me cry or get angry. I started to write an apology, but I don't have anything to say I'm sorry for. I was in a loving, healthy, great relationship for four years. It was long distance, and either your boyfriend is going to look at porn or he's going to look at you." She's right, she has no reason to feel ashamed.
Mostly, however, it reminds readers that JLawr is a bright, honest, and talented young woman and that this kind of invasion should no longer be tolerated. And Jen won't let her bring her down—with a giant movie about to come out and Hollywood still hanging on her every word, it's so relieving to see that this is merely a setback in what will be a long and wonderful career. 
photo by patrick demarchelier for vanity fair