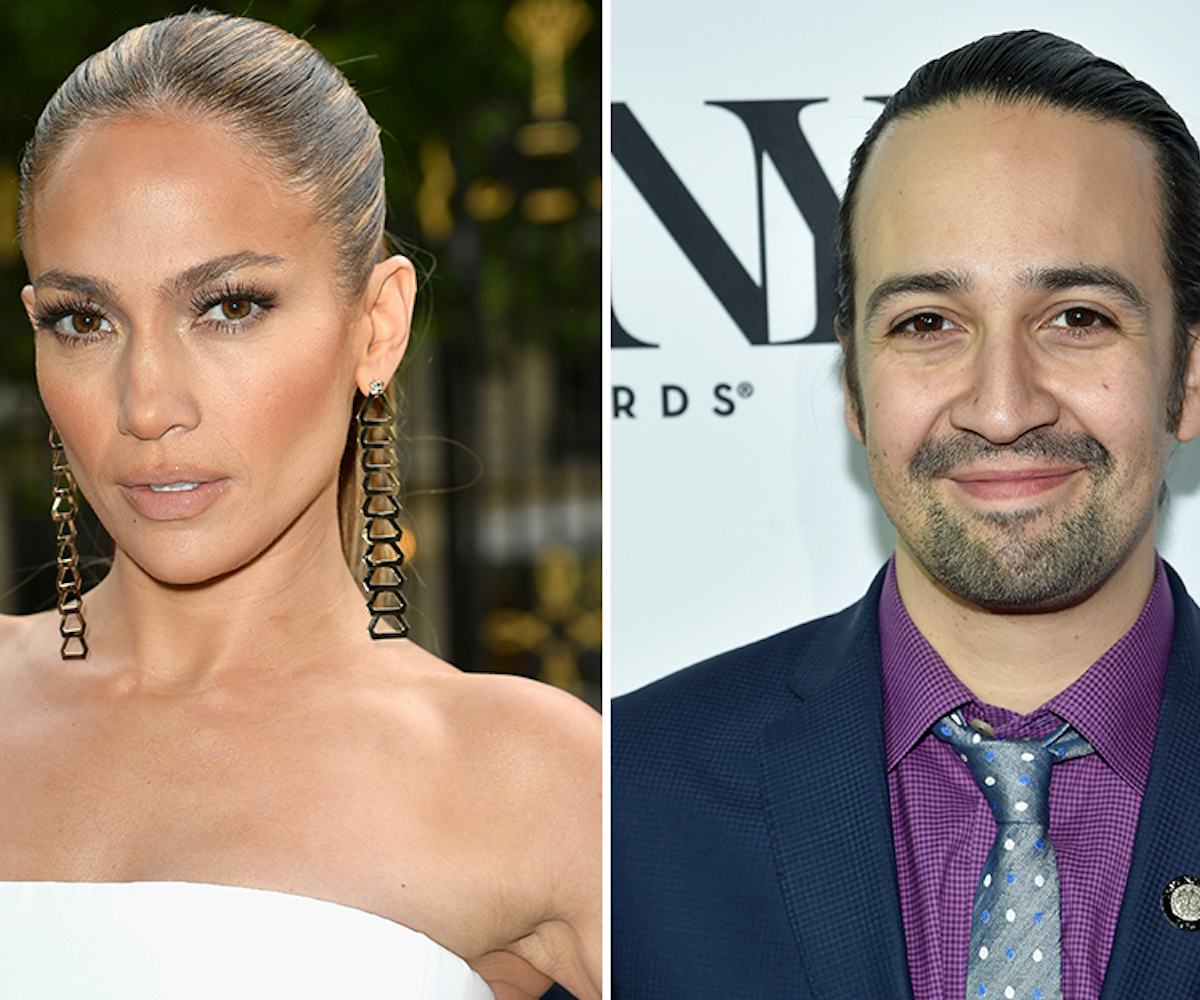 Photos by Pascal Le Segretain and Dimitrios Kambouris/Getty Images
Jennifer Lopez + Lin-Manuel Miranda Teamed Up For A Song Dedicated To The Victims Of Orlando
Listen to "Love Make the World Go Round"
Another tribute song for the victims of the Pulse nightclub shooting in Orlando, Florida, has been released, this time, courtesy of Jennifer Lopez and Lin-Manuel Miranda. Titled "Love Make the World Go Round," proceeds from the song will go to the Hispanic Federation's Proyecto Somos Orlando. The pair first teased the track on the Fourth of July, when they both tweeted a behind-the-scenes making of the video. "Me and @Lin_Manuel working in studio on something very special…," Lopez wrote at the time. 
"We're not staying inside today / they're not taking our pride away," Lopez sings over a dancehall beat. Miranda then joins in with his signature rhymes, rapping: "What we got is love even when the sinners hate us / We cannot let them diminish or intimidate us / We sing out, we got the rhythm and the true on our side / We cut through the divide and we do it with pride."
"A generation of innovators enabled to patiently wait for change 'cause change is what they've been afraid of / the malevolence can wait, raise a level of debate, celebrate, elevate," Miranda adds. 
Along with the LGBT community, the Latin community was also deeply affected by last month's tragic shooting. A whopping 90 percent of the 49 victims were Hispanic. "The days, weeks, months, and even years following will be a time of healing for our nation, but especially for victims and the families of the victims," the Federation said in a statement. "Proyecto Somos Orlando will address the long-term needs for mental health services that are culturally competent and bilingual. Proyecto will enable care to be delivered to those affected directly in the communities in which they live. Beyond emergency assistance, they will be provided with case management, crisis intervention, and mental health services, among other needs."
Download "Love Make the World Go Round," here.