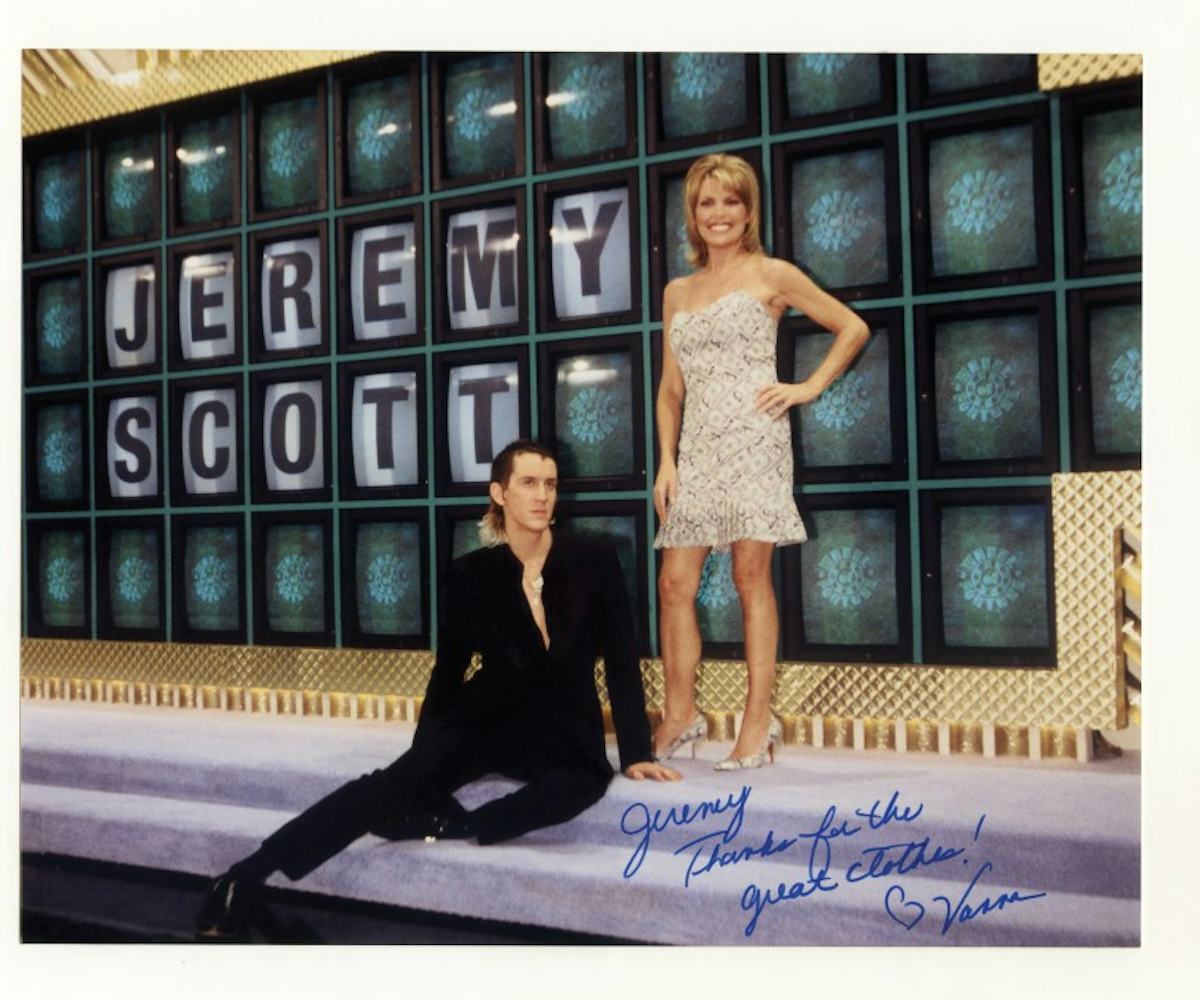 photo harry middleton, courtesy of rizzoli
jeremy scott got away with fashion satire
and he's got a book to prove it.
If anyone knows how to elevate pop culture phenomena, it's Jeremy Scott. The farm-boy-turned-club-kid-turned-designer has managed to not only convince the fashion community to accept mass media sensations, but also to embrace American consumerism in the form of Budweiser-inspired gowns, Golden Arches-adorned T-shirts, and SpongeBob-printed puffer jackets. The designer's eponymous new coffee table read, out now via Rizzoli, follows his career—from the time he began interning at Moschino (the same company that would later tap him to become creative director) to his own line's first collection and his multi-season collaboration with Adidas. Through vibrant campaign images, backstage Polaroids, behind-the-scenes shots from fittings, and celebrity editorials (starring the likes of Katy Perry, Lindsay Lohan, Grimes, and M.I.A.), the book chronicles Scott's tongue-in-cheek exploration of gluttony, sexuality, politics, and icongraphy. Here, he discusses the publication. 
Why were you interested in making a book? 
Well, when you get a call from Rizzoli asking you to do a monograph on your career, you would have to be stupid to say no!
How did you choose which imagery to include?
It was a long process of going through my archives, personal photos, runway and backstage pictures, editorials, and even several never-before-seen shots that I was able to get my hands on. Taking all these in and weighing their importance to telling the story of my work was not easy, as I have a huge body of work and love all my designs deeply. 
What's the story behind the Vanna White/Wheel of Fortune photo?
That's from when I dressed Vanna for a week's worth of episodes for the Wheel of Fortune and came on as a special guest for the New Year's Eve episode! Crazy, right?
What pop culture events are you really fascinated with at the moment?
Instagram in general and how it's captured the attention of so many people. I find the addiction to Instagram fascinating!
What do you look for in a muse?
To become a muse one must have some certain superlative characteristic that gets under my skin and drives me wild in the best possible way. It's not only one thing and it's beyond appearance and style. It's an energy.
Your Miley Cyrus "Dirty Hippy" collection was awesome. Who else would you like to collaborate with in the future?
I don't really ever seek out people to collaborate with, but I love working with my friends! Of course, Katy Perry would be ideal since we get along so well and have a shared sense of humor and love of pop culture.