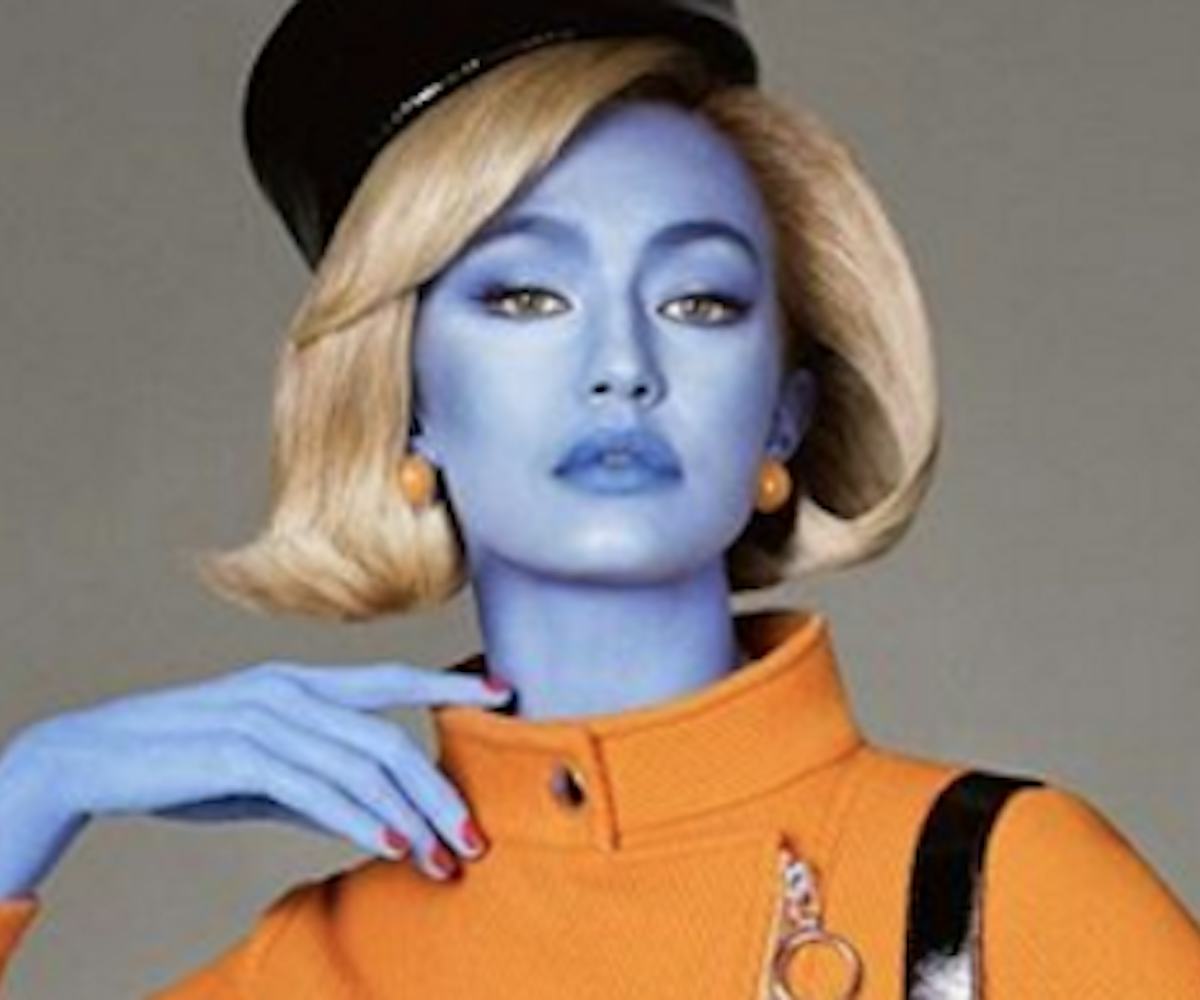 Photo via @jeremyscott Instagram
Did Jeremy Scott Really Just Make An Illegal Alien Joke On Instagram?
Earlier today, Jeremy Scott posted a sneak peek from his Fall 2018 campaign, a Steven Meisel photo of Gigi Hadid, painted blue and donning a Jackie O-inspired frock from Scott's most recent runway collection. While the image is gorgeous, the caption has us shaking our heads.
"THE ONLY THING ILLEGAL ABOUT THIS ALIEN IS HOW GOOD SHE LOOKS," he wrote. Yikes.
A screenshot of Jeremy Scott's Instagram post
Sure, we get that the collection was based on the conspiracy theory that JFK believed aliens were real and told Marilyn Monroe about it; she was allegedly going to go to press with it, which some believe led to their untimely deaths. But when most people think of "illegal aliens" right now, they're probably thinking about the 2,000 children that have been separated from their parents at the border—and put in cages and allegedly physically and sexually abused, amongst other horrifying things—that are still trying to be reunited with their families. So this feels just a bit, I don't know, totally fucked up.
As would be expected, a good portion of social media is feeling the same way. "If only Brown immigrants could receive the same response from the public. What an ideal thought," wrote one user, while others responded with a simple "yikes" or "disappointed."
However, Scott did respond to one user (in all caps, no less), "THE ENTIRE CONCEPT OF MY AD CAMPAIGN WAS TO BRING ATTENTION TO THE US ADMINISTRATION'S HARSH STANCE TOWARDS 'ILLEGAL ALIENS.' I PAINTED THE MODELS IN MY SHOW AND THIS CAMPAIGN AS A WAY TO BRING ATTENTION TO THIS AND DISCUSS WHAT EXACTLY IS AN 'ALIEN' ARE THEY ORANGE BLUE YELLOW GREEN? NO THEY ARE OUR FRIENDS, NEIGHBORS, CO WORKERS, RELATIVES AND PEOPLE WE LOVE."
Even if that's the message he was trying to get across, it doesn't read that way. The post has been up for over three hours and has yet to be changed, so we'll be watching to see if Scott decides to make an edit or comment on the backlash at some point.