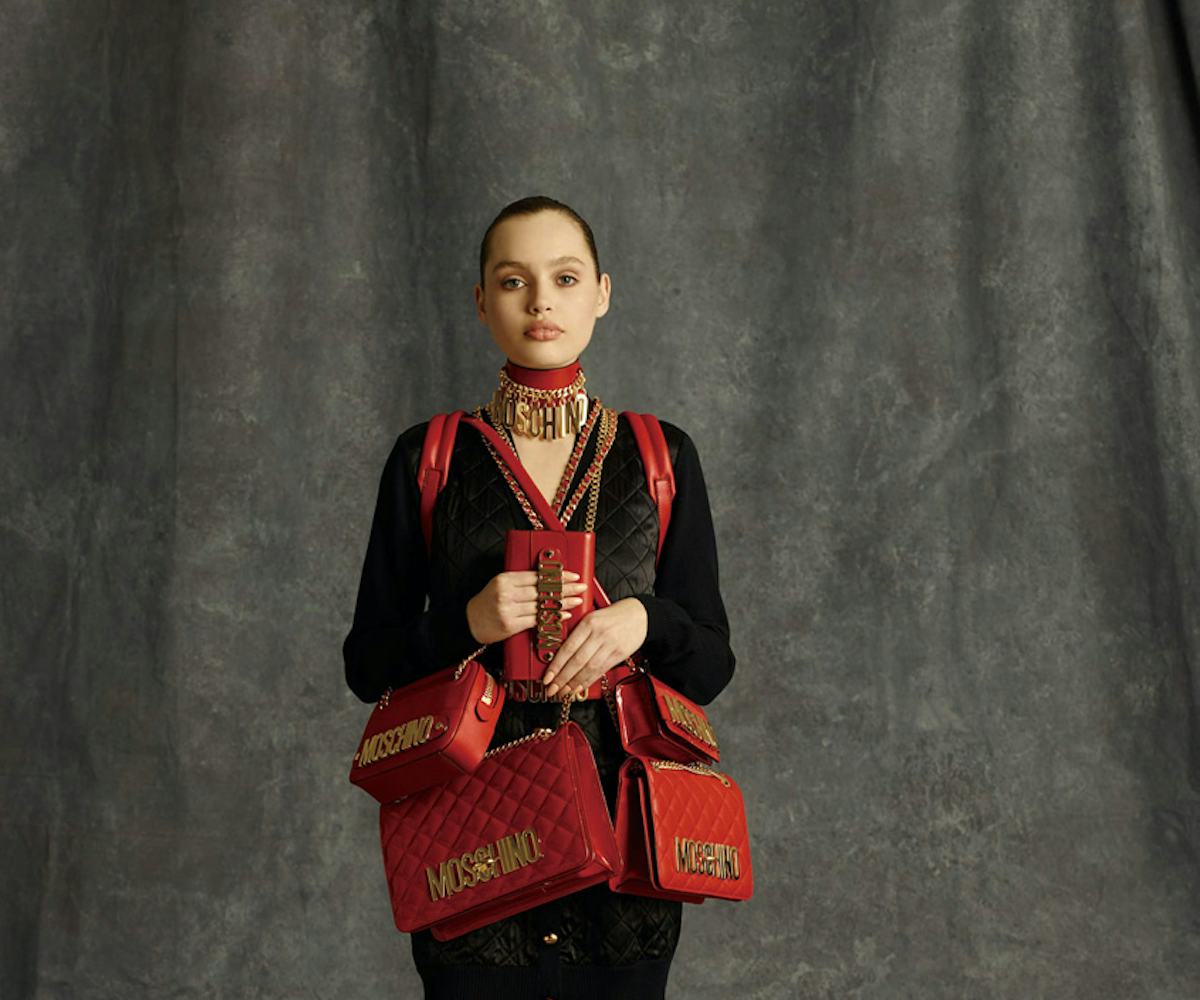 photo courtesy of moschino
it's moschino, baby
model staz lindes tells us about about working with jeremy scott for moschino.
"Jeremy Scott named creative director for Moschino" ranks up there as one of our favorite sentences of all time (along with "There's free pizza in the break room" and "Clueless is streaming on Netflix"), so obviously we were very excited to get a glimpse of his first collection for the Italian house.  
And finally our wishes were granted, in the form of the Moschino pre-fall '14 lookbook. From the moto-jacket purses to a logo choker to a trompe l'oeil slip-meets-trenchcoat to the witty slogans printed across T-shirt dresses, we want it all. Literally, everything.
Sharing our enthusiasm is model Staz Lindes, who modeled the collection for the lookbook, and also just happens to be one of our favorite faces of the moment. We grilled the Californian model on what it was like to work with Jeremy Scott and which pieces she wants in her wardrobe. Read it all below!
You're the first model to ever work for Jeremy Scott for Moschino! Why do you think he chose you to be the model for the pre-fall lookbook?
How exciting is that?! Jeremy and I have connected in the past few months, and we have a lot of fun together. He knows I love his clothes and I think he loves dressing me in them. I'm a lucky girl!
What was your favorite look from the collection?
I love the bags so much. The little leather jacket backpack is so friggen cool. Every piece is so fancy but cool at the same time. I love it all.
If you had to make a playlist for Moschino, what songs would you put on it?
I guess these are all songs i could see myself dancing to in some of the outfits!
"Chick Habit" - April March
"Watch That Man" - David Bowie
"Vicious" - Lou Reed
"Under My Thumb" - The Rolling Stones
"Ride A White Swan" - T Rex
"Kiss Them For Me" - Siouxie and The Banshees
"20th Century Boy" - T Rex
"The Prettiest Star" - David Bowie
"Putty in Your Hands" - The Shirelles
Did you get to keep any of the clothing or accessories from the shoot?
No, I wish! Some day! I've got lots of Jeremy Scott goods from the first shoot we did together that are some of my personal treasures!
Describe Moschino pre-fall in three words.
Exciting, clever, and delicious!
Listen to Staz' playlist below while you see her model in the lookbook!