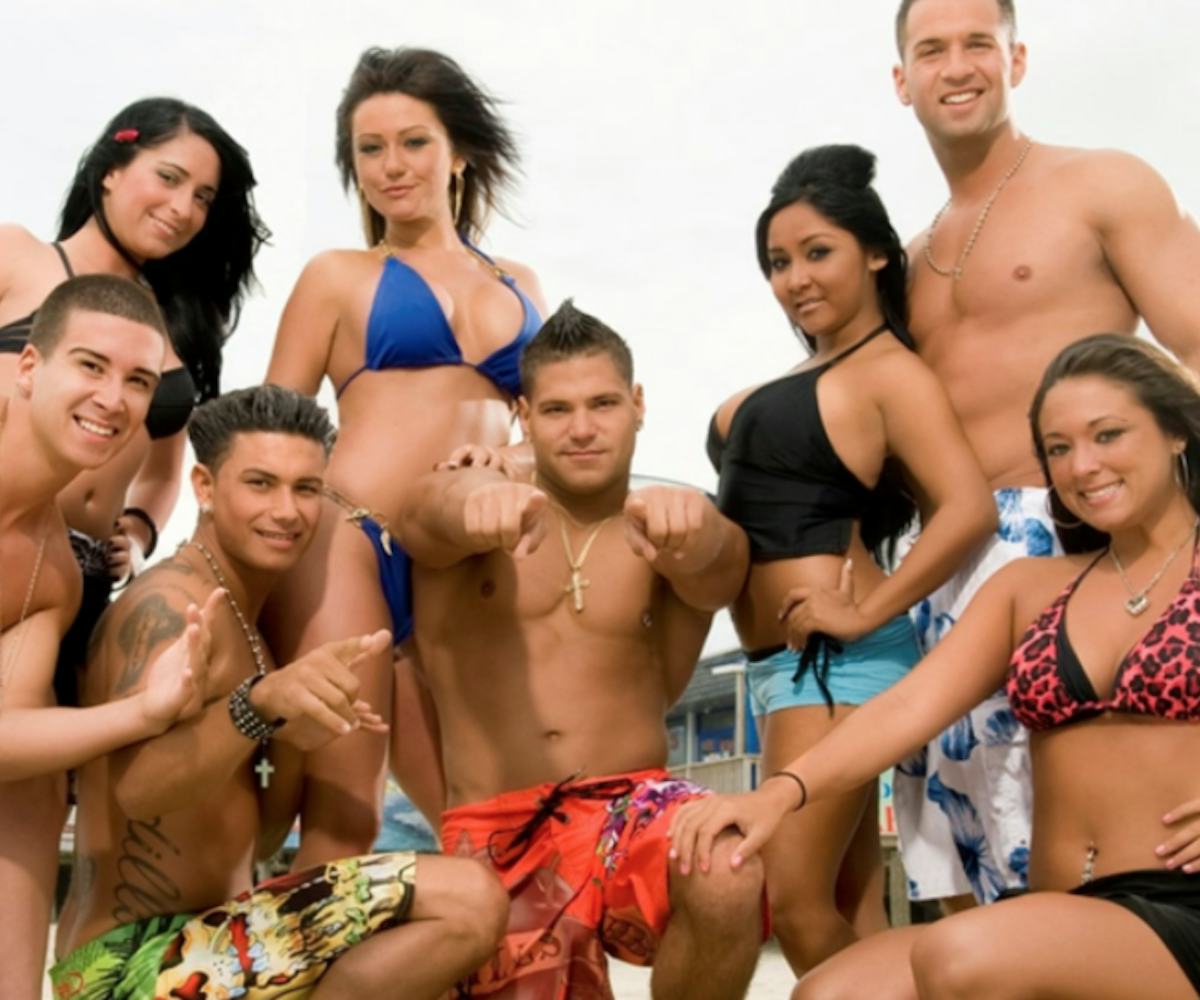 On 'Jersey Shore,' The Show That Everyone Loves To Hate
The reboot, 'Jersey Shore Family Vacation,' airs tonight
Last month, The New Yorker critic Emily Nussbaum posed a question on Twitter: "What is the show that you don't like but you kind of like?" 
I have a lot of these. There are shows I watch out of obligation (late-night talk shows), shows that I have invested too much time (and too many seasons) in to quit now (Scandal, Grey's Anatomy), and ones that people claimed pushed boundaries of TV even though, deep down, I disagreed (Mad Men, Breaking Bad, Lost...). But if there is one genre of television that encompasses that very feeling, of I know I shouldn't like this but I do, it's reality television; narrow it down to one out of the billion, and it would be Jersey Shore.
I'm from New Jersey, and people from New Jersey know better than anyone else that the state isn't favored too highly which is why, when in 2009 eight unknown 20- and 30-somethings (most of whom don't even call Jersey home) attached their name to it, everyone in my suburban town rolled their eyes. Myself included! Not only because I was forced to field questions about whether or not "Jersey is really like the show" (short answer: no), but because it further sullied our already unfortunate reputation. And yet! I watched diligently, week after week, year after year, and, when the reboot was announced six years after the finale, I found myself not only excited but impatient for its return.
The original show ran from 2009 to 2012 on MTV. The show's 2011 Season 3 premiere became the network's most-watched series telecast of all time, pulling in nearly 9 million viewers. People from California to Kansas tuned in to watch Nicole Polizzi (Snooki), Mike Sorrentino (The Situation), Jennifer Farley (JWoww), Sammi Giancola (Sammi Sweetheart), Ronnie Ortiz-Magro, Vinny Guadagnino, Angelina Pivarnick, Paul DelVecchio (DJ Pauly D), and, in later seasons, Deena Nicole Cortese, wreak havoc up and down the Seaside Heights boardwalk (... and later Miami... and then Italy). The success of any reality television show is shouldered by the personalities of the stars—and Jersey Shore had plenty of personalities to go around. The eight original cast members were common folk. They weren't Kardashians who lived in mansions or Big Brother contestants competing for a cash prize, they were strangers who came together to, basically, hang out. It was everything one wants in a reality show: drama (usually caused by alcohol and ill-advised hookups), debauchery, and comedy. But, more than that, it evolved into a show about family, friendships, and allegiance.
As is the case with most reality television shows, Jersey Shore had a lot of bad rep surrounding it. Many were frustrated that MTV marketed the show using the word "guido," an ethnic slur used to refer to Italians and Italian-Americans. There were also a couple of things that wouldn't fly in 2018. Like, the episode that centered around Snooki getting punched in the face by an angry man at a bar (MTV later pulled the scene). Or, the fact that The Situation commonly called women who he found unattractive "grenades." But, often, the good (read: entertaining) outweighed the bad—yes, even in the case of the state of New Jersey. Sure, governor Chris Christie wasn't a fan (though Christie's opinions don't hold much weight, to begin with), but the show increased tourism exponentially at the time and the cast helped raise significant money after Hurricane Sandy ravaged Seaside Heights.
A long time has passed since the show last aired. Snooki and JWoww are both married with two children (the two even had a spin-off, Snooki & Jwoww, that chronicled the pregnancies and childbirths of their first three children). Ortiz-Magro just welcomed his first child, Cortese recently got hitched, and The Situation is two years sober (and may potentially be facing jail time after pleading guilty to tax evasion). And yet, apparently, not much has changed—the cast is as wild as ever, as is displayed in the trailer.
That said, it will be interesting to see how the reboot will be received. While the premise is not much different, the landscape of television has changed since the show first premiered. It's been said that we used to tune into reality shows for the hope that we can be in the shoes of the cast members one day. As a 2001 Psychology Today story outlined, "Ordinary people can watch the shows, see people like themselves and imagine that they too could become celebrities by being on television." That simply doesn't ring as true today. You don't have to appear on the small screen anymore to experience your 15 minutes of fame. That can also be found on YouTube or Instagram or Twitter—anyone with a camera can monetize their personality. Not to mention, there's a lot more mindless television to lose yourself in today than ever before
And so, it's hard to say whether the more "wiser" members will be able to draw in the same number of viewers they once did, though they do have nostalgia working in their favor (and we'd much rather watch a reboot that doesn't involve a Trump-supporting protagonist). Either way, the Jersey Shore members have managed to imprint themselves on the pop culture lexicon in a way many reality shows never manage to do (when President Obama knows you by name, you've done something right… or, you've just done something). And, whether you'll be fist pumping with the crew or not, they probably became a part of your life, too. 
Jersey Shore Family Vacation airs tonight, April 5, on MTV.