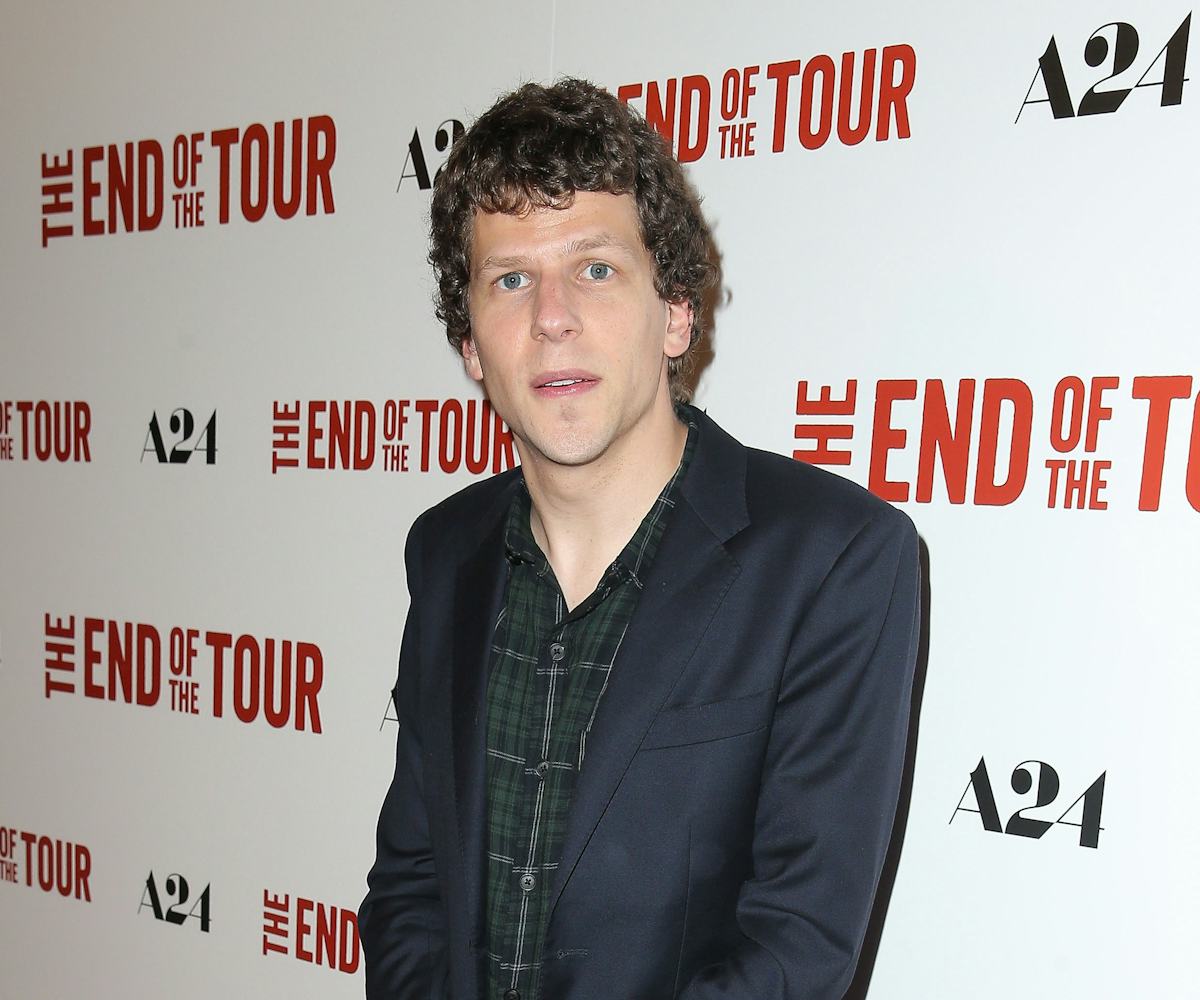 photo by Imeh Akpanudosen
jesse eisenberg had the worst time at comic-con
he compared it to genocide
Jesse Eisenberg is a highly intelligent individual, and when he speaks, he chooses his words carefully. So when he compared his Comic-Con experience to genocide, it was surprising on multiple levels.
The moment came on the red carpet for Eisenberg's latest film, the David Foster Wallace biopic, The End of the Tour. When a reporter asked him about his experience at last weekend's Comic-Con, where he was promoting Batman v Superman, Eisenberg said that it was "like being screamed at by thousands of people." He probably should have stopped there, but Eisenberg, whose mind seems to travel at warp speed, added, "I don't know what the experience is throughout history, probably some kind of genocide. I can't think of anything that's equivalent."
Obviously Eisenberg didn't mean this literally. Genocide is the mass extermination of an entire people based on factors like religion or ethnicity. Eisenberg's version of Comic-Con was sitting on a panel and watching a bunch of proud nerds geek-out over a movie he was in. Not the same thing, and he knows it. But as his career gains momentum and his fame grows, Eisenberg's disdain for the media has increased, and he was probably just lashing out. In The End of the Tour, Eisenberg plays real-life journalist David Lipsky, who in the movie accompanies author David Foster Wallace on a book tour. During the same interview as the genocide remark, the reporter asks Eisenberg about his role.
"Yes I have never been on the other side, on your side of journalism. I have normally been the victim so I worked with the guy who I play, I play a real person, David Lipsky," he said, coldly. "I interviewed him. He taught me how to interview and what his process is like and now I understand the pariahs that you guys are." The scary thing about that is that Eisenberg meant every word.  
UPDATE: Via the Associated Press, Eisenberg clarified his remarks by basically reiterating them:  "Maybe on some cellular memory level, that's the only thing that seems like an equivalent social experience," he said during The End of the Tour press day. "Even if they're saying nice things, just being shouted at by thousands of people, it's horrifying."
"They were one torch away from burning me," Eisenberg said. "I'm a normal person with like normal reactions to things, so of course it's going to be terrifying. If you like that kind of thing and feed off of it in some way, you must have a miserable life."
"You know, but it's such an honor to be a part of the film. No, I mean everybody liked the movie. That was the important thing. The screaming was terrifying. … We were on the kind of scary end of it."
Basically, Jesse Eisenberg DGAF.