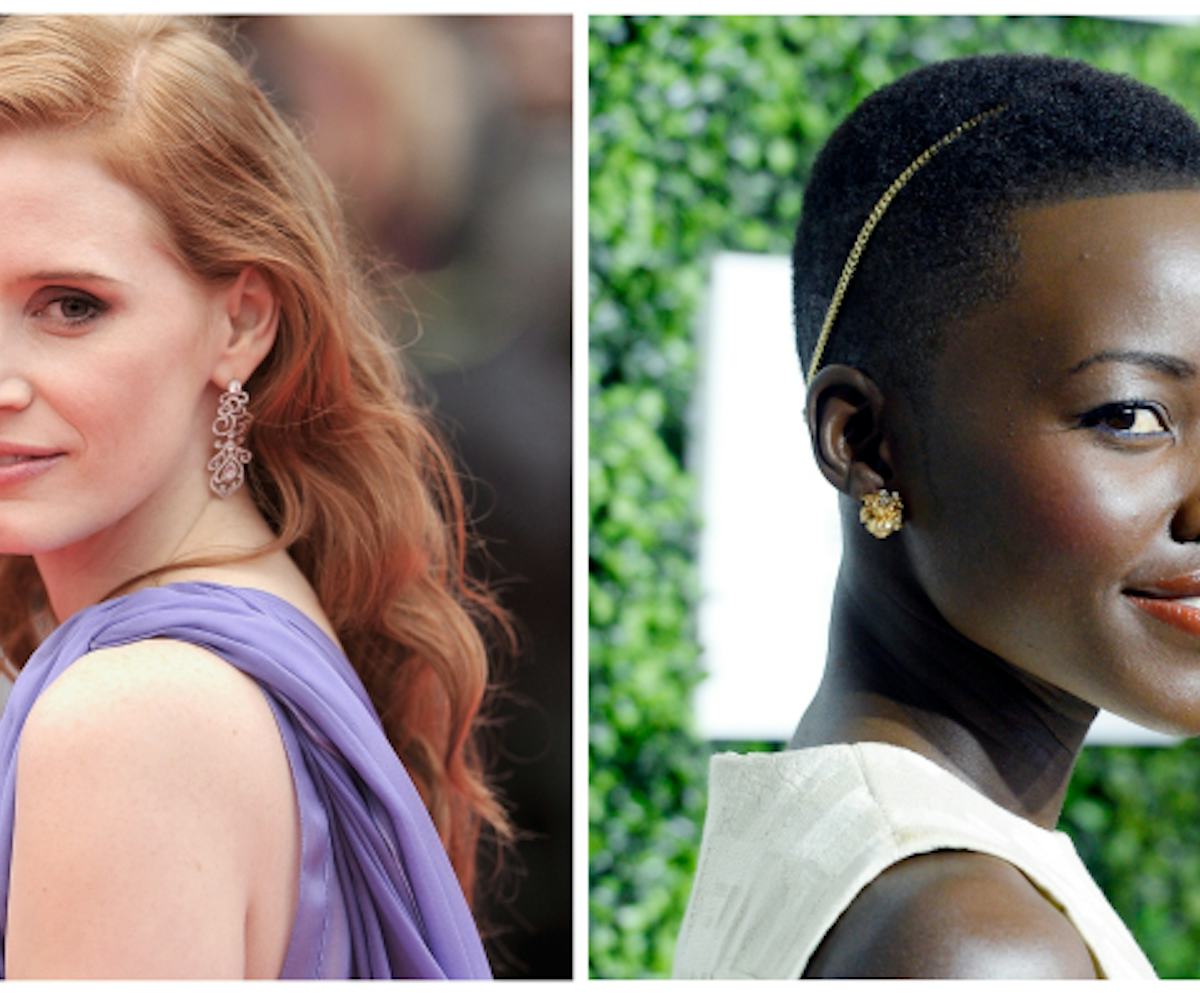 photos by Gareth Cattermole; Kevork Djansezian/getty images
Jessica Chastain & Lupita Nyong'o's New Film Is 'Ocean's 8' Meets 007
'355' will also star Penelope Cruz, Marion Cotillard, and Fan Bingbing
It looks like Hollywood is beginning to listen to the fans by putting forth a ton of diverse, female-fronted films. Not only will we be blessed with all the glory that is Ocean's 8 next month, but we may also be able to see Lupita Nyong'o as an assassin in a remake of the Hong Kong action classic, The Killer, and now, as a spy in a new female-led thriller.
Deadline reports that Nyong'o, along with Jessica Chastain, Penelope Cruz, Marion Cotillard, and Fan Bingbing, will play international spies in a new thriller titled 355. The film will be directed by Simon Kinberg, who also helmed Deadpool and Fantastic Four. He told the publication that he hopes to turn the film into a franchise. According to the publication, the idea for the film came from Chastain, whom Kinberg directed in X-Men: Dark Phoenix and who recruited the other actresses for this project.
"I had so much fun working on The Help that I always wanted to do another female ensemble film," Chastain told Deadline. "I love the Bourne movies, the Mission: Impossible films, and wondered why, except for Charlie's Angels, there hadn't been a true female ensemble action-thriller spy film. That got my wheels going, along with the idea of casting actresses from all over the world to truly make it an international project. I realized the incredible creative freedom we would have with that."
She also opened up about the film's title, which pays homage to an IRL female spy.
When I was preparing for Zero Dark Thirty, I had incredible resources working in the CIA I got to learn from. We have a consultant in our film that has a lot of knowledge in espionage. This title came from one of the conversations I had with him. Agent 355 was the code name of a female spy during the American Revolution. She was one of the very first spies for the United States, and her identity is still unknown. For a lot of women who work in the CIA and other organizations like that, Code 355 is a universal slang term for female spy. It's the invisible woman who was never named.
There's no word on when we can expect the film to be out, but we know it'll be killer.