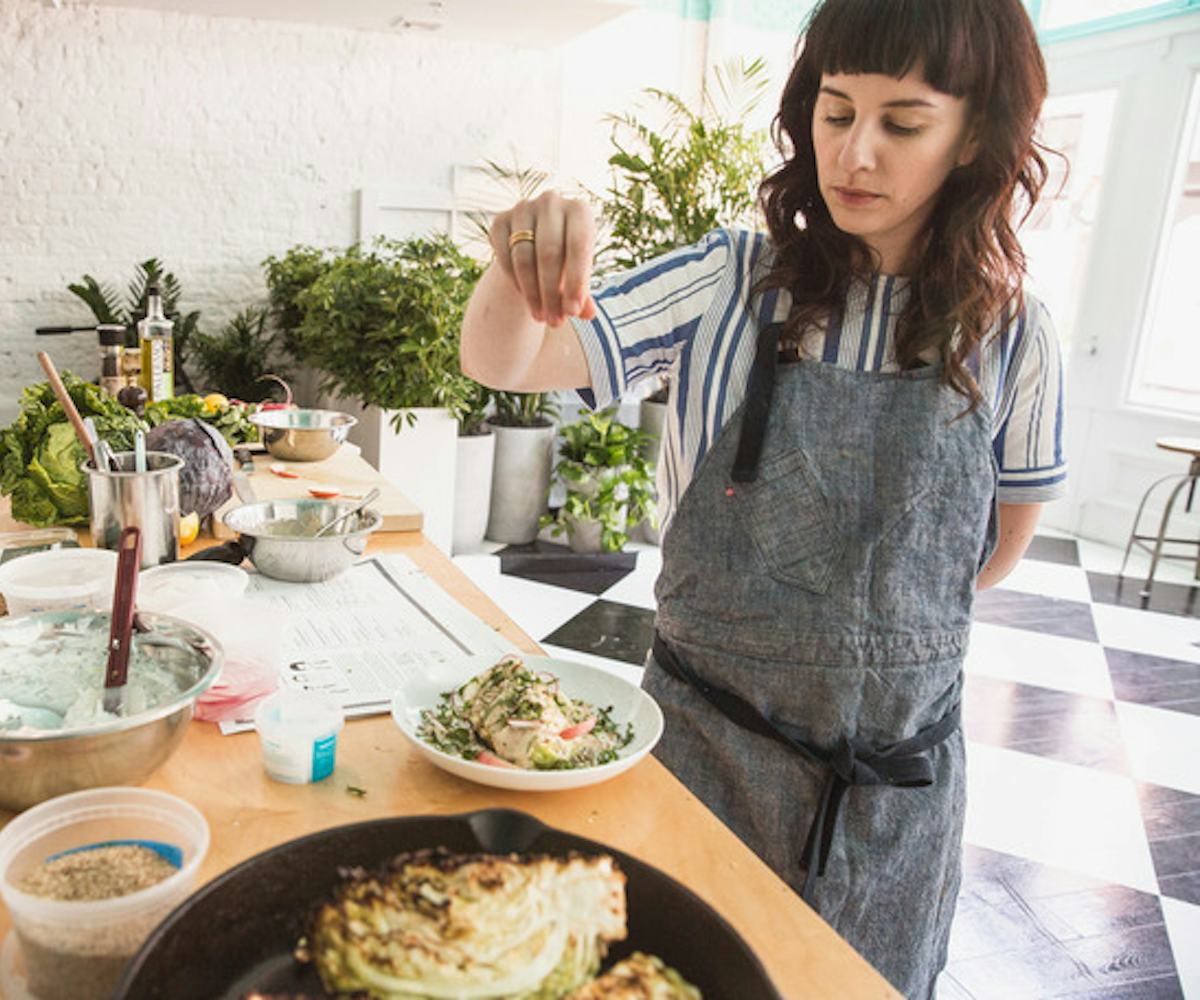 Photograph courtesy of Seaport Food Lab.
Why Sqirl's Jessica Koslow Is Still One Of The Most Exciting Chefs To Watch
With Tel on the way, the spotlight is shining bright on the chef who's made jam cool again
"You are trying these dishes before even my mother," Jessica Koslow jokingly said at last month's dinner at Seaport's Food Lab, a series that hosted celebrated chefs for two-week residencies this summer, and which gave diners the first taste of Koslow's upcoming restaurant Tel. "So if you post something on your Instagram from this dinner and she comments asking how it was, you were warned." I didn't post any photos, but if I had and had been called out by Koslow's mother, I would have told her that the flaky cardamom ghee and nigella laminated flatbread dipped in yogurt with fermented dill pickle was downright addictive, smoked fried Jerusalem artichokes with black garlic aioli was flavor-explosive, and the sturgeon with hulba and green sahawek was melt-in-your-mouth tender. But then again, such rave reviews of Koslow's cooking should surprise no one.
Once in a while, there comes along a person, be it a professional chef or home cook, who will make you rethink a food you'd otherwise written off. Koslow did that for me by making me reconsider jam, of all things. Koslow put this humble food back on my culinary map, crafting versions that were nothing like the homemade raspberry one that my mother force-fed me anytime I had a cold, or the black cherry one that my Turkish best friend dropped in my tea in place of sugar; hers was a revelation.
"These are really delicious foods that are being forgotten about," Koslow once said about prunes to writer Marian Bull, who wrote an excellent profile on Koslow for Eater. "Those are the things I'm interested in." It's such ingredients, like plums and peaches, that feature prominently in Sqirl's jams, and that have taken flavors like 'Boysenberry and Aprium' and 'Elberta Peach and Lemon Verbena' to cult culinary heights. (Even though my favorite remains the transcendent 'Seascape Strawberry and Rose Geranium' jam that I've more than once been caught sticking my fingers into when the only remains were coating the side of the jar).
Koslow's "jams-to-riches" story, to borrow again from Bull, is well-known. After a stint as a competitive figure skater, Koslow knocked on the kitchen door of Anne Quatrano's Bacchanalia restaurant in Atlanta to ask for a job, a move that she described to me, when I interviewed her earlier this year, as life-changing. Working as a pastry chef there, she was blown away by the often overlooked craft of preserving, a necessary means in a city that's not blessed with an all-year-round bounty of local produce. "We were preserving truly to save the season," Koslow told me then. "When I returned to Los Angeles, I was fascinated by all the varieties of produce—and the unlimited supply, so it seemed—that grew all year long."
In 2012, she opened Sqirl, "the marriage of a Girl Squirreling Away," which started as a jam storefront in Los Angeles' Silver Lake but quickly evolved into a breakfast and lunch restaurant that serves the famed sorrel pesto rice bowl (a brown rice bowl with preserved Meyer lemon and fermented jalaneño hot sauce) and oversized toasts topped with everything from ricotta and jam to avocados and fermented vegetables that not only garners long lines around the block, but also some of the most-liked food Instagram photos ever.
Given the popularity not only of the restaurant, which has been dubbed as the leader of new Californian cuisine for its market-driven approach to ingredients and health-oriented leanings that aren't stripped of flavor, but also of last year's cookbook, Everything I Want to Eat: Sqirl and the New California Cooking, Koslow could have ridden that wave of success and simply opened more Sqirl outposts both in L.A. and New York—many New Yorkers consider Koslow's eatery a must on their West Coast to-do list—to great acclaim and similarly long lines. But Koslow isn't interested in just perfecting what she's already, well, perfect at.
Instead, her new concept Tel, set to open next spring, will draw from Koslow's Jewish heritage and feature a menu infused with the rich flavors and spices of the Middle East. "In archaeology, a 'tel' is a mound that is formed from the accumulated remains of civilizations living on the same site for hundreds or thousands of years," Koslow tells me, following the dinner at Seaport's Food Lab. "Tel is informed by centuries-old global Jewish culinary tradition, techniques, ingredients, and flavors, as well as the quips and tricks we've developed at Sqirl over the last six years."
Such tricks of the trade will, of course, include preservation methods, be it in jams or via fermented and dehydrated vegetables. That much, though, was obvious at the preview I attended, which featured acidic lacto-fermented crudités, oven-roasted cabbage with avocado seed tahini and fermented Meyer lemon, and a brown rice and crispy chickpea pyramid with smoked plum, pickled rose hips, and dill-smoked schmaltz.
"Tel is an extension on the Sqirl conversation," Koslow tells me when I note the familiar nods in the flavors she's playing around with now. "We're planting 'roots' here in Southern California and defining how vibrant and conscious food can be at the same time." She will continue to hone her relationships with farmers who provide her with some of the best and most unique produce around and spread an important message about the environment and farming through the sheer selection of food she puts out—and also through what she doesn't put out. "We have a three-acre farm as a part of the [Tel] project. The farm acts as an educational resource, growing produce with a drought-tolerant mindset. We believe in championing ingredients that grow with little resources in the climate we live in."
Knowing Koslow, though, one can only assume that she has something new up her sleeve, a dish or ingredient, that Tel will ultimately become known for. "I will leave that to be determined. I want Tel to develop naturally, without additional expectations placed upon it," she says when I ask her what that pièce de résistance will be. But if the dinner at Seaport's Food Lab, prior to which "Tel was something we had only talked about," is any indication, the overlooked foods will continue to permeate the kitchen.
As I was served the final course, a bowl of malabi, I couldn't help but note the inclusion of jam (this time, a Persian mulberry variety), and Sqirl's signature turmeric millet jack. So yes, while Tel will be a new chapter of Koslow's already prolific culinary career, it's beginnings will not be forgotten.