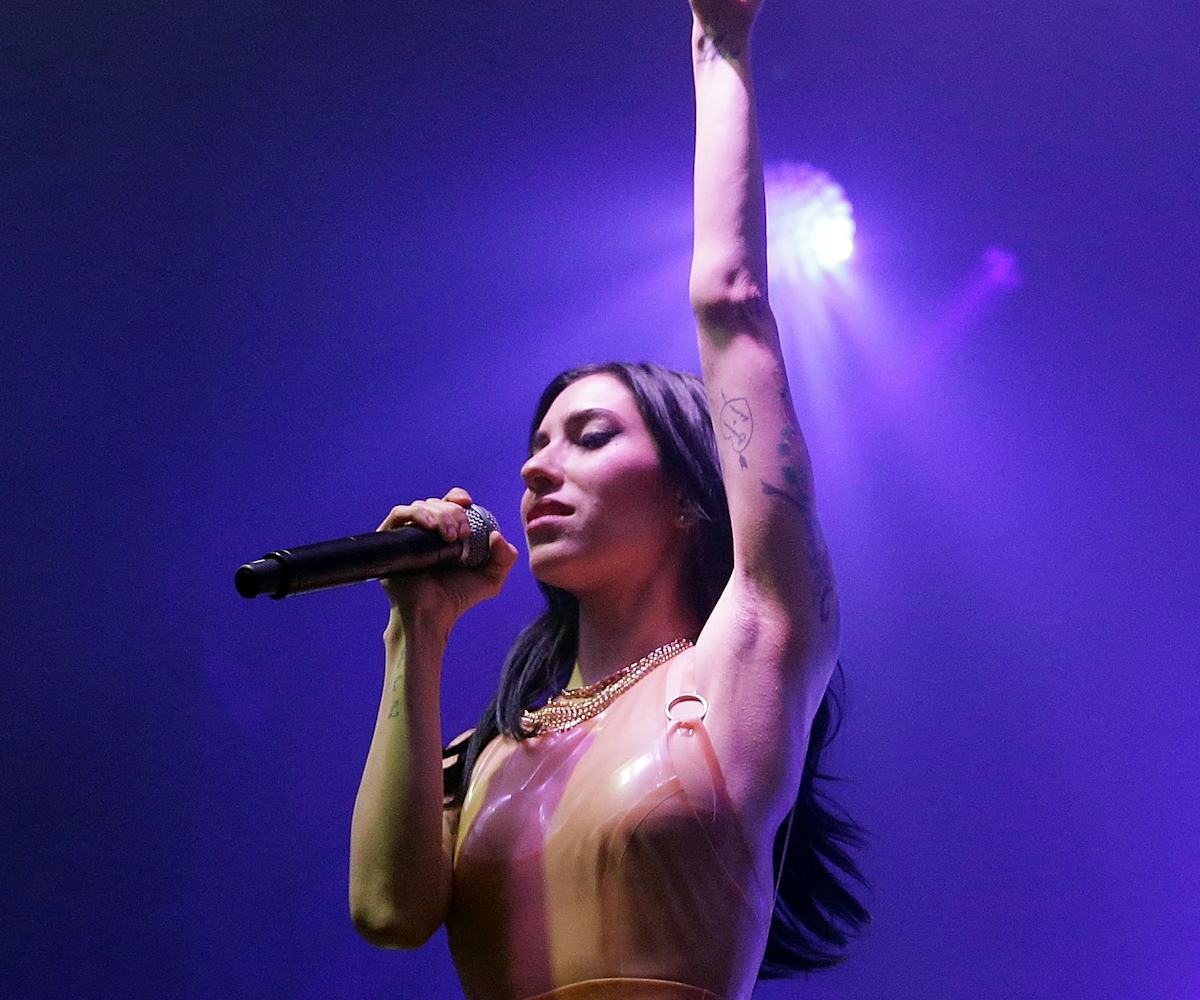 Photo by Mark Metcalfe / Getty Images
Jessica Origliasso Talks About Marriage Equality And Her Relationship With Ruby Rose
The Veronicas frontwoman is speaking out for equal rights in Australia
Jessica Origliasso, frontwoman of dance-punk band The Veronicas and current romantic partner of supermodel Ruby Rose, is speaking out in favor of gay rights and marriage equality. Back in July, Origliasso gave an empassioned speech on the subject at a rally in Sydney. Now, currently involved in a same-sex partnership, the singer is reflecting on how her political position has taken on new meaning.
"When I did the speech for the last marriage-equality rally I was dating a boy," Origliasso said in an interview with The Daily Telegraph AU. "I remember writing the speech thinking that I'm treated as a fully equal citizen. Now purely because of the gender of the person I am in love with, I have those rights taken away."
"It's a really confronting feeling. We cannot get married."
Joining a growing movement of outspoken artists and entertainers led by British actor Joshua Sasse (also Kylie Minogue's fiance), Origliasso was one of many stars to discuss the issue in recent memory. Sia and Troye Sivan also made statements about the need for the expansion of civil rights in Australia at the ARIA (Australian Recording Industry Association) Awards under the banner of Sasse's "Say I Do Down Under" campaign.
Along with Minogue and Sasse, Origliasso has vowed to remain unwed until all of Australia can properly get married. "I'm so glad Kylie and Josh are making that stand,'' Origliasso said. "Even when I was dating a man I always said I'd never get married until marriage equality was passed in Australia. It wouldn't feel right... I'm at an age now where I'd like to settle down, I want to have children. I like the romantic idea of that. All my closest friends are gay. All of them. None of my best friends can get married, not a single one. It was already personal, but now I'm dating Ruby it's obviously now incredibly personal."
At the moment, marriage equality is not currently the law of the land in Australia. The country's lawmakers recently considered putting the issue up for a public vote, but the idea was ultimately defeated. "We're seeing marriage equality dropped off from being a priority..." she continued. "I feel emotional rage over it. It really feels like we're taking a step backwards. It's incredibly hard to comprehend. It's only inspired us to want to speak out louder, campaign harder and be a bigger voice."
Jessica and Ruby had recently rekindled their love on the set of a the music video for The Veronicas' track "On Your Side." Ironically, that song is about remaining friends with ex-lovers.
The two became romantically interested again while filming: "We wrote it, then we lived it," Origliasso shared. "People are literally seeing us fall in love on screen. It's captured forever."
"Our value systems and priorities in life have completely aligned in a healthy independence," she went on. "We want the same things... I had the choice to either tell her or not. I thought I may have missed the opportunity. So I told her. I didn't expect it to be reciprocated."
Notably, Origliasso is resisting putting a label on her sexuality: "You shouldn't feel you have to label yourself for someone else to understand you. You should be able to feel what you want to feel and that's okay. You don't have to figure out really quickly what you are, who you are, what you want. I'm very, very lucky—when I realised I was sexually attracted to females there wasn't a struggle where I found that hard to accept. There was no conflict in my mind, it was most seamless understanding for me—oh, I really love this person, I'm really attracted to this person. I know that's not a lot of peoples' experience."
You can read the full interview over here. You can support the movement for marriage equality in Australia by joining the "Say I Do Down Under" movement or donating directly to Australians 4 Equality.