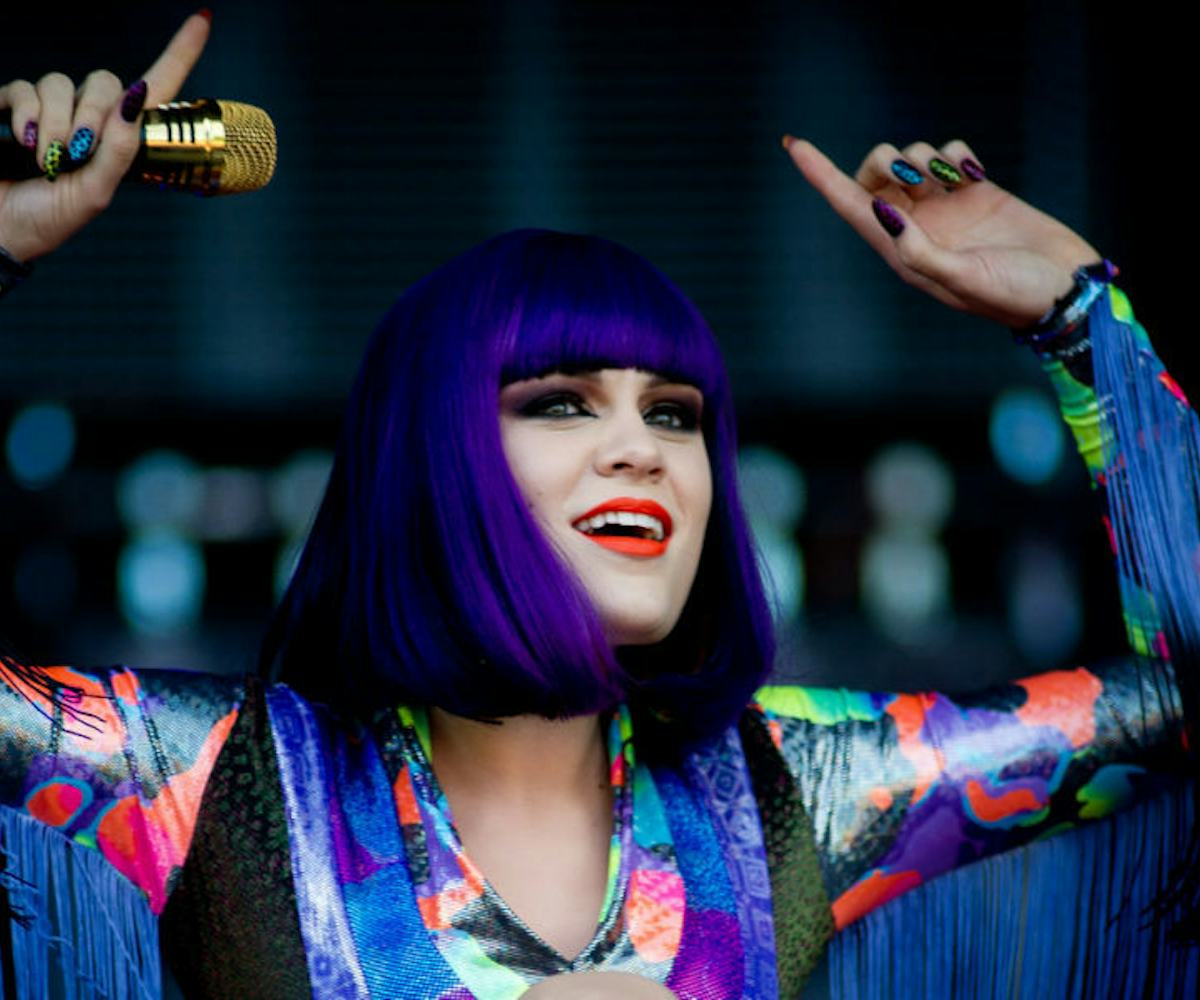 Photo by Ian Gavan/Getty Images.
Is It Time To Give Jessie J The Spotlight?
Taking a look at the singer's musical journey
I was sure Jessie J would become big when I first heard "Do It Like A Dude." I was studying abroad in London at the time, and my friends and I only had a couple of television channels. One of them played a countdown of music videos, and we watched as her single slowly rose in popularity over the months. It's a good song with an even better video. It was raunchy, it was commanding. When she said she could grab her crotch and wear her hat low like her male counterparts, I believed her—maybe even more than I did when Beyoncé and Ciara made similar declarations (oops). I was here for the Jessie J breakout.
I understand this wasn't most people's introduction to the singer—especially in the U.S. That would come first with "Price Tag," which came out in 2011, then "Domino" in 2012 (she also co-wrote "Party In The USA" in 2009). Those are fine pop songs, the kind whose words you'd remember if they came on the radio today. The singer's real tangible moment of fame though was 2014's "Bang Bang" featuring Ariana Grande and Nicki Minaj. It spent 16 weeks on the Billboard top 10 and got people whispering about the British singer, but not really talking. It's technically Jessie J's song, but people were mostly tuning in for Grande's and Minaj's features (it's by far the most played video on Jessie's YouTube channel, with over one billion views). Jessie J was just sort of there; nobody really knew what to make of her.
Jessie J came to America in 2014 to try to make it here because she didn't think those in the U.K. appreciated her voice. "It seems that all people want to know is what I've had for breakfast and who I'm sleeping with," she said, referring to her controversial decision to renege her bisexuality. "In America they see me as a singer." Ironically, though, the U.K. is one of the only places where people did and perhaps still do appreciate her artistry. Who You Are debuted at number 2 on the U.K. charts and number 11 on the U.S. Billboards. Her sales in Britain were nearly triple that in the States, and she's been described by the British press as U.K.'s answer to Lady Gaga.
Its possible Jessie J had terrible timing when she attempted to make it here. The singer is mostly talked about in comparison to other singers because she tried to break out at the height of the bubblegum pop movement. Katy Perry, Kesha, Lady Gaga, Pink, and Miley Cyrus were all pretty much putting out the same songs at the time. The only difference between them and Jessie J is that they had notoriety, and were already known in the space. Jessie J wasn't, and so she faded into the background.
The thing about Jessie J, though, is that she's a really, really good singer—and she'll remind you of that every chance she gets. In a review for her third album, Sweet Talker, Vulture writer Lindsay Zoladz wrote at the time: "Jessie J has never met a note she has not adorned with a trill, a flutter, or—the signature move she busts out when she is Really Emoting—a bleating effect I can only describe as goat vibrato." Earlier in the piece, she describes the singer as "someone utterly incapable of restraint; even her inhales have jazz hands." All of that to say, she has the range, she just does too much with it sometimes. 
Speaking of doing too much: At the moment, Jessie J is competing on a Chinese reality singing series. She's appeared as a judge on The Voice U.K. before, but she isn't on the international show to give singing advice, she's a contestant. To be fair, it's only open to professional singers, but the move left many people scratching their heads anyway. "There's nothing I can't do, that's how I feel in my heart," Jessie J said in defense of her decision. "I'm turning 30 this year and I just think, why not? It's an experience I'll never forget and may never get again and I'm gonna sing like I've never sung before." 
Or, it might be her attempt to do in China what she wanted to do in America. And, well, it seems to be working. She's still on the show and appears to be a frontrunner. Like we've said, Jessie J can sing, that's never been her problem. Some have said she's best when she's having fun, but I don't know if I necessarily agree with that. Anyone can put their voice over a pop beat and sound good, few can still sound good when that beat is taken away. Jessie J can, and she's proven that week after week on the show. She covers Roberta Flack's "Killing Me Softly" beautifully and gives a soulful rendition of Luther Vandross' "Never Too Much." Her most impressive moment, though, is her performance of Whitney Houston's "I Have Nothing" which quickly went viral.  
Jessie J has said her upcoming album is influenced by some of the same singers she's been covering, including Erykah Badu and Jill Scott. So, perhaps, she'll finally find her niche within the R&B space. We all kind of collectively balk when singers attempt to rebrand themselves (cough Katy and Miley), but I do think Jessie J deserves another chance—as long as she keeps the riffs and inflections to a minimum.