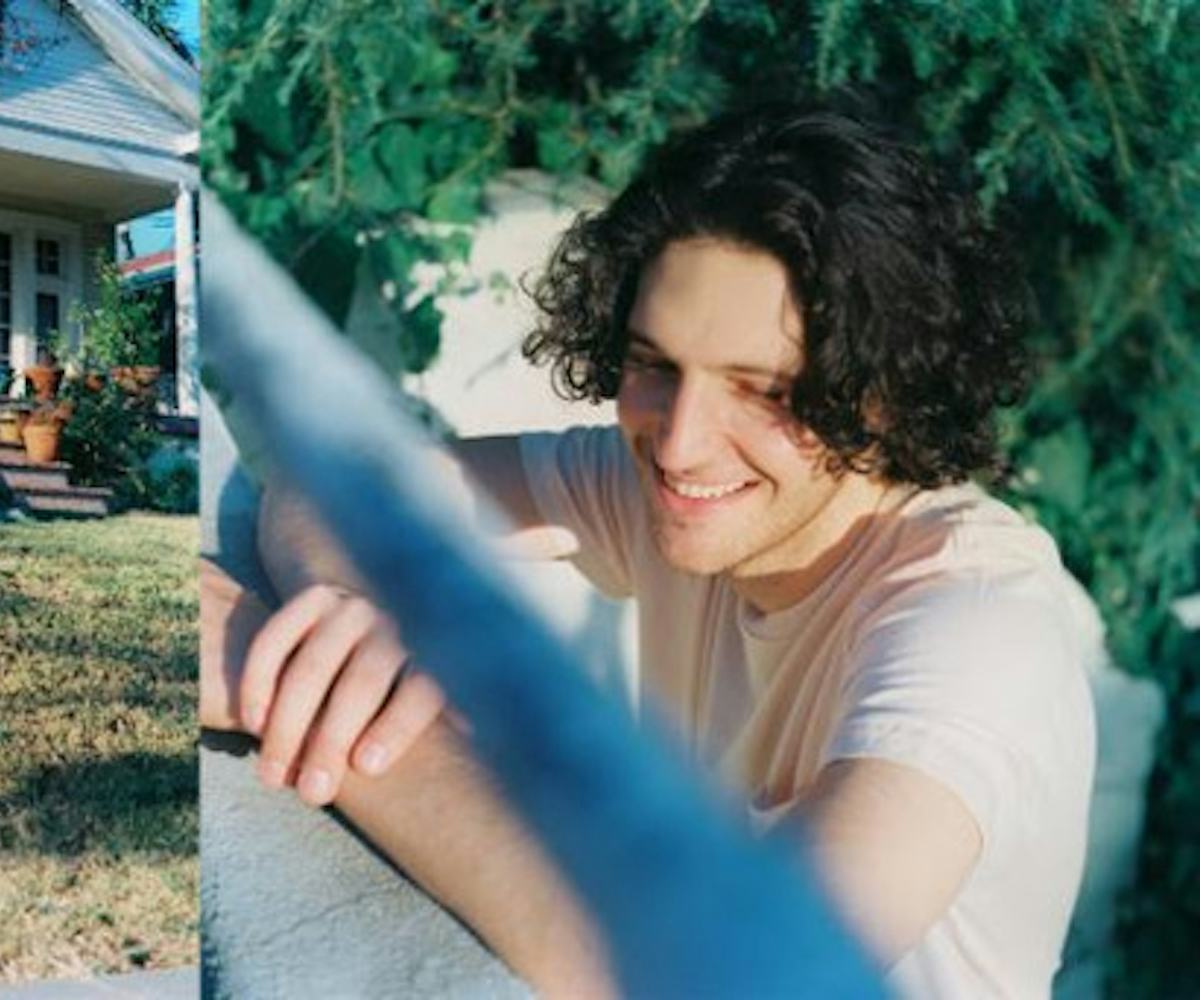 Photo by photo by Griffin Snyder
Here's How Jim E-Stack Made His Super-Catchy Heartbreak Album
The producer takes us track by track on his new EP 'It's Jim-ee'
For producer Jim-E Stack, a lot has happened since 2014, the same year he put out his debut album, Tell Me I Belong. The now-25-year-old left his home in Brooklyn, New York, for the sunny shores of Los Angeles, which in the last few years has emerged as a sort of ground zero for artistically ambitious pop-minded musicians. It's the city where Stack, who was born James Harmon Stack, met Ariel Rechtshaid, the Grammy-winning producer who signed Stack to a publishing deal and who led him to HAIM, who then let Stack contribute production on "Want You Back," the lead single from their sophomore album Something To Tell You. 
But the most significant thing to happen to Stack during this time was the end of a long-term relationship. That breakup was the catalyst for his brand new EP, It's Jim-ee, a collection of minimalist electro-pop earworms that features contributions from Charli XCX and Rostam Batmanglij. Each song represents a different stage in the breakup—Stack's first-ever—and here, he takes us behind the scenes and details how each of the songs was created. 
"Deadstream"
"Deadstream" was just a drum idea at first. I wanted to use a big snare like in an '80s record, but I wanted to re-contextualize it. I loved how indulgent snares like those made a Ready for the World or Michael Jackson song feel. I made a drum pattern then I started playing to it on my keyboard. I played and played and eventually, I found some chords that hit something in me. I just let go from there, and the song came together naturally. The slap bass, the vocal chop, the guitar. "Deadstream," informed everything else I made from there.
"Moments Noticed"
I think "Moments Noticed" started with drums, too. I wanted to make a beat that felt like a really slow jungle song. I channeled a positive feeling into this song with the major chords on the piano, the guitar. A couple months later I was in L.A. at Rostam's. He and Charli had been working on his remix of "Deadstream" that night. Rostam pulled up the "Moments Noticed" instrumental, and Charli sang some ideas on it that I loved. Rostam produced her vocal, and I took it from there.
"I Did the Best I Could"
Francis and The Lights' It'll Be Better is one of my favorite bodies of work of all time. I always loved how unadorned and in-your-face his drums are in those songs. My drums on "I Did the Best I Could" are fully just me trying to do my version of an It'll Be Better track. I put in those guitar hits that remind me of "True" by Spandau Ballet. I added some chords that felt sweet and a bass line under it. It came out like a bittersweet love song.
"Forgiven"
"Forgiven" began with a vocal part I had been sitting on—it's the only song that didn't start with drums. I looped it and started playing that bass line on this synth, which I first used on "Deadstream." The progression figured itself out pretty naturally. The guitar and saxophones make it feel intimate to me.
"Dreamt"
I think I started "Dreamt" on my couch in Brooklyn. I feel like most of my ideas started there. Now they're starting on a different couch in L.A. I wanted to make some linear, driving drums that still felt human. I made that simple kick-snare pattern with some of my staple sounds and started layering little motifs and textures on it from there. I quickly got this hazy vibe from the track as I was building it out. The chords never really resolve, and that made it feel like a daydream to me. A briefly entertained thought. There's this yearning feeling in the vocal chop and its tone.
"Deadstream (Rostam Version) feat. Charli XCX"
A friend passed along an early version of "Deadstream" to Charli, and she quickly became a fan. Charli helped me out wherever she could–sharing "Deadstream" with anyone and everyone, getting me into the studio with people. I could be wrong, but I don't think any big-time artists support other artists they're into like she does. I met Rostam in L.A. through a couple different mutual friends. He asked for the "Deadstream" instrumental to lay some vocal ideas down it. I was coming back from another friend's studio late one night, and Charli hit me up saying she and Rostam were recording at his. I went over there, and they played me the new song they had written to "Deadstream." Hearing their vocals on it for the first time, it immediately felt so different from anything else out there. Rostam has such a unique perspective musically, and that really comes through on this song. When he and Charli collaborate, I feel like they make stuff you wouldn't hear from them respectively as solo artists. That's why I think Rostam's version of "Deadstream" is so special.