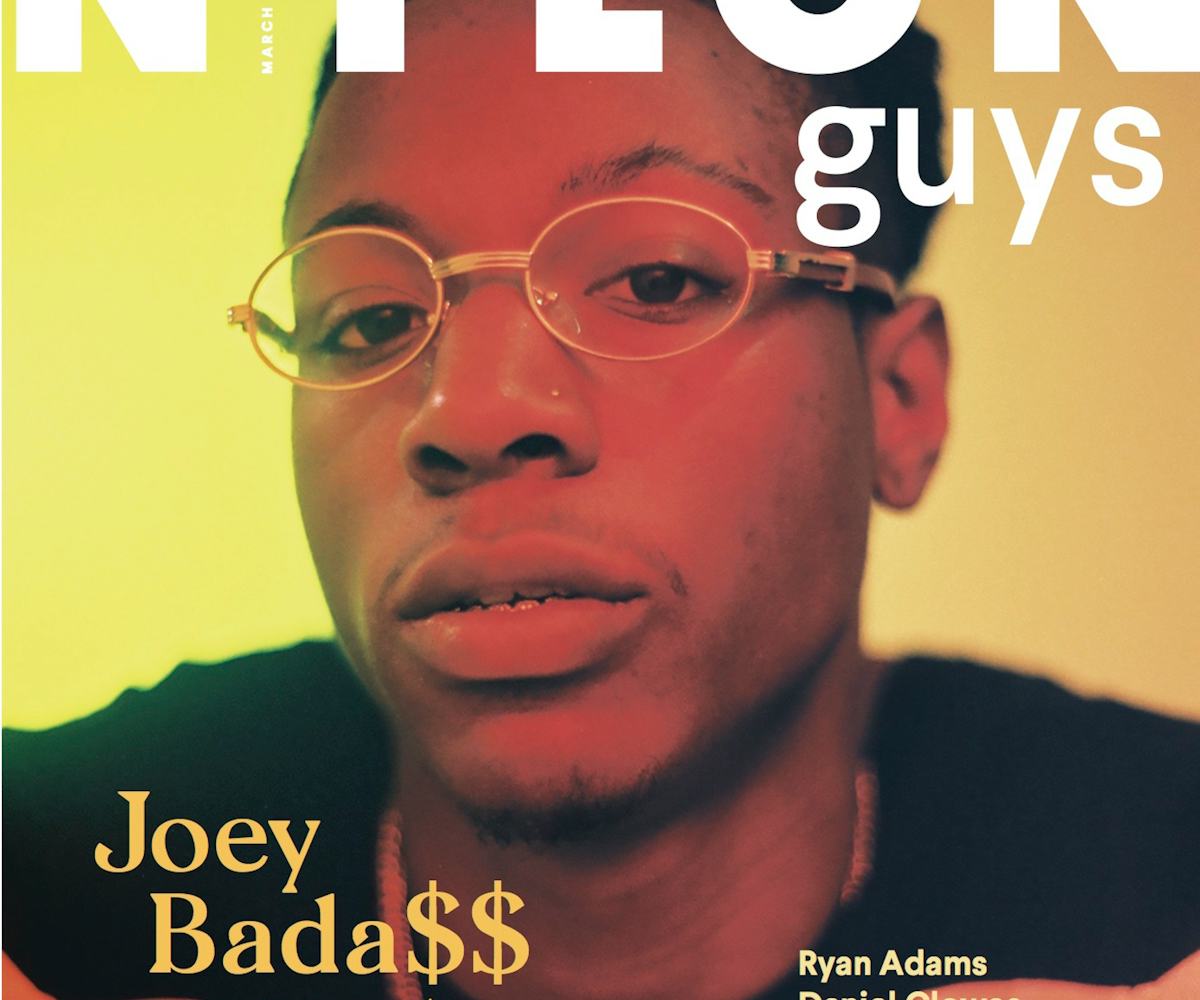 Photographed by Monika Mogi. Styled by Matthew Henson. Sweater by Hilfiger Collection, Joey's own glasses and jewelry.
Joey Bada$$ Is Our NYLON Guys March Cover Star
A lot of people have their eyes on Joey Bada$$, but on his new album 'A.A.B.A.,' he's staring right back
The following feature appears in the March 2017 issue of NYLON Guys.
November 9, 2016: It's the wee hours of the morning and Joey Bada$$ is holed up at Los Angeles' Truth Studios, attempting to lay down vocals. He cannot concentrate. With news outlets reporting Donald Trump's unassailable lead in the presidential election, Joey is overwhelmed by conflicting emotions. As the electoral map turns red, his thoughts get fuzzier. He needs to meditate. He isolates himself, closes his eyes, and begins a series of deep breathing patterns to clear the thoughts clogging up his head.
Then the words of one of his counterparts—"Yo, I don't know how to feel right now"—jolt Joey from his reverie, and he comes to an epiphany: Not knowing how to feel is a feeling, one worthy of being unpacked. The moment of clarity sparks a change in the ambit of the album he's recording—what will eventually become his sophomore record, A.A.B.A.—and he decides to take it in a worldly direction, like a state-of-the-union address to his followers.
A month later, with Trump confirmed as president-elect, the 22-year-old rapper/actor is lounging inside the Chinatown, Manhattan offices of his label, Cinematic Music Group, clad in an olive green bubble vest and black sweatpants bearing the red and green logo of his Pro Era collective. He reclines in his chair, rolls a pink rose quartz crystal around in the palm of his hand, and speaks determinedly as he describes A.A.B.A., due out later this spring, placing its position in the post-electoral cultural landscape of which so many of us are attempting to make sense.
"If people are looking for me to talk about myself, this is not that album," he says candidly. "This one is about the temperature of the world right now and what's been happening to us as a people over the last couple of years." After referencing lectures by notable black activists such as Malcolm X, Muhammad Ali, Dr. Claud Anderson, and Dr. Umar Johnson as the record's influences—or "flavor"—Joey leans forward and gets to the heart of his message: "It's my take on this country as a young black man, and the relationship we have—what's really going on."
Joey Bada$$, born Jo-Vaughn Virginie Scott, exploded out of East Flatbush, Brooklyn, on February 23, 2012, when the video for "Survival Tactics" was uploaded to YouTube. In the visual, Joey and his late friend and rhyme partner Capital Steez swipe through the Church Avenue train station turnstiles, obscure their faces with panda masks, and march on Wall Street like a youthful paramilitary movement. The duo fire off incendiary brags and boasts: Joey cockily introduces himself as "a Martian with an army of Spartans sparring with a knife in a missile fight," while Capital Steez raps in front of an American flag and warns of an impending doomsday that's got him "investing in a few guns, new gats, booby traps, and bazooka straps." The battle cry is rallied over a rousing beat that's infused with wailing sirens and spiked with gunshots and broken-bottle sound effects.
"Survival Tactics" went viral. Not just sort of viral—properly viral to the point where Joey, then only 17 years old, was cast as a leading character in a new wave of music that would prove the vitality of rap's birthplace, even as trending faces such as Drake, Rick Ross, and Odd Future had shifted focus elsewhere. A$AP Rocky, who emerged out of Harlem shortly before Joey, was another future star of the scene. He remembers how Joey's "youthful and energetic" vibe caused him to play "one of the largest roles" in the resurgence of New York City hip-hop.
"Joey's responsible for a lot of this shit that's going [on]," Rocky says. "He encouraged people to be courageous and step up their lyrical abilities."
Whereas Rocky nods strongly to the woozy, sizzurp-influenced sounds of the South, Joey proudly jacks into the rugged-yet-intellectual '90s boom-bap of his city. "He reminds me of an old-school Lost Boyz mixed with Boot Camp Clik," says Rocky. Joey himself reels off lofty names like Nas, Jay Z, Big L, and The Notorious B.I.G. as influences, characterizing their output as the soundtrack to a New York City upbringing. "Those classics ring in the back of your mind when you're walking the streets, riding the trains, playing in the playground, going to school," he says. "Those people have always been a part of my life just because I live in New York. They're responsible for the signature sounds of this city."
Pledging allegiance to his hometown heroes paid off for Joey: After releasing his debut mixtape, 1999, in June 2012, compliments, co-signs, and offers to collaborate began to pour in from artists he looked up to. With a humble smile and a flip of the crystal in his hand, he notes, "The OGs of the game have always been giving me all the nods that I've needed. I'm talking from Rakim to Pete Rock to DJ Premier—J. Dilla's moms blessed me with a beat for my first album. They gave me all of the blessings and praise, and the torch."
This was solidified on golden-age rap troupe A Tribe Called Quest's final album, We Got It From Here… Thank You 4 Your Service, released last November. Rhyming on the buoyant "Dis Generation," Q-Tip cites Earl Sweatshirt, J. Cole, Kendrick Lamar, and Joey as "gatekeepers of flow," claiming that they're "extensions of instinctual soul." Joey felt "super honored" by the plaudit—and shortly afterward Tip hit him up to request a preview of A.A.B.A.
CJ Fly, one of the earliest Pro Era members, has witnessed Joey's evolution from a fan to a peer among such hip-hop heavyweights. He met the "small, skinny kid with a lot of swag for his age" at Edward R. Murrow High School, and rapped his way into the ranks of the crew. Pro Era's initial, jaunty recording sessions took place in his father's house and Joey's bedroom until producer Sha Money XL offered up his subterranean studio in Manhattan, which was often frequented by 50 Cent and G-Unit. Those carefree sessions paved the way for Pro Era to furrow a path into the formal music industry—and CJ Fly has watched Joey's talent bloom in tandem. "His bars right now are so mature, and the clarity is key, too," he testifies. "I'm very proud to see the progress."
Two notable events have underscored Joey's progression to becoming a figure in mainstream pop culture. The most recent: his professional acting debut in Mr. Robot, alongside Rami Malek and Christian Slater.
The dystopian drama series focuses on hacktivists who wage war on global corporations in the surveillance age. Joey made his bow in its second season as Leon, a confidante to Malek's lead character, Elliot Alderson. The two meet in diners and on park benches, where Leon proffers advice while waxing lyrical about Seinfeld. "We were often filming in Brooklyn, where Joey grew up," says Malek, "so when he'd sit on a bench while shooting in the park, it seemed like he'd owned it for years."
Joey's first day on set was "the most hectic day I've had," due to a 4am wake-up call and 14-hour shooting session that involved 16 costume changes. ("There was no time to meditate," he jokes.) Still, he managed to impress Malek. "I remember him walking in with a really fly jacket," the actor recalls of their first encounter at a table read. "Right off the bat I could tell he had style, and was one of those people who just lit up the room. I was interested to see how that would translate on camera. I quickly realized it translated effortlessly—I saw his talent jump off the screen in a few takes."
That ease comes from the blurred lines between Joey's rapping and acting. He imbues his character with the same assured confidence he brings to his braggadocio rhymes. "If I have [lines] in the script and I feel like it's not natural to me, I just correct it," he says. "The way I look at acting, you have 100 people auditioning for one character, so you're going to get 100 different types of that character 'cause everyone's unique. Nobody's gonna wear that character like you do, so you might as well make it your own." (He adds that he's open to increasing his acting portfolio "if the vibe is right for me and the role grabs me.")
Longtime followers of Joey's music will notice the synergy between Mr. Robot's overarching themes and the rapper's lyrics, which have tackled conspiracy theories, numerology, and governmental suppression. Asked about common threads between the show and his rhymes, Joey quips, "Yeah, when it comes to taking over the government!" He then insists that the first step of the insurrection is to "assemble a team of hackers."
This links to the initial event that ushered Joey to mainstream focus: In early January 2015, a picture leaked to the internet of Malia Obama wearing a Pro Era T-shirt. Joey eagerly capitalized on the free promotion, reposting the photo via social media. "Think about it," he reasons. "The first daughter wore your shirt and there's no recorded history of you guys ever having been involved with each other! It's like, what the fuck is going on here?"
Things soon became hectic. Fans raved at the idea of Pro Era songs bumping in the White House, while conservatives blasted Malia for supporting what they mistook to be a posse of criminals. Still, sales of the shirt went ballistic, along with the group's popularity. The pandemonium continued when Joey's studio debut, B4.Da.$$ ("before the money"), dropped two weeks after the photo surfaced and topped Billboard's Independent and R&B/Hip-Hop album charts. "That month we were on fire!" Joey recalls.
But his excitement soon gave way to suspicion. After the photo leak, the tree that had cast a shadow over Joey's house for years was taken down, and he began noticing "lots of clicks and weird dial tones" during his phone calls. Though Joey does admit he can be "a little paranoid," he maintains that the Secret Service had eyes on him.
"I guess I needed two phones," he deadpans.
Joey's position in the media spotlight comes without question. As one of his generation's leading musical voices, when he speaks, tweets, or raps, the world takes note—especially when it can do so through a critical lens. In the aftermath of allegations of Bill Cosby's track record of sexual assault and rape, Joey took aim at what he perceived as slanderous reporting, and was met with boundless backlash.
"Of course my comments were misconstrued," he says. "But that's something I'm ready to deal with. It's good to have a platform and a voice for good, but the media is trained to twist up our words to create clickbait." He shifts to a larger picture: "It's just life in general. When you have things to say that's not the norm, people often shoot you down because they don't understand where it's coming from. But that doesn't stop me from doing what I was put here to do. It's a self-actualization: Sometimes people don't truly understand me, and that's all right."
The revelation is an undeniable building block of A.A.B.A. Joey's no longer spitting for his friends in carefree after-school sessions—he's broadcasting to the masses. Fittingly, his lyrics resonate like an attempt to turn a state of Trump-induced confusion into a clear expression about his place in the world. On the melancholic "Land of the Free," he raps, "Sorry, America, but I will not be your soldier/ Obama just wasn't enough, I need some more closure/ And Donald Trump is not equipped to take this country over." He speaks for an army of followers growing up in an America that's embraced the all-invasive internet, right along with the idea of being surveilled and videotaped by cellphones, and the consequences of having such footage shared on social media.
Questioned about how the album reflects his relationship with America, Joey responds with a verse from "Don't Love Me," in an overly nuanced manner: "Why don't you love me? Why you always misjudge me?/ Why you always put so many things above me?/ Why you leave me to believe that I'm ugly?/ Why you don't trust me? Why you treat me like I don't matter?/ Why you always kicking my ladder?/ Why you never hearing my side to the story?/ Never look me in the eyes and say sorry." He takes a beat, then decodes the rhyme. "We've done so much for this country and get so little recognition—if any—for the things that we've done, for the things that we've put here, for the changes that we've made, for the inventions."
And how can he combat that metaphorical ladder being kicked from him?
"It just feels like, yo, this is the way it is," Joey says, clutching his rose quartz crystal safely in his hand. "For some people, it can be very discouraging. But for me, it means I'm actually doing something, 'cause they're trying to take it away from me."
Grooming: Illeisha Lusiano. Special thanks to Drift Studios.
NYLON's March 2017 issue hits newsstands February 28. Buy it now or subscribe.