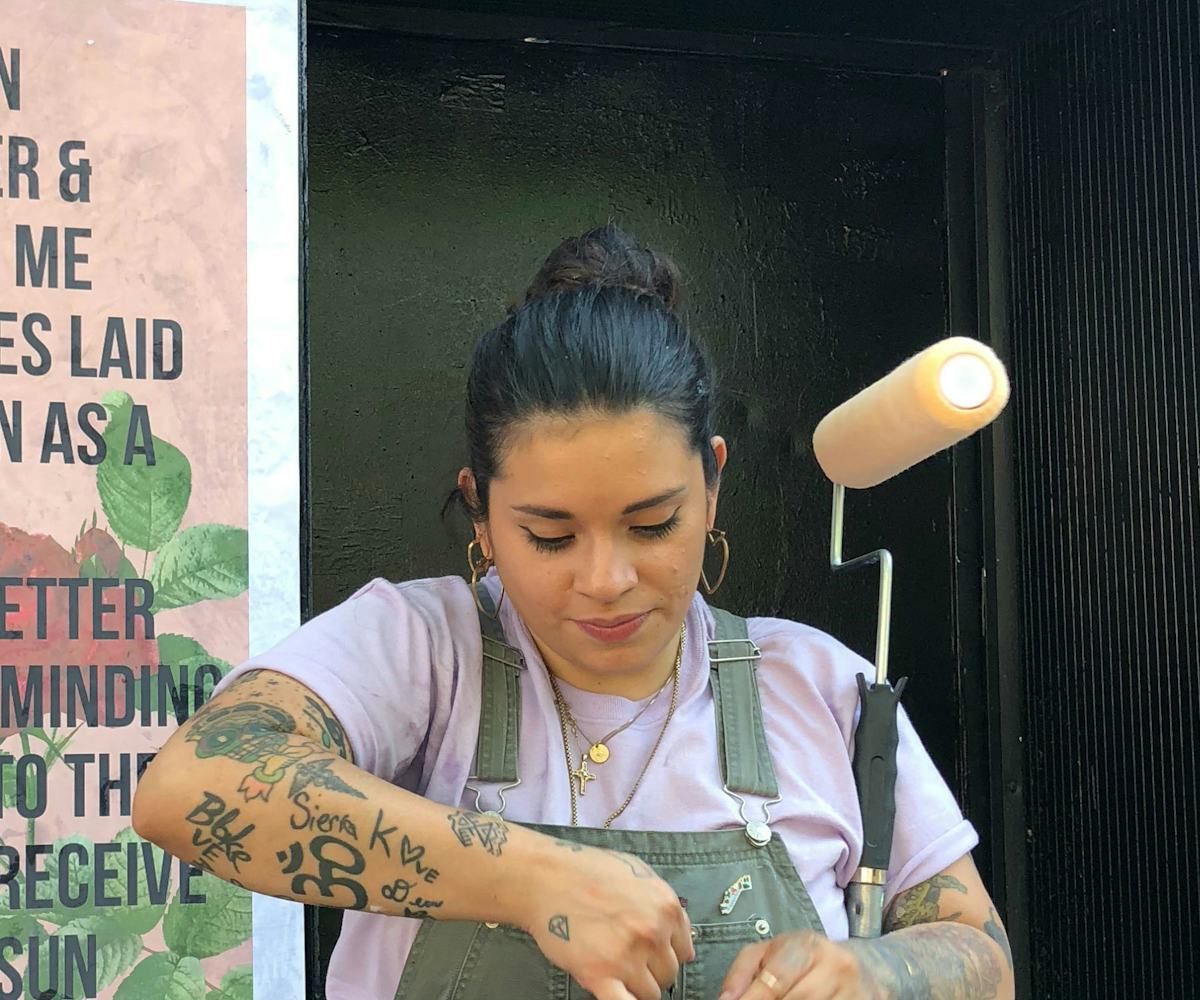 Photo by Chad Rhym
Johanna Toruño Has Nothing To Be Sorry For
Meet the queer Salvadoran woman behind The Unapologetically Brown Series
It should come as no surprise that Johanna Toruño is a Capricorn. But when she tells me that her rising along with four other placements in her birth chart are also in Capricorn, I'm more than a little struck by all that specific cosmic energy in one person. "My moon is in Sagittarius, though," she laughs. "It's good, because I have so much Capricorn—I'd be so boring if I didn't."
But if there's anyone who can put the "Capricorns are boring" myth to rest, it's the creator of The Unapologetically Brown Series. (Although, see also: Michelle Obama, David Bowie, LeBron James, and Blue Ivy Carter.) Whether you've seen Toruño's unmistakable posters sporting powerful statements, like "Heteronormativity is a Mediocre Colonial Concept," and soft, earthy imagery, while you're walking down the streets of New York City, or just seen them while scrolling through the series' Instagram, you can tell that Toruño is on a mission, and it's one filled with excitement.
Born and raised in El Salvador toward the end of its civil war, Toruño recollects the trauma that permeated the streets of her childhood. But, more importantly, she remembers the political art that emerged as a result of it. "I think that raised me in a lot of ways, seeing that throughout my life," she says. Toruño was about 10 years old when she came to the U.S., and she didn't know that it would become her new permanent home. Her mother had immigrated to Virginia in search of work, and Toruño joined her shortly after. Toruño says hers is the story of a "stereotypical immigrant," as her mother, brother, and she jumped around from home to home in search of stability. And, since her mother was a single parent, she was constantly working, which meant a lot of alone time for Toruño during her formative years.
"I got in trouble a lot when I was growing up," she says. "I got incarcerated at, like, 15, and then I was on probation until I was almost 18." During those three years, she started to read the works of Angela Davis, James Baldwin, and Assata Shakur. She credits those writers for shaping her core values and opening her eyes to the ways in which the U.S. treats people of color. "I just knew that odds were set against me for several reasons," Toruño says. "I started to read about everything: the Black Panther Party, the Black Revolution, black and brown folks joining together and fighting a lot of the same fights—differently, of course." Two years ago, she decided to move to New York City after regularly visiting her best friend who lives in Jackson Heights. It was then that she started to devise what would soon become The Unapologetically Brown Series.
It began as a SoundCloud page where she recorded the poems she wrote, but that didn't last very long. "I don't like performing, and I don't like reading my poetry out loud. And plus, you know, going around to people and being like, 'Hey, listen to my SoundCloud link,' it's like a dub." She continued thinking, though, about how she wanted to create a community for queer people of color—and people of color, in general—who felt like her and were in need of a space where they—the tastemakers of culture, she says—felt welcomed. "I wanted to create something that was exclusively for POC, and unapologetically so."
Then, an idea that spurred from a previous experience she had in high school, led her to creating the posters. In school, Toruño had wanted to start a gay club, but was met with a firm no. "They let these other kids have a hunting club, and I just thought that that was crazy," she said. "I was like, you're literally allowing these kids to discuss whatever it is that you do in, like, a hunting club, but you won't let us have a gay club, where we can just be gay in peace?" Even then, she knew how to get people to listen. "I made a poster and I put it in the hallway, and I was basically calling them out," Toruño said. "But I got in trouble for it. They gave me two days of in-school suspension." Despite the ramifications, it was clear that this was a way to get people to listen.
The first poster she ever did for the Unapologetically Brown series went up in the Hunts Point neighborhood of the Bronx to honor Kalief Browder and his family. "I started to understand the way that this was going to go. Things should just go on paper and they should go on the street, because it forces folks to have conversations," Torunño said. And with that, the series was born. Toruño uses her posters to take a stance on today's political issues, from police brutality in the U.S. to Palestinian rights. Occasionally, she will post photos of posters that have been vandalized, to show that it doesn't faze her. "I want people to see that somebody had a reaction to it, 'cause I think it kind of tells a story for itself. And that's why I feel as strongly as I do about my posters, because once I leave them, they take a life of their own." Above all, her series is meant to celebrate black and brown folk, especially, queer black and brown folk.
Toruño not only advocates for the queer community to unabashedly share their own stories, but she also shares her own from time to time. A few months ago, she created a zine called The House in Long Island, where she invited readers into her and her partner's love story. At first, she was unsure of how people would react to her first project outside of the series. But as the zines started to sell out, it became clear why the reception was so overwhelmingly positive. "We're dying to see ourselves in media, work, films, books, in anything—we want to tell our stories." She is now working on turning the zine into an audiobook, as well as bringing the story to life as a short film. "I wasn't taught love, and a lot of the things that I feel like queer youth struggles with is because we don't see a lot of that," Toruño said. "We don't see it on TV very often, and film; and when we do, a lot of the times it's, like, a really fucked up stereotype."
At 29, she's still creating posters, and with an ever-growing platform (which just surpassed 80,000 followers on Instagram), Toruño has found her calling. Uplifting the queer community, working with people of color to empower each other, and being the change she wishes to see in this country.
As she leaves her home in Jackson Heights with her 20-pound book bag full of posters, a can of glue, and her brush, she prepares for a long day of walking against the brisk NYC wind. And although the nature of her work is laborious and unpredictable, some structure keeps Toruño moving forward. "I always wear overalls when I do my work, it's really important for me to do that. It's like my cape," she says. "Maybe it's a Capricorn thing."