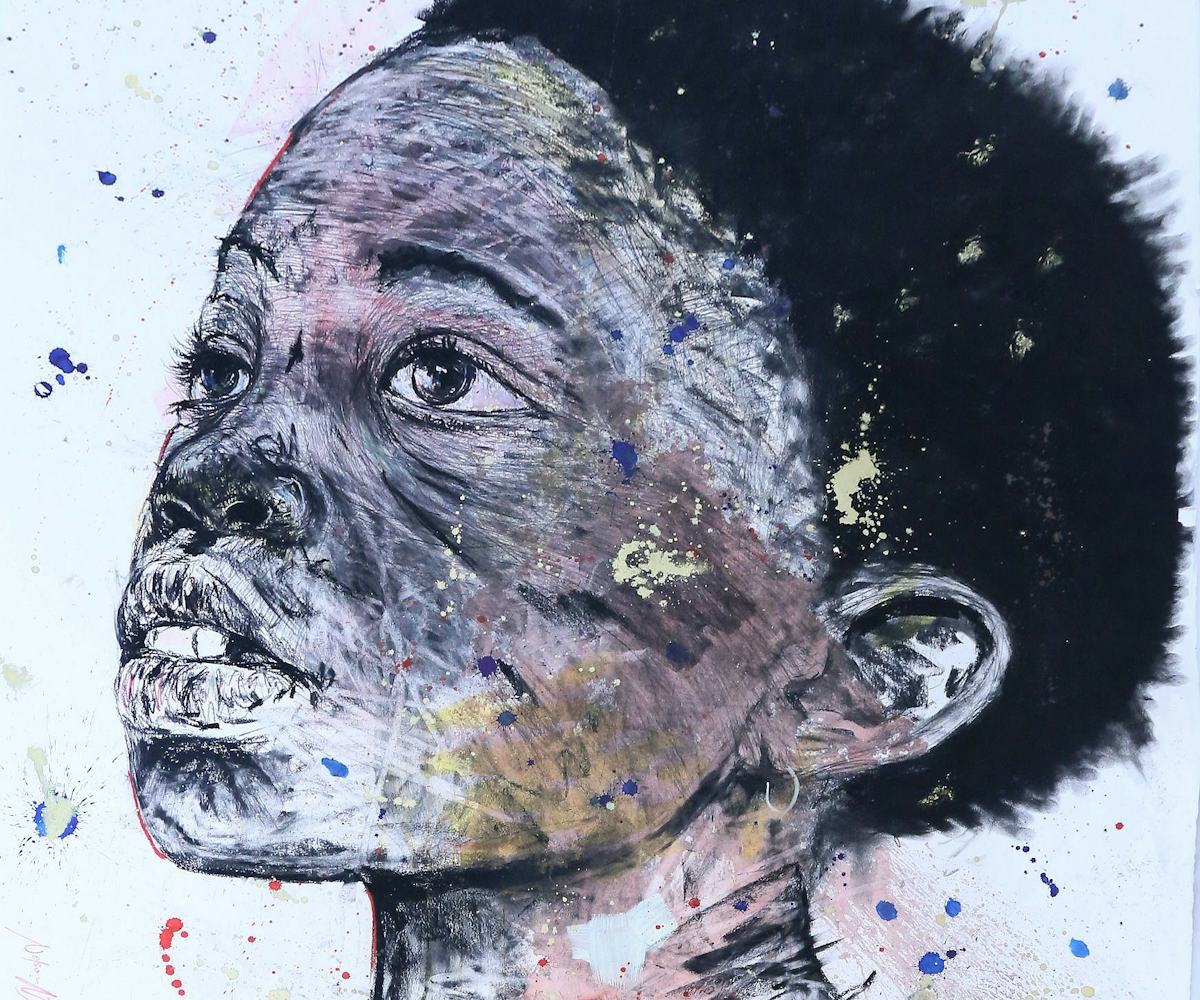 Artwork by Nelson Makamo / Photo courtesy of CIRCA Gallery
How Johannesburg Became South Africa's Arts Mecca
Africa's thriving art scene has been apparent for some years now and is taking place in various capitals across the continent, from Dakar, Senegal, to Lagos, Nigeria, and Nairobi, Kenya. At the very heart of all this artist-driven revitalization is the bustling city of Johannesburg, South Africa; long an economic and cultural center of the country, it is now also something of an artistic boomtown.
Though most of South Africa continues to battle poverty and political upheaval, there are few places where these problems are as visible as in Johannesburg. Unlike Cape Town, this city's complex and deep-rooted societal issues are readily apparent; aspects of this have left the city with a negative stigma, especially among those on the outside looking in.
Yet along with this negative stigma, post-apartheid Johannesburg's upheaval has also brought more diversity to its population, resulting in the melting pot of African culture it has today. "It's a very vibrant city that the rest of the continent sees as a place of hope. A lot of people end up here and bring their art, food, music, and fabrics with them," says Jo Buitendach, the founder of Johannesburg's first walking tour company Past Experiences. As one of the people who has seen the gradual evolution of Johannesburg over the course of the last several decades, she can attest to its contagious energy. And it's this liveliness that fuels young artists to take on the city's character as their subject. 
Though it's nearly impossible to pinpoint a definite turning point that changed the city into what it is today, according to Buitendach, "the end of apartheid in 1994 is very important, as there wasn't a lot of artistic freedom from 1948 [the official beginning of the apartheid era] and onward." She adds, "The regeneration of Johannesburg Inner City is another very important aspect; the last 10 to 12 years have been hugely important as a period of artistic growth. Many young upcoming artists are city-based. I think you can see the city in their work."
While it's clear that Johannesburg is the graffiti capital of Africa, street art, as seen in the city today, is something of a relatively recent phenomenon, having really exploded within the last 15 years. "The artists are given time to hone their craft," Buitendach says. "Here, art is everywhere outside. The city has a public art policy, meaning more classic sculptures and murals, where they spend quite a bit of regeneration budget on public art. This is separate to the graffiti and street art which is more unofficial." 
While touring the neighborhoods in areas such as Newtown and Jeppestown on the outer edges of the city center, countless walls are covered with the bright, eclectic work of street artists, completely changing the vibes of the town. Mars, Myza420, Bias, Riot, Drake, Rasty, and Tyke are several of the local artists who continually make their mark on the streets.
Demonstrating how much graffiti and the Johannesburg art scene has evolved is graffiti writer Mars, who is just one example of the many artists whose work began strictly on the streets but now can also be found in galleries. "Graffiti in South Africa is finally being recognized as art with some value, and I wanted to explore that space, do something a little different, and not just be out there on walls. I wanted to try and make my gallery work user-friendly," said Mars in a recent interview with Buitendach featured on Global Street Art. "Graffiti is very in your face with no place for second opinion, when you are doing a wild style and writing your name, it isn't really something that the public will look at and wonder what that person is trying to say. It says what it says. But in the gallery world, artists are a lot more open to others interpretations, and trying to communicate different types of feelings, you are not conveying direct messages."
Johannesburg's Maboneng precinct has been transformed from an industrial stopover destination to a burgeoning hub of genuine South African culture thanks to this generation of passionate artists, who use art to be a voice of the people. Another unique aspect of Johannesburg's allure? The fact that many of the creators are in their own studios and galleries, waiting to answer any questions and discuss the works of art with visitors. 
"Local buyers are growing and supporting galleries and institutions in increasing numbers. First Thursdays, when galleries stay open late on the first Thursday of the month, in Johannesburg and Cape Town are now indistinguishable to Thursday nights in Chelsea or Soho [in Manhattan]," says Aaron Kohn, the founding director of the Museum of African Design, the first museum on the African continent dedicated to "exploring the ever-changing African continent and diaspora."
Located on Jan Smuts Avenue is Johannesburg's renowned Art Strip, home to some of the city's best contemporary art scene. The oldest commercial art gallery in the city, Everard Read, was established in 1913, and along with its sister gallery and architectural landmark, Circa Gallery, it showcases works by artists such as Nelson Makamo (seen above). With watercolors, silk screen and monotype printing techniques, oil paints and more, Makamo creates vibrant art that features the captivating expressions of the daily life of children in South Africa. Also on Jan Smuts Avenue is the Goodman Gallery, a gallery that from the very beginning encouraged thought-provoking art. Established in 1970, it focuses on a roster of artists who engage in artistic dialogue with an African context that includes Kendell Geers and David Goldblatt.
The nearby contemporary art gallery, Gallery Momo, is home to various artists who push the limits of what art is and what it can be. Artists exhibiting at Gallery Momo are young up-and-comers who are making waves in the local and international art markets. Influenced by graffiti, hip-hop culture, and pop art, Khaya Witbooi is a featured artist that exemplifies how the history of South Africa acts as a catalyst for art, which, in turn, becomes a means of expression, protest, and ultimately a retelling of the past and reimagined future. Focusing on subjects that include post-colonial and post-apartheid political tensions, his current solo show History Begins with a Garden examines the role played by gardeners and gardens in the colonial history and botanic imperialism of the Cape. 
Don't miss out on Arts on Main development, another culturally rich area nearby, which merges studio, commercial, and residential with retail spaces in a renovated warehouse that houses a collection of some of the top South African contemporary works. Notable modern art icons such as William Kentridge's famed print work can be found at the David Krut Workshop, and conceptual artist Kim Lieberman's workshop is here as well.
Keyes Art Mile, on the corner of Jan Smuts Avenue and Jellicoe Avenue, is one particularly attractive section lined with smaller, more intimate art and design galleries. Those into design need to check out the Trumpet building which showcases the recent partnership between WhatIfTheWorld and the South African design platform Southern Guild, a unique collaborative contemporary exhibition space that brings together the worlds of art and design. From furniture items and artworks, every piece highlights its African heritage.
Then there's August House, an art deco-era building that features many of South Africa's emerging and established artists. This community of independent artists from around the world includes the work of Mary Sibande, whose work is influenced by her experience growing up in South Africa. The main focus is on "the maid," which is frequently noted as an homage to her family, of which four generations of women served as maids. Her alter ego, Sophie, is a figure representing concepts such as femininity, blackness, and labor in apartheid and post-apartheid eras. In one powerful piece, she is dressed in traditional maid attire, restitched using the hem of a Superman cape ("They Don't Make Them Like They Used To," 2008).
"Johannesburg is easily accessible to the best of what is happening around the continent. The recent interest in African art globally in museum shows and private galleries is only starting to filter back to the continent. A growing number of art historians, platforms like MOAD or the A4 Foundation in Cape Town, are providing places for African artists from other parts of the continent to work and exhibit on the continent; instead of having to travel to New York, London or Paris," says Kohn. 
The freedom and lax attitude toward policing street art in Johannesburg have made way for both African artists, as well as international artists, to literally make their mark on the city, relatively uninhibited. As such, it facilitates art that's different, unique, innovative, and distinct from anything else that's being created today—and well worth the visit.