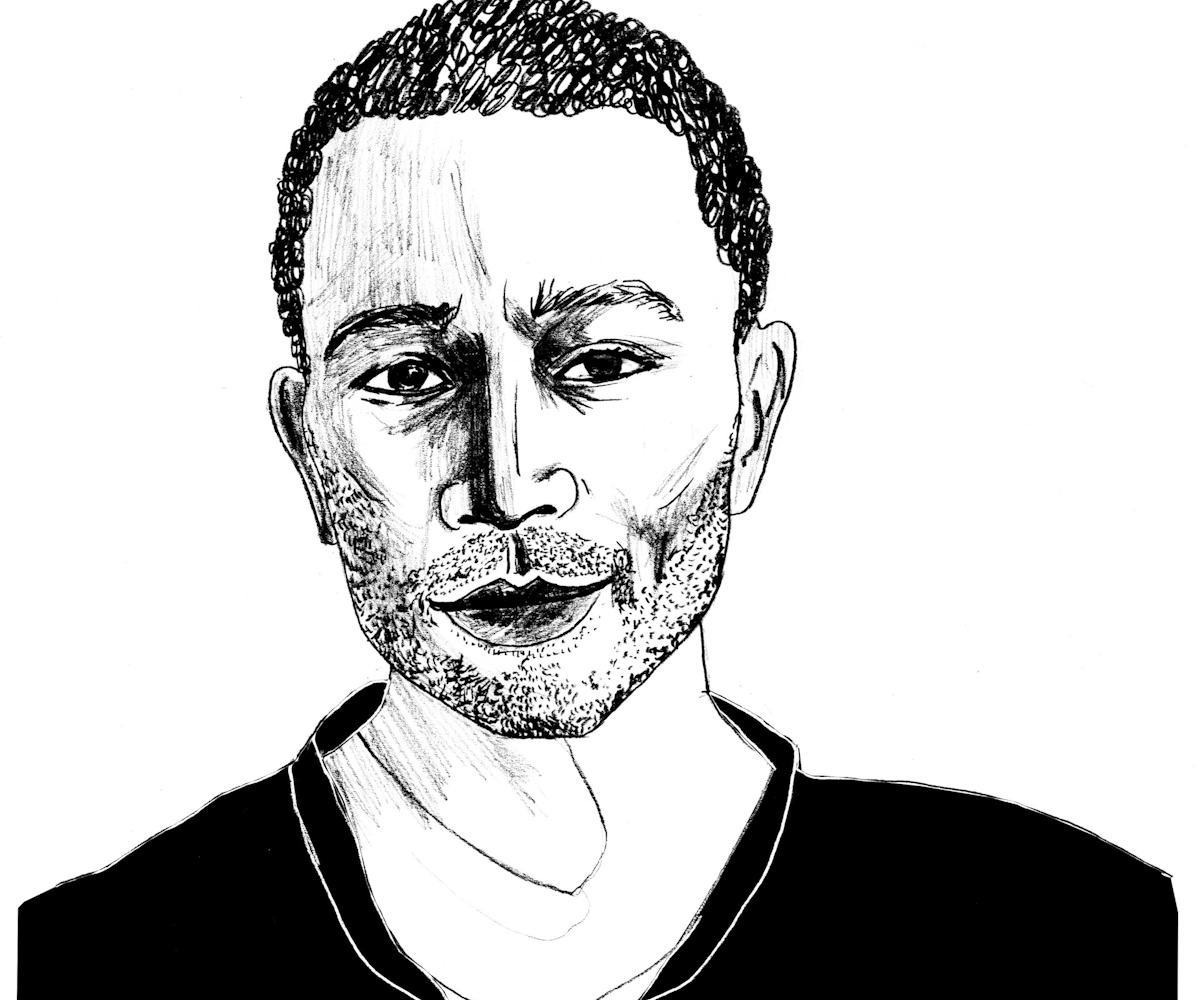 Illustrated by Liz Riccardi.
John Legend Talks 'La La Land,' Ryan Gosling, And His Relationship With Kanye West
The R&B crooner left his ego behind for a small but pivotal role in the musical sensation
The following feature appears in the December/January 2017 issue of NYLON, and has been updated since original publication.
There's a scene midway through La La Land—Damien Chazelle's joyous throwback musical starring Ryan Gosling and Emma Stone as a pair of Hollywood dreamers who fall in love—in which John Legend's savvy bandleader Keith tries to sway Gosling's principled pianist Sebastian into abandoning his nostalgia for the glory days of jazz and going mainstream. As Gosling tells it, Legend's monologue was completely off the cuff—fitting since his career began as a classically trained pianist, and he now sits atop the pop world, counting Kanye, Jay, and Bey as close, personal friends. We sat down with Legend in Toronto—where he was on hand to celebrate the emerging filmmakers he mentored as part of The AXE Collective—to discuss his recent foray into film, and pulling triple duty as executive producer, composer, and actor in what is by far his most significant role yet.
How did you come on board La La Land?
Damien approached me with the script, but he wasn't completely clear whether he wanted me to actually play Keith or just make music for his character. Eventually it all came together with me writing music, executive-producing, and acting. I'm not super into movie musicals because I'm a music snob, but I saw Whiplash and I had a feeling that he would pull it off. 
Did you wrestle with self-doubt that first day on set?
It wasn't that I had self-doubt, but I had humility, which to me doesn't mean that you don't think you can do it, but that you put in the work to do it because it's something relatively new to you. 
Did you already know Ryan Gosling? What kind of advice did he give you? 
I don't think I'd met him, but we shot all of my scenes together and he could've been like, "Who the fuck is this singer trying to act?" But he wasn't. He was super supportive and he encouraged me a lot as we were going through the process. 
Is there room for playful movies like La La Land, or does art have the responsibility to be politically charged?
I think art is supposed to be honest and reflect life, and life isn't just falling in love and pursuing a career. The films that my [production] company is involved with are either political or historical, or have some kind of social relevance to them, because those are issues that are interesting to me. I read a lot about mass incarceration and criminal justice reform, so those subjects spark my interest. But I'm also an artist and I understand what it's like to be someone like Sebastian or Mia in La La Land, moving to L.A. to pursue a dream, though in my case it was New York. 
What do you remember most about those days?
I was 21 years old working a day job as a management consultant and found the time to work on my craft and grind it out, and got turned down and told no many times, but I never gave up. I knew that sooner or later these labels would figure out that I'm amazing. 
What advice do you have for young creatives or artists who battle with self-doubt? 
I think it's part of it, it's part of the struggle, and it's part of what helps you create art too, that kind of struggle and push and pull of one having the audacity to think you can do it but also having doubt when things go wrong and you get turned down. 
It's kind of like fuel. 
Yeah. You need both, but you can never not have the audacity. Kanye got a record deal a little bit before me, and he got his first album out a little bit before mine, and he was really fueled by getting turned down. I think it informed his art a lot and I think that's useful, but it's also important to have that confidence. So I think he's a good example of having both the confidence and the audacity. 
How big of a role do you think mentorship plays in nurturing young artists?
I think it's crucial. It was important for me as a musician. Kanye and I are close to the same age, but he was also a little bit more advanced in the business than I was when we first met, and he was able to help me navigate the business, especially early on. I've had everyone from teachers to piano teachers to choir directors to high school counselors who all mentored me, in one way or another, throughout my life, and I think nobody succeeds on their own, and whether it's your peers or your mentors, either way you learn from the interaction from other people, you learn from trying things and failing, you learn from collaboration.