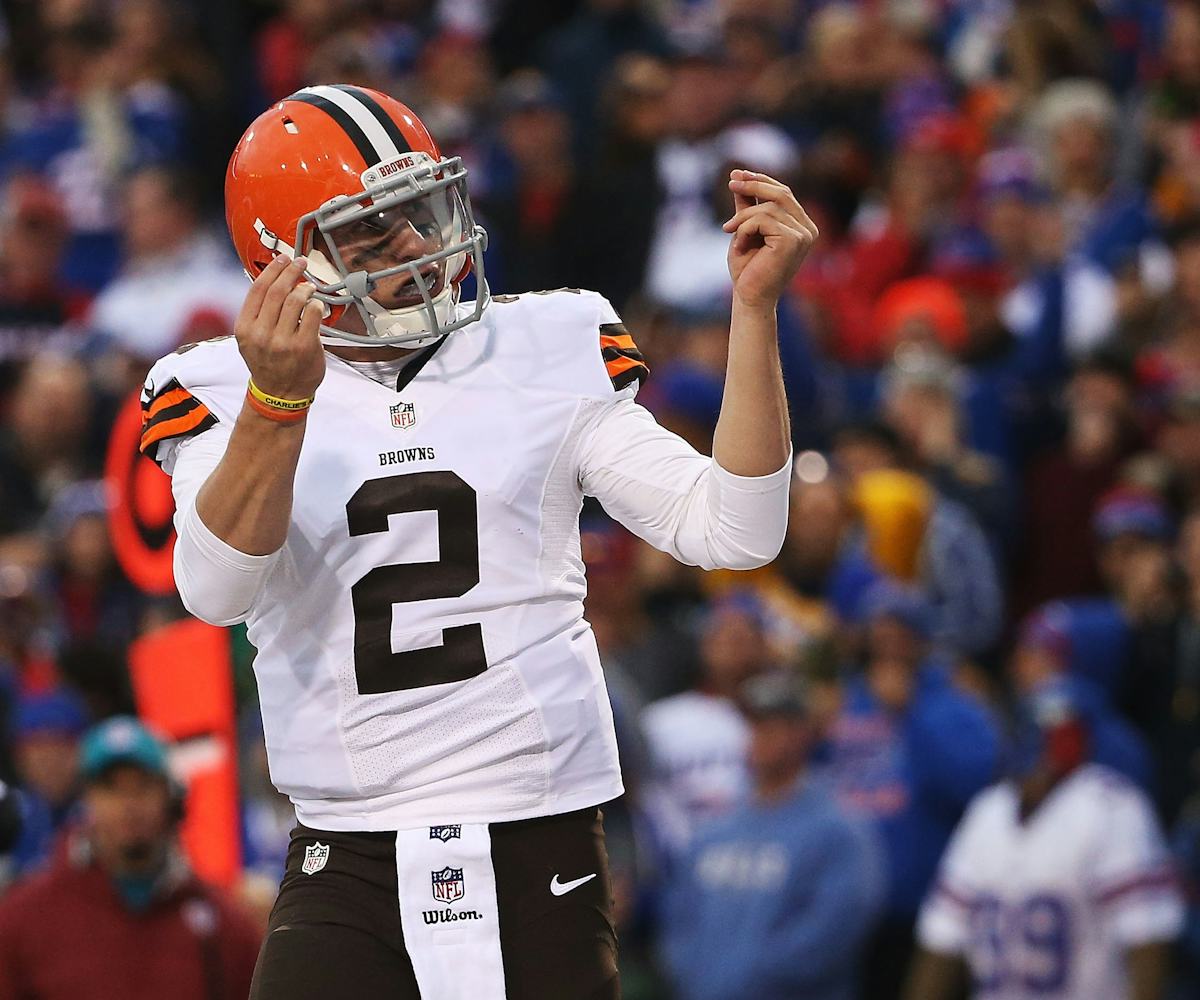 photo tom szczerbowski/getty images
a eulogy for johnny manziel's 'money' sign
the gesture we deserved, but not the one we needed (or something like that)
As we've seen in recent weeks, Cleveland Browns backup quarterback and unaccountable superstar Johnny Manziel is emerging as new man, one outwardly humbled by a disastrous rookie year and a stint in rehab for what sources say is alcohol abuse. "I'm trying to close that chapter and just build on what I've done so far this year and just move forward," he told reporters on Wednesday. We should all applaud these apparently genuine efforts at maturity and sobriety.
But the process of rebuilding his image and football career has claimed a victim; the "money" gesture he used to punctuate touchdowns and shots of Patrón. As the all-new, all-adult Manziel said, "The money sign will not be back. I will not be making it."
Dang. We're going to miss that.
Yes, "Money" was needless and baseless self aggrandizement at its worst. It was something that never should have happened in the first place. But, it was also magical.
Remember when Manziel, ESPN's chosen star of the 2014 NFL Draft, flashed his signature move after the most dysfunctional team in the league selected him at 22? Going to the Browns meant less money, mo' problems. Still, there he was, rubbing his fingers together like he just discovered how to turn lint into diamonds. God, that was awful.
Oh, what about when he pulled out Money after scoring his first (and only) rushing touchdown on this play?
Just look at that! Look at that blown coverage! A 330-pound o-line dump truck might have scored that touchdown. It is actively not special. But for Johnny Football, it's MoneyTime. So much hate.
Oh, and Manziel was famous for getting photographed making Money in the same clubs where he rolled with a posse of belligerent hangers on, flaunted a kind of excessive drinking that clearly wasn't healthy, and openly relished putting everything he had at risk. Pure rage.
Even the very idea that a third-string QB on a team that is only technically part of the NFL should have his own signature gesture was maddening. Yes, he roped himself a Heisman and a National Championship. But does Heisman and National Championship winner Danny Wuerffel have his own gang sign? Does Matt Leinart? Does Cam Newton? No they do not. We've turned purple.
And, see, this is what we're getting at—Money was amazing, five-star trolling. 
Through that one gesture, Texas A&M's beloved party-boy underdog declared he was playing only for himself and took control of the hate that would eventually follow. But it didn't end there. Whenever he wasn't getting enough attention—positive or negative—he could always just smile and pull out Money, activating his fan base and firing up haters. Whatever happened, the conversation was always about him. Win, win. The actual cash, he assumed, would follow. 
In this, Johnny Manziel was the spirt animal of ESPN, the wettest dream of sports marketers, and the athletic expression of our current understanding of privilege and fame: a Kardashian who could run the 40. He was exactly what NFL fans deserved—even if he had no real place in the league—and money was his calling card and mission.
Of course, it couldn't last. He had to be broken. The basic physics of tackling and alcohol took care of that (also, it didn't help when opponents started flashing back at Manziel after sacks and interceptions). Hopefully, the man who comes out of this collision will be a better person and, just possibly, a better player. 
Unfortunately, he won't be a raging, engrossing jackass with a cynically capitalist signature gesture. He'll be Danny Wuerffel. No one wants Danny Wuerffel (sorry, Danny).
Like we said, we're going to miss Money.