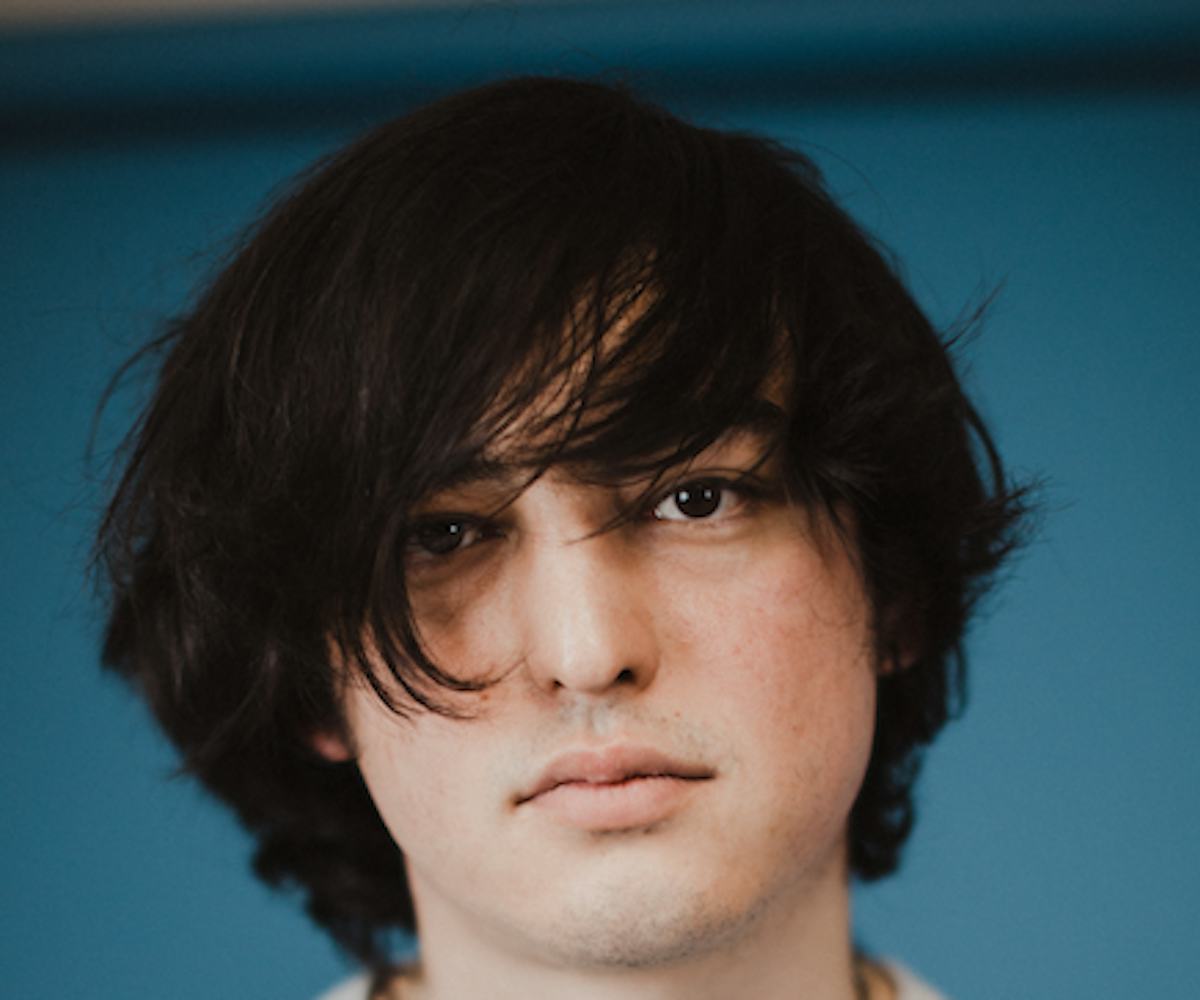 photo by Alix Kramer
Can Joji Be The Donald Glover Of A Much Weirder Internet?
"I don't want to just be a musician or anything"
The smoke-filled stage, eerie visuals, and moody pianos are quintessential indie R&B right now, but what's happening on stage decidedly isn't. Up there, Joji is shouting, repeatedly, "Unblock me, bitch!" in the middle of the woozy track "Pills," his words cutting through its Xanax-inspired haze like a shot of Narcan. Each time Joji shouts, the sold-out crowd at New York's Terminal 5 roars.
"They tend to go crazy when I yell that because they think it might be about someone," Joji, real name George Miller, says when we sit down at the NYLON office a short while later.
Back on stage, though, he pauses the set at one point to take a picture with the mic sticking out of his fly. The DJ continually hypes him up like he's the SoundCloud rapper of the moment, not a downtempo, shadowy singer-producer. All of this adds up to an experience not unlike what Miller did earlier in his career, when he crafted massively popular, cringe-worthy YouTube videos with his characters Filthy Frank and Pink Guy. He builds worlds that blend unmitigated darkness with off-the-wall humor, creating an experience that is consistently surprising and destabilizing. Even in a 20-minute set sandwiched between the thundering trap rap of Chinese quarter Higher Brothers and South Korean MC Keith Ape, he manages to take you somewhere that is enthralling, unsettling, and inimitable.
As part of the Double Happiness tour for 88rising, the influential upstart media company and record label behind viral, predominantly Asian artists like Rich Brian, Keith Ape, Higher Brothers, and Joji himself, he's cutting the three hours of unabashed turn-up with atmospheric trip-hop chords and bitter, lustful lyrics. In a way, it's yet another act of trolling from one of the most successful comedians to emerge on YouTube. But Joji isn't another bit, it's Miller's primary focus now that he's left behind comedy, citing in a December 2017 tweet that he no longer enjoyed making the content and was dealing with neurological issues and throat tissue damage as a result.
"He definitely was unmatched in terms of kind of high-level fictional universe-building," says Brad Kim, editor-in-chief of KnowYourMeme. The site has been documenting Miller since his original YouTube channel, DizastaMusic, which started in June 2008. He eventually switched over to the better known TVFilthyFrank in January 2013 and made that the primary hub for his trollish, pitch-black comedy.
Like his videos, the music he makes as Joji is dark and often despondent. His self-produced EP, In Tongues, came out in November and reached No. 58 on the Billboard Top 200 (in January, his satirical rap album as Pink Guy, Pink Season, peaked at No. 70 and topped the iTunes charts). Built mostly on mournful piano loops and textured, trap-tinged percussion, Joji's soundscapes are rueful and sprawling, entire universes to wander through in a lonely haze of heartache and self-reflection. "Joji is just me being melodramatic as fuck," Miller says.
Lyrically, In Tongues is cryptic, but the reverb-soaked instrumentals and Miller's layered vocals convey a sense of melancholy that is consistent with the current moment in internet-forward pop. The songs resonate for their myriad of textures, notably "Demons" and "Pills," as well as the simple, infectious melodies buried deep in each track.
"I've always wanted to make normal music. I just started the YouTube channel to kind of bump my music," Miller told Pigeons & Planes in January 2017. "But then Filthy Frank and the Pink Guy stuff ended up getting way bigger than I thought, so I had to kind of roll with it."
He says that there was an adjustment period from making videos on his own to singing in front of screaming crowds like the one at Terminal 5. His first performance was in Bangkok, and a last-minute venue change forced him to perform at another club on ground level. He calls the show "disheartening," but says, by his third performance, things fell into place, due in part to his decision to use in-ear monitors that blocked out the crowd noise.
"I can kind of see their vibe, but I can't hear the screaming. It was when somebody showed me a video from my show in Malaysia, and you couldn't even hear my music coming out or my singing because the screaming of the lyrics was so loud," Miller says. "When I saw that video, I was like, 'Okay, now I see that they're actually here to really be engaged in what I'm doing.' And then I was able to play it well off of that from then on."
While Miller's pivot is noteworthy, it's hardly unprecedented. Figures like Donald Glover and Tyler, the Creator got their start in stranger corners of the internet and began their careers with some skepticism, but persisted and built multi-pronged success. Glover went from YouTube sketch comedy with his group Derrick Comedy to writing for 30 Rock and starring on Community to the critical acclaim he's now receiving for his show Atlanta and latest album as Childish Gambino. Tyler spun the initial shock value of Odd Future into influential fashion and television projects while growing as a musician and earning widespread praise for last year's Flower Boy. In a recent New Yorker profile, Glover writes himself a note to "Make the best sand castle," and while Miller's wants to solidify himself as Joji, he's clearly a natural polymath with an eye on the coming tides.
"Right now, I'm ghost producing for a few people, but I definitely am going to get into both ghost producing and ghostwriting after this next project drops, 'cause then I'll have a little more free time," he says. "That's what I like doing, I like contributing to a product that's not mine. Eventually, I'll probably just go into the business side of it and start putting stuff together like, DJ Khaled-style, A&R stuff, too. That's my goal, I don't want to just be a musician or anything."
Glover's serious musical pivot really happened with 2012's ROYALTY and was cemented with 2013's Because the Internet, but the web that Miller mastered is stranger, darker, and more demented than the one Glover traversed, or the rap blogosphere Tyler and Odd Future set aflame in the late aughts and early 2010s.
Photo by Alix Kramer
And make no mistake, Miller did bizarre comedy better than just about anyone. From being credited with inventing the "Harlem Shake" meme in January 2013 (he later collaborated with the song's producer, Baauer, on the raucous track "18") to his slew of videos distributed across three channels, Miller was not only a master troll, but a bona fide star of the weird web, racking up more than 8.5 million total subscribers as of April.
Kim cited artists like Tyler, Lil B, and Yung Lean as predecessors of Miller's who trafficked in subversion, but noted that they were less "of the internet" than Miller. Kim says he sees the start of a trend of web-savvy young people beginning their careers in absurd internet comedy and meme-making before expressing intentions to make more serious art.
"I think it's a pretty interesting way to connect and get your serious or dedicated work out to an audience. I feel like oftentimes if you share a humor code with someone, you're way more open to form a bond," Kim says. "In terms of building your name as an artist and finding your audience, it seems that finding a common sense of humor through music memes that are very specific to a certain subgenre—I think it's a great way to build market."
As Filthy Frank, Miller parodied everything from internet struggle rappers, Facebook, to white people obsessed with Japanese culture often using outrageous, highly offensive language. The Pink Guy videos were even more surreal and perverse, as he donned a pink Lycra suit, frightened strangers on the street, and seemed to always either be vomiting or right on the verge. The Filthy Frank universe is abrasive but undeniably compelling; it's an easy wormhole to get sucked into, even if some of the content makes you cringe (by design). The Filthy Frank Reddit page still has more than 61,000 subscribers, and the post with Miller's official retirement announcement features a lengthy debate between his fans, with many expressing support for Miller, some criticizing his pivot, and others simply overwhelmed by the loss of Frank.
Miller says his career transition is "going pretty smoothly," while acknowledging that "I've always made content that I thought was both artistic and made a point, whether it was executed in a very rude manner, there was always a point behind it. And the videos, most importantly, I kept them timeless, so you can go back to them and watch them and it's not, like, tied to anything relevant, so it's just a skit on its own. They're just skits, you know? The way all the SNL guys used to upload skits before they got discovered. And that just kind of got carried away because things happen."
The persona he embodies as Joji is undeniably bleak, but consistently fascinating, even if he favors lyrics that are more atmospheric, emotional snapshots than concrete scenes. Jealous, insecure, and lonely, Miller lashes out at an ex for making him jaded on "Bitter Fuck," pleads for patience on "You Suck Charlie," and escapes into drugs on "Pills." Both In Tongues and the music he released prior, which has been compiled by fans into the unofficial Chloe Burbank album, are lush and inviting; it's not a sunny world, but it's one you want to stay in once you're there.
He says that a lot of the darkness is "definitely for the sake of songwriting," and part of what makes Joji such a compelling musical figure is that he's comfortable leaning into these flaws, a trait that perhaps comes from his years racking up millions of views playing Frank, whose channel bio describes him as "the embodiment of everything a person should not be." The moments where Frank briefly broke down in the midst of a tirade were some of the channel's funniest, and they also showcased Miller's ability to craft an absorbing character, albeit one that isn't for everyone.
Just as it was with Glover and fellow internet oddballs-turned-established artists like Yung Lean, initial critical reception to his music has been mixed. Pitchfork's Michelle Kim wrote that "while Joji fails to push boundaries in terms of lyrical content or sonic palette, he does succeed in creating a fairly compelling mood that invites listeners to wallow with him." Anthony Fantano of The Needle Drop praised In Tongues' "bedroom, very homespun production aesthetic," but said he "doesn't really think it goes anywhere structurally." Pigeons & Planes' Eric Skelton praised the album, calling it "dark, beautiful music held together by a subtle but strong sense of humanity."
Miller is already at work on his next record to prove his staying power in this hyper-short-attention landscape. "The second project is the one that's really going to show if you're worthy of staying, show that you're not a one-trick pony," he says.
To that end, Miller has opened up the project to more outside collaborators. He doesn't name names but initially describes it as "a bucket-list album," though he later walks it back and says there are obviously a few people, including Glover, who aren't on it. One person he is working with is producer Ryan Hemsworth, who remixed "Will He" for the deluxe edition of In Tongues. Hemsworth's remix heightens the drama of the song, a caustic series of questions posed to an ex about their relationship and her new boyfriend.
"While I was working on it, I was imagining an American diner, and the drawn-out romance in Wong Kar-wai movies," Hemsworth says. "Joji's stuff already sounds painfully romantic sometimes, so it was fun to try and enhance that."
The two have yet to meet in person, but Hemsworth says that he was aware of both Joji and Miller's YouTube work, though initially didn't know that they came from the same source.
"It actually gave me a lot of hope knowing that people can accept an artist that simultaneously makes insane YouTube videos and also this dark, personal music," he explains.
Duality is a clear theme across Miller's work as Joji, and even some of his Filthy Frank videos, where the curtains of irony are occasionally lifted to reveal the loneliness and sadness of the show's titular character. In his music, the plaintive haunting piano and guitar lines are balanced by boom bap and trap-inspired drums, and the elegant melodies contain messages of deep personal pain.
"Because the whole EP is just a big jumble of self-confliction, you know, dark romance. Not depression, but stagnance, to be numb, to numb yourself with substances, whatever," he says, noting that he's focusing partially on the conflict between religion and sex with his next project.
Miller told Billboard he started making music at the same time he was doing videos. He began posting tracks as Joji on SoundCloud in 2012, starting with "Thom," a trip-hop cut that features him rapping and crooning atop a graceful piano sample. He continued to experiment and hone his styles, which blends soulful production with samples of sounds like chains clattering and glass shattering, adding up to soundscapes that are both meditative and brimming with movement and depth beneath the surface.
"The DIY mentality—when you don't have other people to rely on, and it's like, 'Ugh, fine, I've got to do it myself'—it's hard at first, then you learn to do it, then you get used to this cycle of absorbing anything and using it," he says. "People say that all the time, 'I just absorb shit,' so it might not mean anything, but it's just like absorbing things and learning how to channel what you've absorbed as inspiration into your work."
When he says "I just absorb shit" is one of several moments in our interview where Miller spots the point where other rising musicians would drop a cliche and can't help but laugh. When talking about the sound of his next project, he jokes about artists, saying they're "just trying to adapt," or moving in a pop direction. Miller says he has an interest in working with mainstream artists, naming Selena Gomez as an example, but for the time being he's stretching his production chops the opposite way.
He recently produced "Pipe Down" for Florida rapper Lil Toenail. The track's flute loop sounds like something that could be cribbed from In Tongues, but the bass is so blown out and distorted it hurts to imagine it being performed live.
He's eager to keep collaborating, having also appeared on a track with Nessly, the posse cut "18" with Trippie Redd, Kris Wu, Baauer, and Rich Brian, and a song with Higher Brothers. But perhaps because of his own unique origins, he's acutely aware of giving fellow creatives their own space. He says he deliberately refrained from offering direction or feedback to the producers like Hemsworth, Actress, and SwuM who contributed remixes to the deluxe version of In Tongues, and wanted to empower the directors he collaborated with on the project's striking, often disturbing visuals. In the case of BRTHR, the duo who shot the dystopian, exploitation movie-inspired clip for "Window," Miller is close friends with member Alex Lee and saw him struggling to execute his visions fully when working with rappers.
"It'd always be the same thing, he'd send something great over, and then the feedback is always, 'More girls, more weed, more money,' you know what I mean? And that's fine and everything, but... All these rappers' requests are making his work look like the same thing," he says. "And he wants to do so much different shit, so seeing that, when it was time to do the 'Window' video, I told them both, 'Listen, I'm going to give you zero notes. Do whatever the hell you want, experiment, get as weird as you want, because I know it's going to be good.'"
The "Window" video is the insane product of a "run-and-gun shoot" in China. It's a neon-lit, gritty action clip about a demon hunter who rescues a chained, drowning Miller. "Demons" is a one-take of him in an abandoned pool, struggling against the bind of an ankle chain in a heavy-looking fur suit while performing an anguished interpretive dance. "Will He" is a blood-soaked nightmare, a grizzly depiction of the song's yearning and pain. Similar ideas of hurt and captivity are embodied in the less explicit, more evocative visuals that accompany Miller's live performances as Joji: slow-motion shots of sea creatures that are both beautiful and off-putting, an eerie digital rendering of the singer, action figures melting into molten plastic you can practically smell through your screen.
Miller estimates that he has his hands in "60 percent" of the visuals, and it's clear that he's building a visceral universe around Joji, one that is wholly different than what he did as Filthy Frank, but still evidence of a certain world-building prowess that was demonstrated during his tenure as one of the most successful comedic figures on YouTube.
"I'd be making skits in, like, fifth grade with a friend's video camera, so I think I owe it to my younger self to, like, boss up a little bit and direct some films one day. Even if it's just like an indie thing for myself, I don't mind. I just like film. I like the dance of music and imagery together," he says. "It's important to know how to bring that to life, and I'm still learning, and I intend to just keep creating until I die pretty much, see what happens."
While we've had multifaceted stars emerge from the web, they've never come from the strange corners that Miller did, and while we don't know exactly what's coming next, one thing is for sure: There will be no mistaking its maker for anyone else.